A closer look at the Swampfox Liberty and Justice, two affordable yet capable red dot sights for pistols, carbines and shotguns.
Red dot sights like the Swampfox Liberty and Justice are often billed as "optics that don't cost as much as your pistol," something that struck me as a logical selling point given the recent optics-ready handgun craze.
After all, some of the more battle-tested options like the Trijicon RMR and SRO cost over $500. Don't get me wrong, I have an RMR and run it on one of my EDCs, and I'm a big fan. But if you have multiple optics-ready pistols, outfitting them all can get very expensive very quickly. It makes sense then that there is a sizeable market for inexpensive (not cheap) red dots that are feature-rich and come with a solid warranty. 
And Liberty And Justice For All 
The Swampfox Liberty is a 1×22 and the Justice is a 1×27, but the two optics are otherwise identical. I tried both models on various pistol and rifle configurations and put around 1,000 rounds through each of them of both 9mm and 5.56.
For the price point, either would make a good choice. As seen below, I have the 1×22 Liberty and 1×27 Justice mounted on a Shadow Systems DR920P and DR920L, respectively, both of which I use pretty much exclusively for competition shooting. The larger window of the 1×27 Justice provides a wider field of view, and I like red dots (as opposed to green dots) a bit more as they wash out less in the bright Georgia sunlight where I do most of my shooting. 
Swampfox Liberty & Justice Features
As I've pointed out, the only difference between the Swampfox Liberty and Justice is the size of the window. My examples also happen to have differently colored dots, but both models are available in either red or green. Like Holosun red dots, these Swampfox models have Shake N' Wake technology, a feature that I appreciate for non-carry guns as I know they'll turn on when I take them out of the safe.
The optics' brightness is adjusted manually and features 10 illumination settings. Anything above level 8 is incredibly bright and great for outdoor shooting on sunny days, but starbursts when indoors like every other red dot. Settings 1 and 2 are night vision compatible, and the box states that you will get roughly 4,000 hours of runtime with the optics when set to a mid-range brightness setting.
The Swampfox Liberty and Justice also both feature 3-MOA dots. I prefer this size, as larger dots usually look like a dinner plate superimposed on targets outside of 15 meters. As for durability, they're also waterproof rated IPX7 at 1 meter and can handle 1,500 g's of shock. Despite this, the optics also come with a 50,000-round warranty (based on the honor system), so should one break, the company will replace it for free.
The dots feature a top-load CR1632 battery, and unlike the RMR, it's possible to change batteries without needing to remove the optic and re-zero. Unfortunately, however, this feature is harder to take advantage of with Shadow Systems pistols. The mounting screws these guns come with have heads that are slightly too large, and they interfere with the battery cover. These could likely be replaced with a different set of screws to fix this, but it's something to be aware of if you intended on mounting one to a Shadow Systems handgun.
The optics themselves feature a 7075 aluminum housing, but Swampfox also offers the Ironsides Shield accessory for both models. These add a steel frame to the exterior of the red dot for extra protection. I used one of these when running the Justice on a 45-degree offset on a shorty AR and it was a great setup for a CQB rig. The optic held its zero and remained functional despite being thrown around quite a bit during testing.
On The Range
While I only tried using the Swampfox Liberty and Justice on some pistols and an AR on a 45-degree offset, you could run either model as a standalone optic for a rifle or shotgun as well.
Throughout my testing, I never once had to re-zero an optic while it was mounted to a firearm. The dots themselves were also very crisp, and the optics' low shared weight of 1 ounce barely added any heft to the guns they were mounted to. The dots on both models were easy to track when firing, and I also like their window shape a bit more than the Holosun 407/507c series.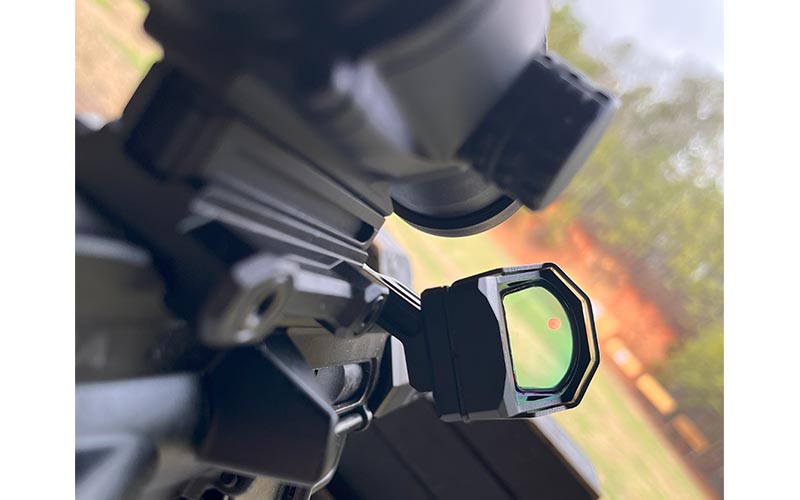 When it comes to the offset Justice on the AR setup, it was exceptionally easy to pick up when the rifle was canted. This made transitioning from a magnified optic to the dot quick and seamless. I agree with Travis Haley's opinion that it's possible to shoot a canted rifle faster, and running this setup on the clock resulted in quick hammer pairs on close targets.
Between the two models, the Swampfox Liberty better lends itself to being mounted and shot on a carry gun due to its comparatively smaller size (it's also the exact width of a Glock slide), but if concealability doesn't concern you, I'd lean toward the larger window of the Justice.
Loose Rounds
They're dots, and they work. I've racked them off my belt, tables, chairs and more and they keep running and hold zero. I've mounted them to rifles and pistols alike with minimal issues, and I appreciate Swampfox's innovation when it comes to accessories like the Ironsides Shield. Further, these dots even come with rubber covers, something that can't be said about Holosuns or Trijicons. 
I'll continue to run the Liberty on one of my full-size competition guns, but the Justice, being slightly bigger, will likely soon find a home mounted to an offset on a PCC.
All in all, if you're considering buying a Holosun or Vortex red dot, Swampfox deserves to be on your shortlist as well.
For more information, please visit swampfoxoptics.com.
---
More On Pistol Red Dots:
---
NEXT STEP: Download Your Free Storm Tactical Printable Target Pack
62 Printable MOA Targets with DOT Drills – Rifle Range in YARDS This impressive target pack from our friends at Storm Tactical contains 62 printable targets for rifle and handgun range use. Target grids and bullseye sizes are in MOA. Ideal for long-range shooting!
Subscribe to the Gun Digest email newsletter and we'll send your print-at-home target pack right away. Just enter your email address below.
---
Read the full article here