Are you tired of walking at a sluggish pace while everyone else zooms past you? Well, buckle up your shoe game because we have news that will knock your socks off. 
An innovation in the world of footwear has arrived – shoes that can make you walk 250% faster. Yes, you read that right, these shoes will have you blazing past everyone else on the street faster than you can say, "where can I get a pair?" 
These babies are the modern-day heelys, but instead of one lonely old wheel holding you up, these strap-on "moonwalkers" will have you gliding on all 8's. Pittsburgh-based robotics and engineering company Shift Robotics had sneakerheads and tech junkies in a frenzy when these kicks were unveiled on Kickstarter a few months back. 
What are "Moonwalkers"? 
Said to be the "world's fastest shoe," these battery-powered kicks can increase walking speeds by a whopping 250%. That means you can get to those hair appointments, doctor visits, dinner dates, and doggie playtimes faster while at the forefront of tech fashion.
CLICK TO GET KURT'S FREE CYBERGUY NEWSLETTER WITH QUICK TIPS, TECH REVIEWS, SECURITY ALERTS AND EASY HOW-TO'S TO MAKE YOU SMARTER 
Moonwalkers aren't just fast; however, they're smart too. After all, what would these shoes be if they weren't equipped with AI? According to the company's website, the AI within the shoes has instantaneous response times, making them super agile to seamlessly move about crowds. You can literally walk around with AI beneath your pretty little toes while in the middle of Times Square. Welcome to 2023. 
With this nifty addition, the Moonwalkers can adapt to your walking style, decreasing the risk of discomfort and providing a natural feel to your stride. 
Plus, they're super easy to use, so much so, you can master these pups in as quickly as ten steps.  With intuitive commands, you can even turn off the motor when you need to climb stairs or walk more leisurely. 
FOR MORE OF MY TIPS, SUBSCRIBE TO MY FREE CYBERGUY REPORT NEWSLETTER BY HEADING TO CYBERGUY.COM/NEWSLETTER 
What can Moonwalkers handle? 
Alternatively, if you encounter gravel, uneven terrain, or need to go off-road, these bad boys can handle almost everything found in any environment. Through its eight overlapping wheels, the shoes can simulate a much larger diameter to climb through these terrains and can withstand a total recommended weight of 220 pounds. 
Moonwalkers can even traverse across rain or puddles making these the perfect shoes for those looking to get their daily 10K steps in. What's seriously impressive, unlike those lime scooters that used to litter our major cities, these shoes can even withstand going up hills like it's nothing, all without the need for remote control.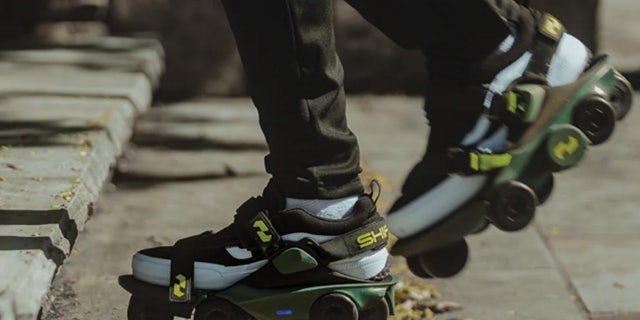 HOW YOU RECEIVE MEDICINE AND FOOD IN THE FUTURE COULD INVOLVE ZIPLINE DRONE TECHNOLOGY  
Shift Robotics founder Xunjie Zhang wasn't exaggerating when he said these shoes packed everything you find in a Tesla into a pair of shoes. There's no need to balance; just walk faster to accelerate and walk slower to decelerate. We believe in a future where everything can be within walking distance, and our first step is to help people walk effortlessly at a run speed. 
With a 300-watt electric motor and eight rollerblade wheels, you can hit speeds of up to 7mph and travel a distance of a 10k run without breaking a sweat.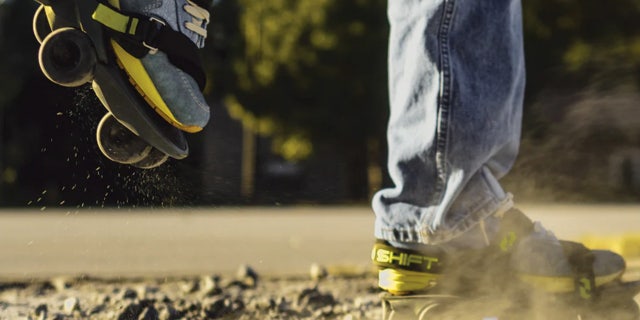 Packed with state-of-the-art brushless DC motors, water-resistant sealing, automotive-grade reinforced plastics, a 90-minute charge, and 6.5 miles of range, these Moonwalkers are almost a no-brainer for those looking to reduce their time walking. It's important to note that although you can run in these shoes, you will not experience any speed benefits as Moonwalkers were only designed to increase walking speed. 
How much do these shoes cost? 
Looking forward to getting your hands (or rather, feet) on the Moonwalkers? You won't have to wait too long. These speed-boosting shoes are set to hit the market this summer at a price of USD $1,399. 
TOP 5 TECH OBSESSIONS OF OLDER ADULTS  
With a big price tag like that, it has me wondering if this incredible innovative device will suffer the same fate as the Hoover Board, Segway, or Lime Scooters. I certainly hope not. 
How to reserve your pair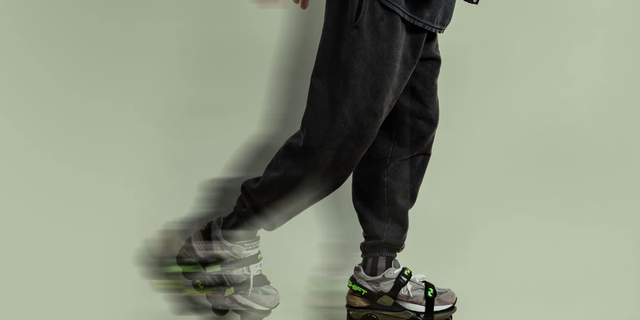 If you're like me and can't wait to get your feet into a pair of these babies, you can reserve your Moonwalkers now at shiftrobotics.io with just a $50 deposit. This amount will be deducted from the total cost of your purchase. Secure your pair today and be one of the first to experience the future of footwear. 
Ridiculous or revolutionary?  Would you walk in these cool strap-on shoes. Let us know by writing us at CyberGuy.com/Contact 
For more of my tips, subscribe to my free CyberGuy Report Newsletter by heading to CyberGuy.com/Newsletter 
Copyright 2023 CyberGuy.com.  All rights reserved. 
Read the full article here