A witness to the recent Allen, Texas, mall shooting who has called for gun control in the aftermath of the tragedy has had his account disputed by Texas police, who say he has spread "misinformation" in multiple media interviews.
Steven Spainhouer, who has identified himself as a former Army officer, gave multiple media outlets a dramatic account of the Texas mall shooting earlier this month, saying he showed up at the mall before police and first responders to begin administering aid to shooting victims.
The May 6 shooting rampage left nine people dead, including the shooter, and 10 others injured.
According to CBS News, Spainhouer said he arrived at the scene after receiving a call from his son about hearing gunfire on the property. When he arrived, Spainhouer said he gave first aid and performed CPR on shooting victims, including one girl who "had no face" and a young boy covered "head to toe" in blood who was hiding under the body of his dead mother.
ALLEN, TEXAS, MALL SHOOTING SUSPECT MAURICIO GARCIA HAD 3-MONTH STINT IN ARMY
However, Spainhouer's dramatic retelling of the events has been disputed by the Allen Police Department, which released a statement Friday that said he was not a "credible" witness.
"Allen Police Department wants to inform the public of discrepancies with statements made by a witness to several media outlets. Following the shooting at Allen Premium Outlets, Mr. Steven Spainhouer of McKinney, Texas gave multiple public accounts of his actions," the police statement wrote. "Inconsistencies between these public accounts and investigative facts led Allen Police Department to conduct a follow-up interview. During this interview, detectives determined that Mr. Spainhouer is not a credible incident witness."
The police response comes after Spainhouer made multiple appearances not only recounting his version of events,but calling for gun control legislation in response to the shooting. In an interview with MSNBC, Spainhouer said he is "someone who loves" guns but believes there needs to be "federal and state level" gun control.
"When you get hit with an automatic weapon fire at close range, there is no opportunity for survival," Spainhouer told MSNBC. "I don't know what the gunman's problem was, but it wasn't mental health that killed these people. It was an automatic rifle with bullets."
DALLAS MALL SHOOTING SUSPECT MAURICIO GARCIA LEFT ODD VOICEMAIL ABOUT MONEY
The gunman in the incident, identified as 33-year-old Mauricio Garcia, reportedly used an AR-15-style rifle during the shooting. The rifle is a civilian adaption of the military's M-16 and M-4 rifle platforms. Military versions of the rifle have three-round burst and semiautomatic functions. While some variations of the M-16 and M-4 include a fully automatic function, civilian platforms are typically only available in semiautomatic.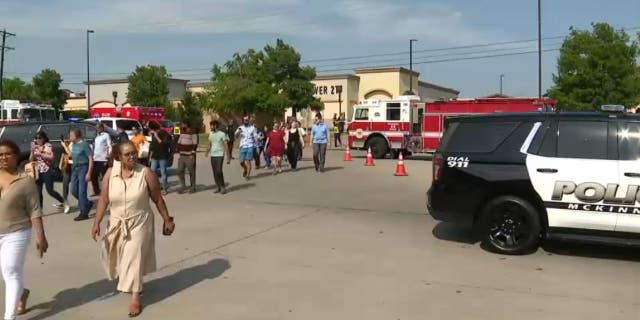 "I'm a gun lover.," Spainhouer told MSNBC. "I have guns. But these [high-powered rifles] have got to get off the streets or this is going to keep happening. We've got to stop that at some point."
The Allen Police Department said Spainhouer's public comments caused them to conduct a second interview with him, after which they revealed he had given several incorrect statements.
"Mr. Spainhouer arrived between 3:44 and 3:52 p.m. and was not first on the scene, nor was he on the property while gunfire was occurring," the department said, adding that Spainhouer "did not perform Cardiopulmonary Resuscitation (CPR) or administer first aid" and "did not move a deceased mother who was covering a live child."
DALLAS MALL SHOOTER: WHO IS MAURICIO GARCIA? 
"As inaccurate reports can be prevalent in such situations, it is essential to confirm information before sharing it," the department said. "Please take note of this to prevent unintentional spreading of misinformation."
Despite pushback from police, Spainhouer told CBS News over the weekend that he stands by his account of events. He also released a statement on his Facebook account, saying he is "hurt and disappointed" by the Allen Police Department statement.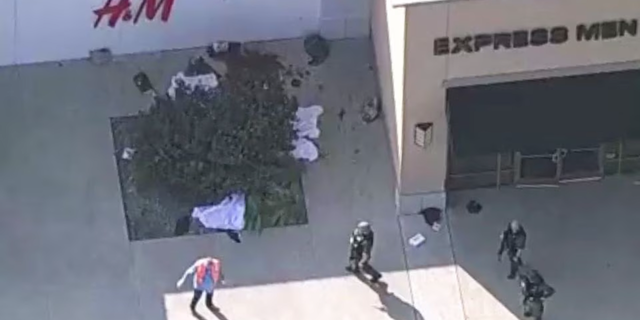 "First of all, I have never said I heard gunshots at the Allen Outlet Mall. When I arrived at the H&M store, there was one person there asking for my help," Spainhouer said in the post. "If there were other first responders there before I showed up, I would have no way of knowing it. If the Allen Police were at the mall before me, I would have no way to know it, because they were not at the H&M Store location where most of the shooting victims were located."
"I know what I did and did not do while waiting on the Allen Police and Fire Departments. I know that there were individuals who were deceased and could not be treated with CPR. I know because I was there," he continued. "I did not move any victims, except the first one I found to check on her. A small child pulled himself from under a victim and I assisted him to a safe space away from the area."
Spainhouer also said he did not "see a police car or ambulance for another 5-6 minutes" after arriving on the scene.
"Instead of targeting me on what I did or didn't do, perhaps the Allen Police can explain why it took 20 minutes to get to the front of the H&M store, where there were injured victims, if they were already on site, before I got there," he said.
Spainhouer did not immediately respond to a Fox News request for comment. The Allen Police Department did not immediately respond to a request for comment on Spainhouer's Facebook post.


Read the full article from here