Members of the Tennessee Black Caucus on Friday condemned the expulsion of two Black Democratic lawmakers by the Republican majority this week, likening Thursday's vote to a "Jim Crow-era trial." 
"This was a kangaroo court," caucus chairman Rep. Sam McKenzie told reporters at a news conference held in front of the state Capitol building in Nashville. "To me, it's a horrific indictment on the Tennessee GOP, and they ought to be ashamed of themselves. And the fact that they continued to keep their foot on the accelerator when they knew the world was watching really just shows what this Republican Party has sunk too. New lows."
In an extraordinary move, Tennessee Republicans voted Thursday to expel Democratic Reps. Justin Jones and Justin Pearson for "disorderly behavior" after they stormed the Capitol building with anti-gun protesters last week. The lawmakers interrupted state House proceedings and led chants of "no justice, no peace" on from the floor, demanding action on gun control in response to the shooting at a private Christian School in Nashville that claimed six lives, including three young children.
The lawmakers were first stripped of committee assignments on Monday for their participation in the protest and then faced the expulsion vote Thursday. A third Democrat, Rep. Gloria Johnson, came within one vote of also being expelled. 
TENNESSEE HOUSE SPEAKER PUSHES BACK ON 'FALSE NARRATIVE,' RACISM ACCUSATIONS AFTER EXPULSION OF TWO DEMS
The fact that Johnson, who is White, was not expelled but Jones and Pearson, who are Black and were, did not go unnoticed by their colleagues. 
"Yesterday, it looked like Jim Crow-era trial, where we saw two Black men fighting for their careers, fighting for their reputations, fighting for their political lives," Vice Chair Rep. Jesse Chism said. 
He described how Democratic lawmakers held back tears as their colleagues were removed from the legislature after heated debate, with protesters screaming from the gallery. 
"It was a shame to see some of the smirks, some of the smiles that some of our colleagues on the other side of the aisle had as they saw our tears. We have to have our members back. We have to have more members," said Chism. 
DEMOCRAT LAWMAKER SUGGESTS SHE AVOIDED EXPULSION FROM TENNESSEE LEGISLATURE BECAUSE SHE IS WHITE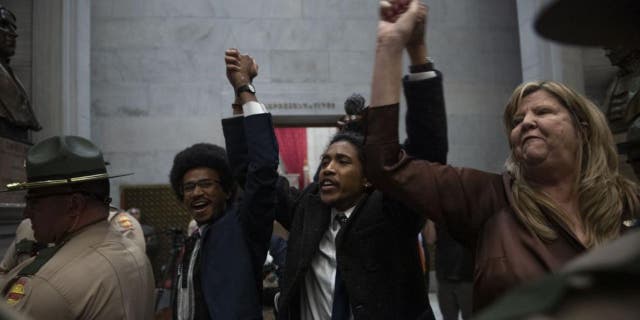 "This is the greatest miscarriage of justice on this floor since African American members were first seated after Reconstruction and then after the Jim Crow era. We all saw what happened yesterday," said Tennessee Senate Minority Leader Raumesh Akbari, who formerly served in the House. 
"Two extremely intelligent, eloquent, community-centered Black men were removed from the House of Representatives. That is not something that should be taken lightly," she continued, saying it was wrong for Jones and Pearson to be expelled "for five seconds of disruption."  
Other Black lawmakers who spoke at the conference said the actions by Republican lawmakers fit a "pattern of racism" that seems familiar to them in Tennessee. 
Republican House Speaker Cameron Sexton has called allegations of racism a "false narrative." 
CHAOS ERUPTS AGAIN AT TENNESSEE CAPITOL AMID VOTE TO EXPEL DEM LAWMAKERS FROM OFFICE OVER HOUSE FLOOR PROTEST
Sexton told "Fox & Friends" Friday morning that Johnson was not expelled with her Black colleagues because she "separated herself" from the protesters and that her attorney pointed out several instances which showed she was not an active participant. 
"Actually, she separated herself from the other two and said, I didn't have the megaphone. I didn't yell and scream. I just stood there with them alongside it. And so she made her case that she … did not do what they did."
But that is not the way Democratic lawmakers like Rep. Karen Camper see it. 
"If you look at, in totality, of all the things that have happened in this general session this year — and you could say years prior too — the policies and the treatment appears racist," Camper said. "It comes off that way." 
Fox News' Madeline Coggins, Bradford Betz, and the Associated Press contributed to this report. 
Read the full article here