Former Russian President Dmitry Medvedev commemorated his country's Victory Day on Tuesday — which marks the defeat of Nazis in Germany — by defending Russia's ongoing invasion of Ukraine.
In a lengthy tweet Monday, Medvedev, also the deputy chair of the Security Council of the Russian Federation, said Russia would defeat the "hideous Bandera neo-nazism" in Ukraine as Russia once helped defeat Nazism in Germany.
"Unfortunately, today's Europe and its squalid leaders have a very short memory. But we will always remember the heroes of the Second World War. Our country eradicated fascism in 1945," Medvedev wrote. "Have no doubt: in present-day Europe, we will crush the hideous Bandera neo-nazism, cherished so dearly by the heirs of the Third Reich in the EU."
Victory Day is Russia's largest secular holiday. It regularly features a parade in Moscow's Red Square to celebrate the victory in WWII.
PRO-KREMLIN WRITER'S CAR EXPLODES IN RUSSIA, KILLING DRIVER
Despite a threat of a Ukrainian drone attack on the parade, Russian officials have said it will continue as scheduled.
President Vladimir Putin has made similar comparisons between Ukraine's administration and Nazi rule in Germany in the 1940s. He is expected to repeat this assertion that Russia is fighting an alleged Nazi regime in Ukraine, a country with a Jewish president.
Medvedev also noted that the Soviet Union lost at least 20 million people fighting in Europe during World War II. Russia has lost about 200,000 since it first invaded Ukraine last year, according to a tally calculated by the Ukrainian government.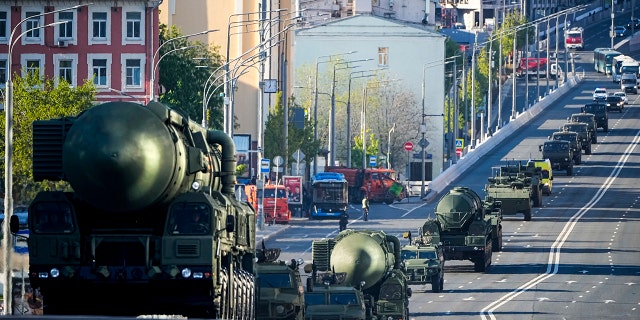 "I'm reminding the citizens of the countries which are now fighting against Russia: over a million Soviet soldiers sacrificed their lives for peace and freedom from fascism in Europe," he wrote in the tweet, adding: "600 thousand citizens of the USSR died, liberating Poland from fascism; 380 thousand gave their lives liberating Czechia and Hungary, over a 100 thousand – Germany."
In Ukraine on Monday, Ukrainian President Volodymyr Zelenskyy announced he submitted a bill marking Monday, May 8, a federal holiday.
"It is on May 8 that most nations of the world remember the greatness of the victory over the Nazis," Zelenskyy said. "The world admires all those who were protecting and protected life. Who threw down the Nazi flags on the liberated territory and who opened the gates of the concentration camps. Who restored freedom to the nations, who destroyed and condemned Nazi evil."
Most European countries celebrate the defeat of Nazism on May 8. This would be the latest decision by Ukraine to move away from its Russian roots towards a united Europe.
DAUGHTER OF TOP PUTIN ALLY ALEXANDER DUGIN, WHO PUSHED FOR UKRAINE INVASION, KILLED BY CAR BOMB OUTSIDE MOSCOW
He added: "It is on May 8 that the world honors the memory of all those, whose lives were taken by that war. It is pure history, without ideological admixtures. And it is the history of our people, our allies, the entire free world. Today, we are returning it to our state."
"Today, I submitted a bill to the Verkhovna Rada of Ukraine proposing that May 8 be the Day of Remembrance and Victory over Nazism in the Second World War of 1939-1945," Zelenskyy also said. "Eternal memory to all those who died in the Second World War! Glory to each and everyone who fought against Nazism and won! Glory to all our heroes of different times, to whom we equally owe our lives!"
While Russia claims it holds a high ground in the invasion of Ukraine, its repeated attacks on civilian structures and the country's infrastructure have drawn international condemnation.
RUSSIA BLAMES US FOR ALLEGED PUTIN DRONE ASSASSINATION ATTEMPT, WHITE HOUSE CALLS CLAIM 'LUDICROUS'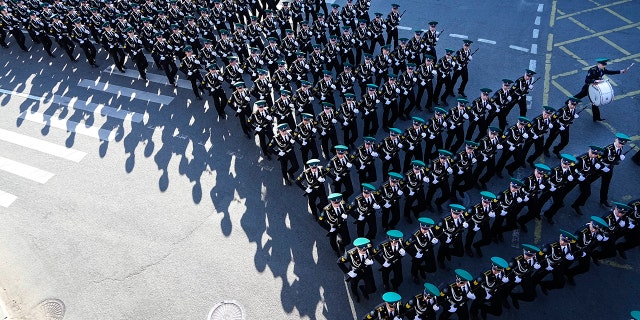 Missiles have rained down on Ukrainian homes and schools, prompting countries around the world to supply Ukraine with billions of dollars' worth of weapons and ammunition.
Ukraine has notched recent success in the war, regaining previously controlled territories, and has launched a counter-offensive on Russian soil.
Analysts are divided on whether a drone strike at the Kremlin on May 3 was a genuine attack or a "false flag" operation launched by Russia's own military to justify its own missile barrages in Ukraine.
The Associated Press contributed to this report.
Read the full article here