Shakina Rajendram and Kevin Nadarajah were "in complete shock" after Shakina went into premature labor at just 21 weeks in March of last year and doctors said there was nothing that could be done to save their twin babies.
The Toronto-area couple was recovering from losing another pregnancy when faced with the devastating news about their rainbow twins, Adiah and Adrial. Since the babies were only 21 weeks, or over four months early, doctors at their local hospital could only offer comfort care and let them pass naturally. 
"We just felt like…this isn't happening," Kevin said. 
While the news seemed insurmountable, the pair immediately started praying for a miracle. 
TEXAS FATHER GOES VIRAL FOR SINGING 'WORSHIP SONG' TO PREMATURE SON IN NICU: 'PROOF THAT GOD IS FAITHFUL'
"I was talking to God overnight and just telling him, 'we need a sign of hope that things are going to turn around,'" Kevin recalled.
A friend then sent him a social media post from the group "22 Matters," an advocacy group for parents of premature children. After seeing posts of children born at 21 and 22 weeks now thriving, the couple convinced their doctors to let them transfer to a hospital that would treat the babies if they were born a few days later at 22 weeks. 
Shakina recalled the anxious waiting period leading up to their birth. 
"We knew that if they were born even just a few minutes early it would be a matter of life and death," she said.
According to 22 Matters, "only 1 in 4 equipped hospitals in the US will treat a 22-weeker, and only 1 in 3 will treat a 23-weeker. This is also true in Canada, Australia, and the UK." 
While still in labor, Shakina was transferred and admitted to Mount Sinai Hospital, about an hour-and-a-half drive away, one day later at 21 weeks and six days. Miraculously, the twins were born just one hour after they turned 22 weeks gestation.
Both Adiah and Adrial weighed less than a pound each and were successfully resuscitated. Along the way, the children had several complications from brain bleeds, bowel perforations and lung disease from prematurity. Several near-death experiences terrified Shakina and Kevin and left their twins' medical team uneasy.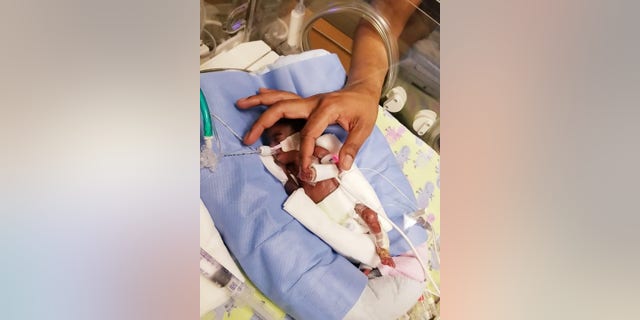 NICK JONAS' WIFE PRIYANKA CHOPRA DESCRIBES PREMATURE DAUGHTER'S TIME IN NICU
"We had many difficult conversations with doctors… Doctors would come to us and say, 'Maybe it's time to withdraw medical care,'" Shakina said.
Despite doctors' grim outlook at the beginning, the parents saw how strong their babies were and fought for them every step of the way.
"But we saw what doctors maybe didn't see, which was our babies' fighting spirit. We saw that the babies' had a will to survive… They never gave up on themselves even though they had all these complications. They were pushing through," Shakina said. "[It] reassured we as us parents had to fight for them [too]. Even though the odds were stacked against us, it felt like sometimes we were the only ones advocating for the babies to be given life-sustaining measures," she added.
The pair emphasized how their trust in God "anchored" them during the tough period.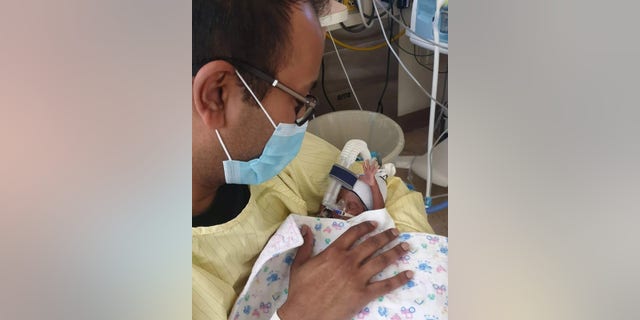 MICRO-PREEMIE BORN 'ON THE EDGE OF VIABILITY' IN TEXAS CELEBRATES 1ST BIRTHDAY: 'QUITE THE SURVIVOR'
They were encouraged by friends who set up prayer meetings over Zoom and people from all over the world who were praying for their babies. 
"We had a group that kept expanding," Shakina said. "So every time we would receive difficult news or we would watch the babies almost die in front of our eyes, we would send out a really quick message saying, 'Please pray'… We didn't even have time to get into the details. And people would start praying right away. While they were praying we would see amazing things happen," she recalled.
The mother remembered one occasion where their daughter Adiah's breathing tube became disconnected, and they panicked as her oxygen and heartbeat plummeted to nearly zero as the medical team rushed in. 
"Right as we told people to please pray, miraculously we saw her numbers going up again and just in time the doctors and respiratory therapists were able to get it back in," she recalled.
"The medical care team played an important, really significant role, but they weren't the only [ones] keeping the babies alive," the mother said.
PRO-LIFE ACTIVISTS DECRY 'UNHINGED' ATTAACK BY PROTESTERS AT VCU EVENT, HANDLING BY POLICE
"Ultimately," Kevin said, they believed God "was in control of the babies' lives and would sustain them."
"That helped give us faith and hope to keep going on even when we saw really difficult, [and] scary things," Shakina added.
As the babies grew stronger, the parents said the medical team's outlook shifted to become more hopeful. After a tumultuous six months in the Neonatal Intensive Care Unit ("NICU"), the twins finally were able to come home. 
Despite some frightening infections that required additional hospital stays, the two are thriving and meeting their milestones, the parents say. 
"Adiah came home breathing and eating on her own… he's rolling over… learning how to sit independently. She's very feisty," Shakina said with a smile. "She likes chatting and babbling all day long… also very loving and gentle towards her twin brother."
Adrial had more of a difficult road than his twin sister but has made great progress, the parents said. After a temporary course with some breathing assistance, Adrial has been completely off oxygen for the past month. The parents described him as intelligent, introspective and observant.
Adiah and Adrial now hold the world record for the most premature and lightest twins born, Guinness World Records says. The siblings celebrated their first birthday last month.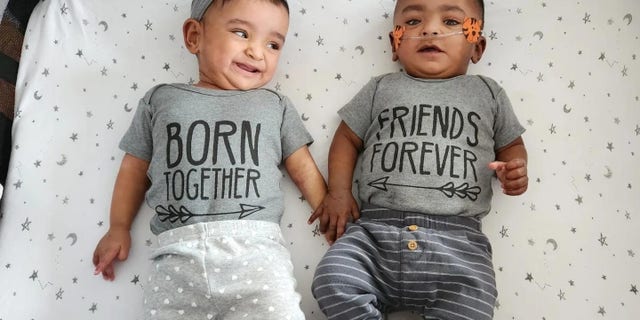 The parents hope their story makes an impact on how medical professionals view the viability of severely premature infants.
While many hospitals do not treat babies born before 24 weeks to 27 weeks, Shakina said, medical advances have made stories like theirs possible for other children born very early.
"There's no denying the fact that babies born at this gestation statistically have a high risk of morbidity," Kevin admitted. 
However, they argued the conversation about premature babies' viability within the medical community needs to consider the variety of factors that can impact a baby's survival.
The CDC said 1 in 10 children in the U.S. were born prematurely, or before 37 weeks of pregnancy, in 2021. A recent study found there has been a significant increase in survival rates over the past decade for children born between 22 and 23 weeks.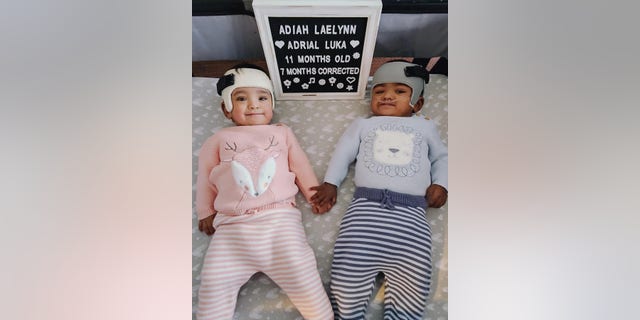 "Could there be more that could be done in terms of policy, management, care offered to parents, conversations with parents in a more balanced [approach] as opposed to just risk of death and disability?" he asked.
Critics who argue these babies shouldn't be saved because they may have a hard life aren't considering that with the proper support and therapy, these kids can still thrive, Shakina said, even if they do end up having disabilities.
"[The risks] are only half the story… We want to shed light on the whole story, so people focus not just on the risk but the potential of babies thriving at that age," she said.
Read the full article here