A  super PAC supporting Florida Gov. Ron DeSantis released its first-ever television ad attacking former President Donald Trump on Sunday, pushing back on Trump's own aggression toward DeSantis.
Never Back Down PAC titled the ad "Fight Democrats, not Republicans," and went after Trump for his recent attacks on the popular Florida governor. Trump has recently dubbed DeSantis "Ron DeSanctimonious" and has pushed the claim that he wants to dismantle Social Security.
"Donald Trump is being attacked by a Democrat prosecutor in New York, so why is he spending millions attacking the Republican governor of Florida?" the ad begins. "Trump is stealing pages from the Biden-Pelosi playbook, repeating lies about social security."
The ad goes on to play a soundbyte from DeSantis saying he and other Republicans have no plans to "mess with" social security. It then also plays a clip of Trump himself saying entitlements and social security would "at some point" be on the table for changes.
TEAM DESANTIS FIRES BACK AT NEWSOM, OTHER DEM GOVERNORS WITH POSTCARDS CELEBRATING 'FLORIDA'S FREEDOM'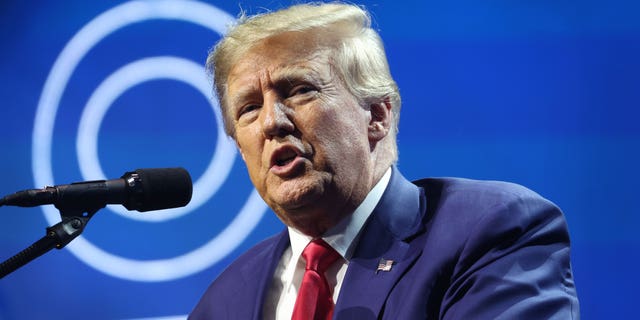 "Trump should fight Democrats, not lie about Governor DeSantis," the ad says. "What happened to Donald Trump?"
While DeSantis has yet to announce a presidential run for 2024, he is widely considered a strong potential challenger to Trump for the Republican nomination.
Beyond Trump and DeSantis, major players in the GOP primary race include former South Carolina Gov. Nikki Haley, former Arkansas Gov. Asa Hutchinson, and former Vice President Mike Pence. Entrepreneur Vivek Ramaswamy has also formally entered the race, while former Secretary of State Mike Pompeo has said he does not plan to enter.
RON DESANTIS SPEECH TO NEW HAMPSHIRE REPUBLICANS MOMENTARILY INTERRUPTED BY PROTESTERS
While Trump has held a relatively consistent lead over DeSantis in many polls, DeSantis world appears to be revving its engines in preparation for a widely-expected campaign announcement.
Read the full article here