The leader of a Democratic opposition group is celebrating after a new ad from a group supporting former President Donald Trump's 2024 bid for the White House brought his vision of an advertisement to life when it used pudding to target Florida Gov. Ron DeSantis.
Last month, Pat Dennis, the president of American Bridge 21st Century, which is "focused on holding Republicans accountable and helping deliver Democratic victories," facetiously pitched an anti-DeSantis ad idea in a tweet: "paid ad with a ron desantis lookalike eating pudding with his fingers, but it's labeled medicare and social security, is that anything"?
Nearly a month after making the comment, Dennis' sentiment became a reality.
Earlier this week, the Make America Great Again Inc. PAC, which is not directly associated with Trump's 2024 presidential campaign, released an ad featuring a DeSantis-type actor eating chocolate pudding while the narrator claimed he has "his dirty fingers all over senior entitlements."
BIG SCOOP: LATEST MEDIA HIT JOB ON DESANTIS REVEALS HOW HE EATS PUDDING
"Ron DeSantis loves sticking his fingers where they don't belong and we're not just talking about pudding," the narrator said. "DeSantis has his dirty fingers all over senior entitlements. Like cutting Medicare, slashing social security, even raising our retirement age."
"Tell Ron DeSantis to keep his pudding fingers off our money," the narrator concludes. "Oh, and somebody get this man a spoon."
Following the release of the "pudding fingers" ad, Dennis took to Twitter to rejoice that his idea had been taken into consideration while seemingly mocking the PAC supporting Trump.
"They did it, those crazy sons of bitches did it," Dennis wrote.
The hit against DeSantis, who is widely speculated to seek the GOP nomination for president in 2024, comes after it was reported in March that the governor once ate chocolate pudding with three fingers.
The Daily Beast report on DeSantis' "aloof" personality was said to have been sourced from the accounts of anonymous former staffers and GOP operatives. Reporters Jake Lahut and Zachary Petrizzo said that DeSantis "struggles with basic social skills," displaying "an aversion to small talk" and "general pleasantries" which "make him difficult" during unplanned interactions.
Among several claims about his personal habits, one assertion the article focused on was DeSantis' table manners.
TEN MEDIA NARRATIVES WAGED AGAINST RON DESANTIS FROM 'DON'T SAY GAY' TO PUDDING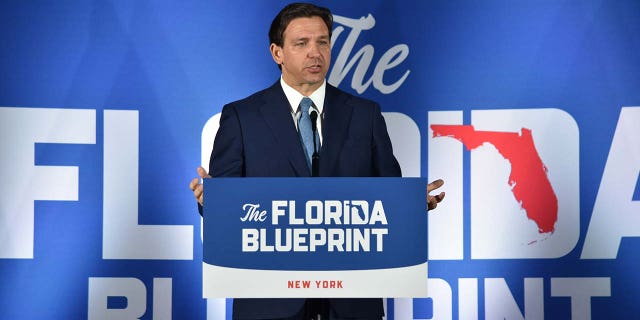 "The chatter over DeSantis' public engagement has also surfaced past unflattering stories about his social skills—particularly, his propensity to devour food during meetings," the reporters wrote.
"Enshrined in DeSantis lore is an episode from four years ago: During a private plane trip from Tallahassee to Washington, D.C., in March of 2019, DeSantis enjoyed a chocolate pudding dessert — by eating it with three of his fingers, according to two sources familiar with the incident," the outlet wrote. DeSantis denied the incident ever happened.
The pro-Trump PAC, however, is not the first group to launch attacks against DeSantis over social security and Medicare.
In Florida's 2018 GOP gubernatorial primary, Adam Putnam, who served as the Sunshine State's commissioner of agriculture from 2011 to 2019, wielded similar attacks at DeSantis in a campaign advertisement that PolitiFact called misleading and exaggerated.
Titled "Seniors First," the Putnam ad featured older Florida residents who signaled support for Trump but not DeSantis.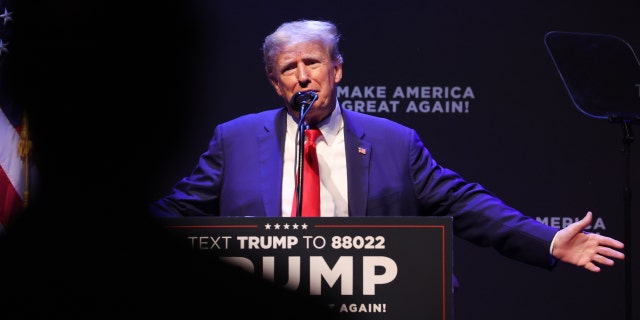 "Trump's got our back, but I'm not so sure about DeSantis," one man said in the video.
"Congressman DeSantis voted to cut social security and Medicare. That's not what Trump wants," another man said.
Fox News' Lindsay Kornick contributed to this article.


Read the full article here