Irving Berlin, the iconic composer and musician who created American musical standards including "White Christmas," "Easter Parade," "God Bless America" and "There's No Business Like Show Business," was born on this day in history, May 11, 1888.
Berlin was born as Israel Baline in Temun, Siberia. 
His family immigrated to America to escape Russian persecution of the Jewish people when the future music star was a young boy.
"[The family] arrived in New York in 1893, settling in Manhattan's Lower East Side," notes PBS.org.
ON THIS DAY IN HISTORY, MAY 10, 1977, ICONIC AMERICAN ACTRESS JOAN CRAWFORD DIES IN NEW YORK CITY 
Berlin had to work as a child and didn't attend school. Instead, he sang on street corners to earn money, the same site also reports. 
Later, Berlin worked as a singing waiter in New York City in Chinatown's Pelham Cafe. 
"On any given night, the bar played host to a packed crowd of millionaires and murderers, pickpockets and tourists, all on account of 'The Professor' on the piano and a 17-year-old singing waiter named Izzy Baline, who would one day be known as Irving Berlin," according to website Infamousnewyork.com.
"During this time, Berlin also began writing songs of his own — and in 1907 he published "Marie from Sunny Italy," signing the work 'I. Berlin' and thereby establishing the pseudonym under which he would become so well known," says PBS.org. 
ON THIS DAY IN HISTORY, MARCH 19, 1957, ELVIS MAKES DOWN PAYMENT ON GRACELAND
He was paid a "whopping 37 cents" for the song, according to Infamousnewyork.com.
Berlin was entirely self-taught as a musician and developed a unique style by playing only on the black keys on the piano. 
When Berlin was a little older, he secured a role as a lyricist for the music publishing company Waterson & Snyder. In 1911, his "Alexander's Ragtime Band" became a huge hit — immediately earning him the title "King of Tin Pan Alley," says PBS.org
He was entirely self-taught as a musician and developed a unique style by playing only on the black keys on the piano. 
ON THIS DAY IN HISTORY, MAY 7, 1977, THE SONG 'HOTEL CALIFORNIA' BY THE EAGLES HITS NO. 1
"Most of his early songs were therefore written in the key of F-sharp, but, by using a transposing keyboard, Berlin was able to compose in various keys," says PBS.org.
In the following decades, Berlin wrote the scores for several musicals; one of his most popular was for the 1950 film "Annie Get Your Gun," according to History.com.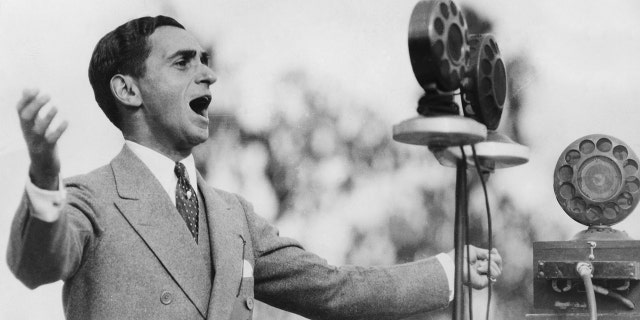 Berlin composed over 800 songs, many of which became classics, including, "Oh, How I Hate to Get Up in the Morning," "A Pretty Girl Is Like a Melody," "Always" (written in 1925 as a wedding present for his second wife), "Remember," "Cheek to Cheek," "How Deep Is the Ocean," "Blue Skies" and "Puttin' on the Ritz." 
Berlin also wrote the patriotic standard "God Bless America" and the famous tune, "There's No Business like Show Business," History.com says.
He transferred his success to the screen, writing scores for many successful films, including "Top Hat" (1935), "Follow the Fleet" (1936), "Easter Parade" (1948), "Call Me Madam "(1953) and "Holiday Inn" (1954).
Berlin's score for the film "Holiday Inn" (1942) introduced the touching ballad "White Christmas," which became one of the most popular songs ever recorded, says History.com.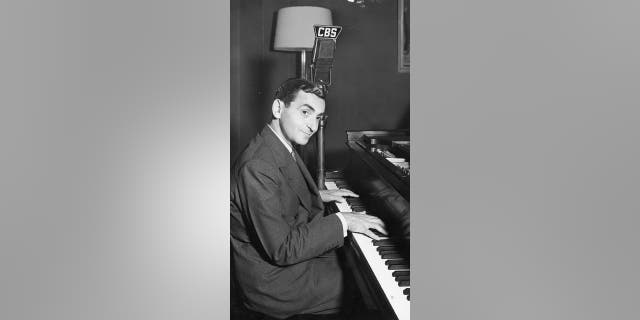 In total, the iconic composer wrote the scores for 19 Broadway shows and 18 motion pictures, says that site.
Berlin's most famous patriotic work remains the song, "God Bless America," written during World War I.
It was sung in public for the first time by Kate Smith for an Armistice Day Celebration in 1938, says PBS.org.
Berlin's centennial birthday in 1988 was celebrated worldwide, culminating in an all-star tribute at Carnegie Hall benefiting the Hall and ASCAP, notes the Songwriters Hall of Fame.
On September 22, 1989, at the age of 101, Berlin died in New York City. 
Read the full article here