Leon Draisaitl and Connor McDavid each scored twice and the Edmonton Oilers tied their Western Conference semifinal series at one game apiece with a 5-1 victory over the Vegas Golden Knights on Saturday night.
Game 3 will be Monday in Edmonton, where the Oilers were 23-12-6 during the regular season.
Drasaitl, who scored four goals in the first game, has now tallied at least one point in the first eight games of the postseason, posting 17 points (13 goals, 4 assists).
McDavid, meanwhile, is on a seven-game point streak, with five goals and 11 assists.
Evan Bouchard also scored for the Oilers, while rookie goaltender Stuart Skinner stopped 30 shots.
Ivan Barbashev ruined Skinner's bid for a shutout less than two minutes into the third period by scoring his third goal of the series, the lone goal for the Golden Knights.
Vegas goaltender Laurent Brossoit stopped 26 of the 31 shots he faced before being pulled after two periods. Brossoit came into the game 5-0 in his previous five appearances dating to Game 2 of the opening round. Adin Hill finished the game and made four saves in the third period.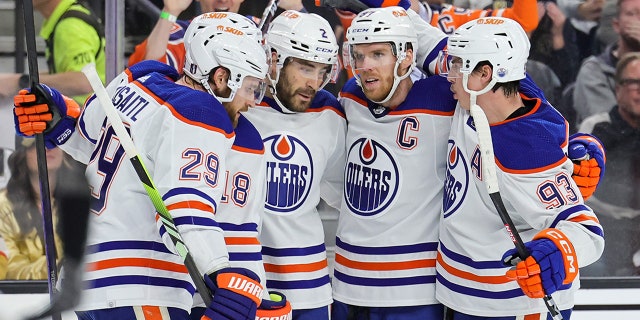 PETR KLIMA, OILERS' STANLEY CUP HERO, DEAD AT 58
Edmonton got an early power-play opportunity, and after Brossoit made three incredible saves, Draisaitl scored his 12th goal of the postseason to put Edmonton up early, 1-0.
The Oilers made it 2-0 just seven minutes into the game with their second power-play opportunity thanks to Bouchard's blast from the blue line.
The point production on special teams continued midway through the opening stanza when McDavid poked the puck away from Vegas' Shea Theodore and turned on the afterburners for a breakaway shorthanded goal to push Edmonton's lead to 3-0.
And when Draisaitl scored his second of the game to put Edmonton on top 4-0, the Oilers had more goals at the time than the Golden Knights had shots on goal (3).
Vegas finished the first period with four shots on goal, while Edmonton had thrown 19 at Brossoit.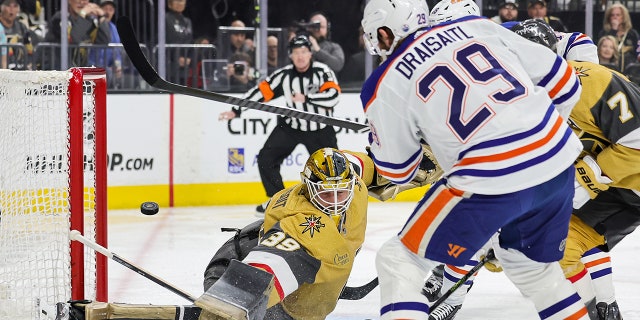 With Jack Eichel in the box for Vegas, it took only eight seconds into the power play for the Oilers to build on their lead, as McDavis beat Brossoit to make it 5-0.
Read the full article here