Morgan Wallen is the latest high-profile artist to cancel a tour due to health struggles.
On Tuesday, the 29-year-old country music singer announced in an Instagram video he was postponing six weeks of his "One Night At A Time" world tour after receiving "bad news" from his doctors at Vanderbilt Voice Center.
"After taking 10 days of vocal rest, I performed three shows last weekend in Florida, and by the third one, I felt terrible," Wallen said.
"So, I went in and got scoped yesterday, and they told me that I reinjured my vocal cords and that I have vocal fold trauma. Their advice is that I go on vocal rest for six weeks, so that's what I'm going to do."
MORGAN WALLEN CANCELS 6 WEEKS OF SHOWS AFTER 'BAD NEWS' FROM DOCTORS
The "Last Night" hitmaker added that his doctors had advised him not to speak at all during that time period but said it was OK for him to speak briefly to make a short announcement to his fans.
"We're working on rescheduling all the dates during this time frame," he added. "We've almost got that done, but some of 'em are pending, so I'll keep you updated. I won't be able to make these festivals that I have during this time frame, but we are gonna make those right in the next year."
APP USERS CLICK HERE 
In addition, Wallen explained he was still recovering from tearing a muscle in his back during a March tour stop in Australia.
"I've been trying to work through that quietly, but this time off is gonna help me get that back right as well," he said.
The Tennessee native shared that he also had to pull out of performing at the Academy of Country Music Awards in Frisco, Texas, Thursday night, where he was nominated for entertainer of the year, male artist of the year, song of the year and artist-songwriter of the year. Wallen won male artist of the year.
The artist also had to cancel his performance at the ACM Lifting Lives Benefit concert, which took place Wednesday night. He was replaced by Jason Aldean at the event, which raises funds for the ACM's philanthropic partner Lifting Lives, an organization that works to improve lives through the power of music.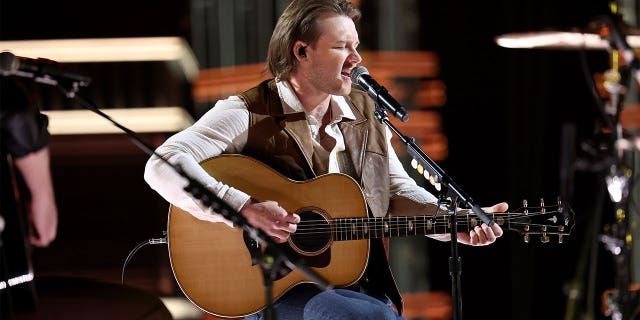 "But y'all make sure you still go. It's for a great cause," he added.
"They told me that if I do this the right way, I'll get back to 100 percent, and they also said that if I don't listen and I keep singing, then I'll permanently damage my voice.
"So, for the longevity of my career, this is just a choice I had to make," he continued. "I hate it, but I love you guys, and I appreciate all the support that you always given me."
Wallen concluded his video by telling his fans, "I'll see you soon, and I'll be back better than ever. God bless you."
MORGAN WALLEN CANCELS CONCERT AFTER OPENING ACT, FANS FURIOUS
The singer angered fans last month when he abruptly pulled out of a concert following the opening act and just minutes before he was to perform for almost 60,000 at Ole Miss Stadium in Oxford, Mississippi. In a statement, Wallen told his fans that he had lost his voice and apologized for canceling the performance at the last minute.
The singer's announcement comes after a number of headliners have bowed out of scheduled performances and tours as they battle health struggles. Here's a look at other musicians who have canceled future appearances due to ongoing medical conditions.
Celine Dion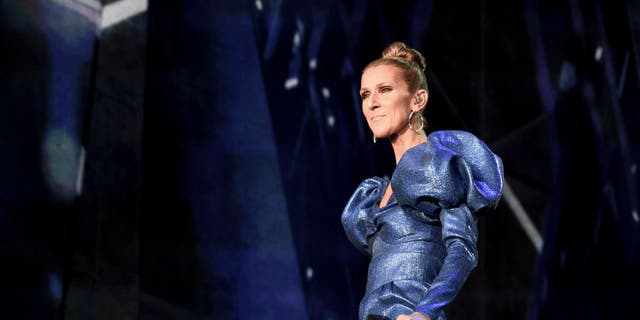 Celine Dion stunned fans in December when she revealed in an emotional statement that she had been diagnosed with an incurable neurological disorder.
"As you know, I've always been an open book," the 55-year-old singer said through tears at the beginning of her Instagram video.
"And I wasn't ready to say anything before — but I'm ready now. I've been dealing with problems with my health for a long time. And it's been really difficult for me to face these challenges and talk about everything that I've been going through."
The Canada native shared that she had been diagnosed with stiff person syndrome, which she noted "affects something like one in a million people."
Stiff person syndrome (SPS) is defined by the Cleveland Clinic as "a rare autoimmune movement disorder that affects the central nervous system (the brain and spinal cord). People with this condition first experience a stiffening of the muscles of their trunk followed, over time, by the development of stiffness and rigidity in the legs and other muscles in the body."
Dion told her fans she had been experiencing problems with her mobility, and the condition also affected her voice.
APP USERS CLICK HERE 
"While we're still learning about this rare condition, we now know this is what has been causing all of the spasms I've been having," she said. "Unfortunately, these spasms affect every aspect of my daily life, sometimes causing difficulties when I walk and not allowing me to use my vocal cords to sing the way I'm used to."
The "My Heart Will Go On" songstress explained that she was forced to postpone the European leg of her tour to focus on her health.
"It hurts me to tell you today that this means I won't be ready to restart my tour in Europe in February," Dion said. "I have a great team of doctors working alongside me to help get better and my precious children, who are supporting me and giving me hope."
CELINE DION REVEALS INCURABLE NEUROLOGICAL DISORDER DIAGNOSIS IN EMOTIONAL VIDEO
In January 2022, Dion announced she was canceling the rest of the North American tour dates on her "Courage" tour due to "severe and persistent muscle spasms" that left her unable to perform.
"I'm working hard with my sports medicine therapist every day to build back my strength and my ability to perform again," Dion said. "But I have to admit it's been a struggle. All I know is singing. It's what I've done all my life. And it's what I love to do the most."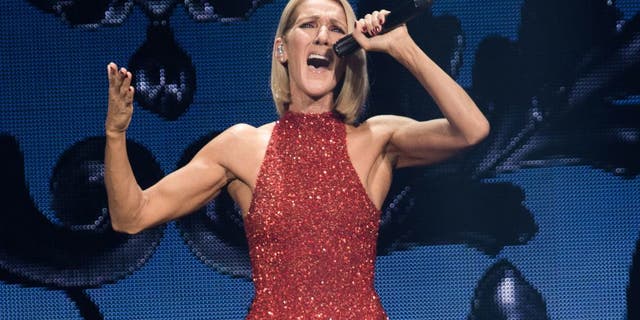 Dion fought back tears as she directly addressed her fans, saying, "I miss you so much. I miss seeing all of you — being on the stage, performing for you.
"I always give 100 percent when I do my shows," she added. "But my condition is not allowing me to give you that right now. For me to reach you again, I have no choice but to concentrate on my health at this moment."
"And I have hope that I'm on the road to recovery. This is my focus. And I'm doing everything that I can to recuperate."
Following her announcement, Dion's tour dates for Feb. 24 to April 11, 2023, were rescheduled for March 6 to April 22, 2024, and her summer performances from May 31 to July 17, 2023, were canceled. However, the hitmaker's late summer/fall shows from Aug. 26 to Oct. 4, 2023 have yet to be rescheduled, suggesting that the singer could potentially return to touring within the year.
APP USERS CLICK HERE
Dion recently released new music and made her big-screen acting debut in the romantic comedy "Love Again," which was released May 5. The performer sang the movie's title track "Love Again" and contributed four other new songs to the soundtrack.
CELINE DION CANCELS NORTH AMERICAN TOUR OVER HEALTH ISSUE
Dion played herself in the film, which wrapped filming in early 2021. In a press release obtained by Fox News Digital last month, Dion said she "had a lot of fun doing this movie," which also stars Priyanka Chopra and Sam Heughan.
"And to have the privilege of appearing with the beautiful and talented actors Priyanka Chopra Jonas and Sam Heughan in my very first feature film is a gift that I will cherish forever," Dion said.
"I think it's a wonderful feel-good story, and I hope that people will like it and like the new songs too." 
Dion's return to her residency on the Las Vegas Strip next year also remains a possibility. The singer was set to make her debut at the Resorts World Theatre in 2021 but canceled her new residency due to medical issues.  
The Las Vegas Review-Journal reported Monday that the venue had held open dates for May to coincide with the opening of "Love Again," However, Dion is not expected to make her long-awaited premiere until 2024.
Justin Bieber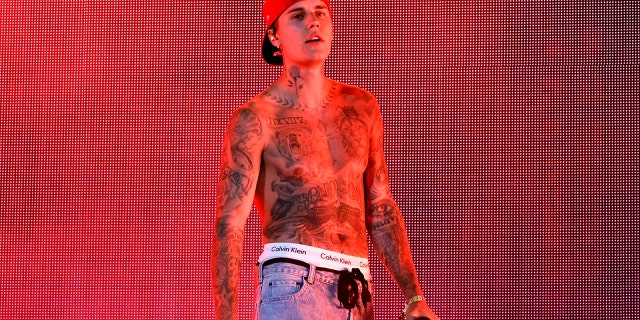 Justin Bieber announced last September he was canceling his "Justice" world tour to focus on his health.
The 28-year-old singer, who revealed that he had been diagnosed with Ramsey Hunt syndrome in June, explained that he had tried to continue the tour, which kicked off in January 2022 and was scheduled to run through 2023.
"Earlier this year, I went public about my battle with Ramsay Hunt syndrome, where my face was partly paralyzed," he wrote in a statement he shared on Instagram. "As the result of this illness, I was not able to complete the North America leg of the Justice tour.
JUSTIN BIEBER CANCELS JUSTICE WORLD TOUR: 'I NEED TO MAKE MY HEALTH THE PRIORITY' 
After resting and consulting with my doctors, family and team, I went to Europe in an effort to continue with the tour. I performed six live shows, but it took a real toll on me. This past weekend, I performed at Rock in Rio and I gave everything I have to the people in Brazil."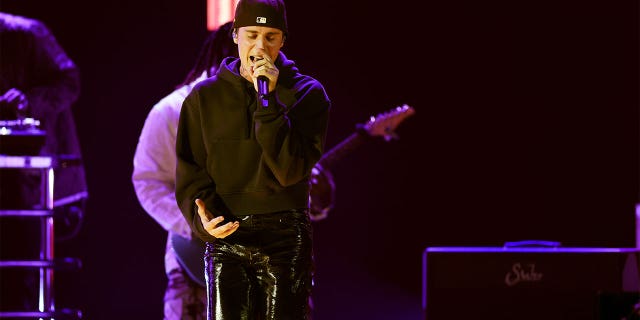 The "Peaches" hitmaker explained he decided to call off the tour because he needed "time to rest and get better."
"After getting off the stage, the exhaustion overtook me and I realized that I need to make my health the priority right now," he said. "So I'm going to take a break from touring for the time being. I'm going to be ok, but I need time to rest and get better."
Bieber concluded his statement by telling his fans, "I've been so proud to bring this show and our message of Justice to the world. Thank you for your prayers and support throughout all of this! I love you all passionately!"
After postponing a string of concerts, the two-time Grammy Award winner shared a video on Instagram in which he explained that he was suffering from partial facial paralysis after being diagnosed with Ramsay Hunt syndrome.
"As you can see, this eye is not blinking," he said in the video, pointing to his eye. "I can't smile on this side of my face. This nostril will not move. So there's full paralysis on this side of my face."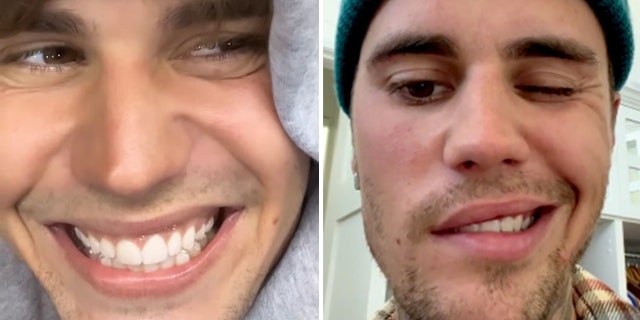 The syndrome "occurs when a shingles outbreak affects the facial nerve near one of your ears," according to the Mayo Clinic. The virus can cause facial paralysis and hearing loss.
"I'm going to get better, and I'm doing all of these face exercises to get my face back to normal," the Canada native said at the time. "It will go back to normal, it's just time. We don't know how much time it's going to be. It's going to be OK."
Though his upcoming concerts were initially postponed indefinitely, Bieber canceled all remaining tour dates through 2024 in March. According to the tour's website, all ticket buyers receive automatic refunds.
JUSTIN BIEBER TO RESUME JUSTICE TOUR FOLLOWING FACIAL PARALYSIS DUE TO RAMSAY HUNT SYNDROME DIAGNOSIS
Bieber made a surprise appearance at the Rolling Loud festival a few days later. He joined Don Toliver on stage to perform their collaboration, "Private Landing."
Later that month, Bieber shared a hopeful update on his recovery. The singer uploaded a video in which he demonstrated improved facial mobility as he winked, rolled his eyes, raised his eyebrows and smiled using both sides of his face.
Ozzy Osbourne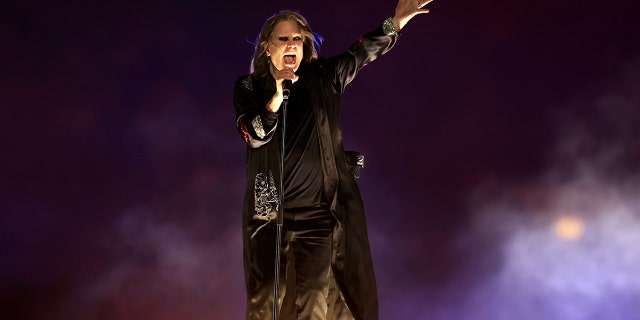 Ozzy Osbourne officially canceled all of his 2023 tour dates in February and indicated his days on the road may be over.
The 74-year-old musician revealed that suffering a spinal injury during a fall four years ago is preventing him from touring. Osbourne previously postponed his 2019 tour to recover from the accident.
"My one and only purpose during this time has been to get back on stage," he wrote. "My singing voice is fine. However, after three operations, stem cell treatments, endless physical therapy sessions, and most recently groundbreaking Cybernics (HAL) Treatment, my body is still physically weak."
OZZY OSBOURNE SPOTTED LOOKING FRAIL AS HE REVEALS WIFE SHARON OSBOURNE 'PULLS MY STRINGS'
Cybernics treatment uses a wearable cyborg hybrid assistive limb to help improve movement in patients with spinal cord injuries.
The former Black Sabbath vocalist continued, "I am honestly humbled by the way you've all patiently held onto your tickets for all this time, but in all good conscience, I have now come to the realization that I'm not physically capable of doing my upcoming European/UK tour dates, as I know I couldn't deal with the travel required."
APP USERS CLICK HERE
OZZY OSBOURNE CANCELS ALL TOUR DATES AMID 'LIFE-ALTERING' INJURY, SEVERAL HEALTH SCARES
Osbourne revealed that his time spent touring may be over but told fans his team was strategizing ways for him to continue performing without traveling extensively.
"Never would I have imagined that my touring days would have ended this way," Osbourne wrote. "My team is currently coming up with ideas for where I will be able to perform without having to travel from city to city and country to country."
The musician continued, "I want to thank my family……my band…….my crew……my longtime friends, @JudasPriest, and of course, my fans for their endless dedication, loyalty, and support, and for giving me the life that I never ever dreamed I would have.
"I love you all…"
Osbourne's statement concluded by informing fans that ticket refunds will be available at the point of purchase.
The "Paranoid" singer has struggled with a number of physical ailments over the years. In 2003, he almost died in an ATV accident when his quad flipped onto him while he was riding around his London estate. That year, he was also diagnosed with Parkinson's disease, though he did not reveal his diagnosis until January 2020.
SHARON OSBOURNE GIVES UPDATE ON OZZY'S 'TORTUROUS' HEALTH ISSUES SINCE ANNOUNCING HIS RETIREMENT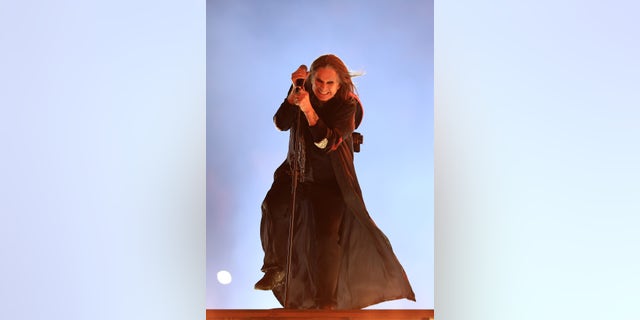 Later in February, Osbourne addressed media reports about the state of his health during an appearance on his SiriusXM "Ozzy's Boneyard" channel.
"This f—ing press drive you nuts," he said on "Ozzy Speaks." "I mean, I, I looked in the magazine, 'Ozzy's on his last legs,' I'm f—ing not dying.
"Well, I've been working my guts out to try and get back on my feet," the five-time Grammy Award winner added. "I've come to the point where [his wife] Sharon says to me, 'You know what, the truth of the marriage, you can't keep booking tours and failing, canceling.'"
Osbourne also left open the possibility he might return to touring again at some point.
APP USERS CLICK HERE
"So, if I can ever get back to where I can tour again, fine. But, right now, if you said to me, 'Can you go on the road in a month?' I couldn't say, 'Yes,'" he continued. "I mean, if I could tour, I'd tour. But, right now, I can't book tours because, right now, I don't think I could pull them off."
At the end of March, Osbourne announced his first performance since canceling his tour. The rocker will take the stage for the first Power Trip Festival in Indio, California, this fall. He will join fellow headliners Guns N' Roses, Metallica and AC/DC at the festival, which runs from Oct. 6-8. 
Osbourne posted about the festival on his social media accounts, writing, "One legendary weekend in the Desert." 
Sharon later told Piers Morgan on his show "Uncensored" that her husband is "doing so much better." 
"It's going to be a great show," she said of the Power Trip festival. The talk show host went on to say that Osbourne "never stopped."
"He's back," Sharon noted. 
Fox News Digital's Lauryn Overhultz and Stephanie Giang-Paunon contributed to this report.


Read the full article here