A 33-year-old Milwaukee public schools staff member is accused of sexually assaulting, requesting sexual favors and discussing pornography with a 14-year-old girl and other students at a public elementary school. 
Randell Jefferson, 33, faces 10 criminal felonies for soliciting sex with minors spanning a two-year period. Along with being the 6th. grade aid, Jefferson runs the after school program and helped coach track.
According to the criminal complaint, the Milwaukee Police Department began investigating in Sept. 2022 after a 14-year-old girl came forward regarding a sexual assault with her 6th. grade aid "Mr. Jefferson."
The unnamed 14-year-old said that the 33-year-old, "made comments to her about boys wanting to do sexual things to (the teen) and talking to (the teen) about pornography," the complaint says.
TEACHERS SOUND ALARM ON GROWING PROBLEMS IN SCHOOLS, SAY COLLEAGUES ARE 'LEAVING IN DROVES'
The teen stayed silent until she told her mother in June. The young girl told her mother that Jefferson took her into a room commonly used for after-school activities and allegedly had inappropriate contact with her. The teen did not say anything about their interaction because the teen "stated she felt uncomfortable talking about it and that the defendant had a 'buff build.'"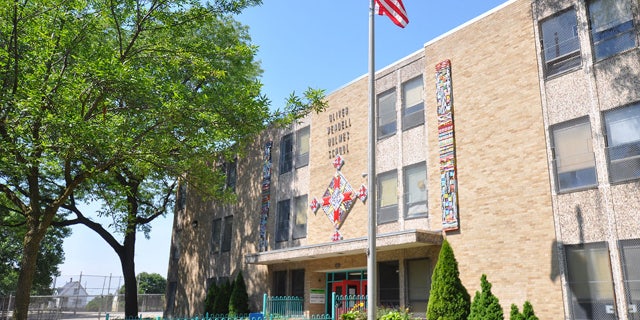 As police began investigating the disturbing incident, the principal at Oliver Wendell Holmes School in Milwaukee, Wisconsin corroborated the 14-year-old's allegation after "several students informed him that they were solicited for sexual favors by a teacher."
During an interview with police, Jefferson admitted to having homemade pornographic material on his phone, but denied showing the pornography to any of the students. The complaint says that the pornographic videos depicting the defendant receiving oral sex from various females – are consistent with what the victims said.
TEACHERS UNION PRESIDENT RIPS PARENTS FOR CHALLENGING BOOKS: 'THEY'RE NOT PATRIOTS, NOR FREEDOM FIGHTERS'
On Thursday, May 4, Jefferson made his initial appearance in Milwaukee County court. His bail is set at $50,000. 
Stephen Davis, Milwaukee Public Schools Media Relations Manager, issued a statement to FOX 6 Milwaukee saying that they are not able to comment on the incident at this time.
"In accordance with District policy and Federal and State law, the District does not comment on the circumstances of our individual students and their families." Davis said in a statement to FOX 6. "MPS takes all matters seriously that impact the learning and a advancement of our students. This incident is under investigation. All personnel matters are addressed according to district policy."
Read the full article here