Rep. Michael McCaul, R-Texas, said it is essential for the United States to protect its intellectual property and loosen its reliance on China's supply chain to win the race for quantum computing, artificial intelligence (AI) and semiconductor chip supremacy.
"It's a race just like the space race. You know, we had the Russians and we won that race. We have to win this one," McCaul told Fox News Digital at the Milken Global Conference.
McCaul, the House Foreign Affairs Committee Chair, said that whoever gets to quantum first is going to rule the world. Additionally, China has been very clear that their 100-year goal is to enact complete "military and economic domination of the world," a mission that McCaul asserted the U.S. cannot allow to happen.
CHINA AIMING FOR 'CHAOS AND CONFUSION' BY WEAPONIZING AI, WARNS GOP SENATOR
China is currently investing heavily in quantum computing, AI and advanced weapons systems. As such, McCaul stressed the importance of U.S. corporations working to protect their intellectual property.
"We have to stop exporting our technology to China that they can put in things like the hypersonic missile, for instance, or the spy ballon, for that matter, had American parts in it, component parts," McCaul said.
Despite the national security concerns, McCaul noted that the U.S. can work with China's extensive market as long the country understands the critical supply chains intertwining the two nations.
One of these critical supply chains involves semiconductors. McCaul first introduced the CHIPS for America Act in 2020, and it was signed into law in August 2022. The Act provides $280 billion in new funding to bolster domestic manufacturing and research for semiconductors domestically. McCaul said the Act is part of a broader effort to pull semiconductor reliance out of Taiwan and South Korea. In fact, TSMC, the world's largest semiconductor foundry, is located on the island of Taiwan.
REGULATION COULD ALLOW CHINA TO DOMINATE IN THE ARTIFICIAL INTELLIGENCE RACE, EXPERTS WARN: 'WE WILL LOSE'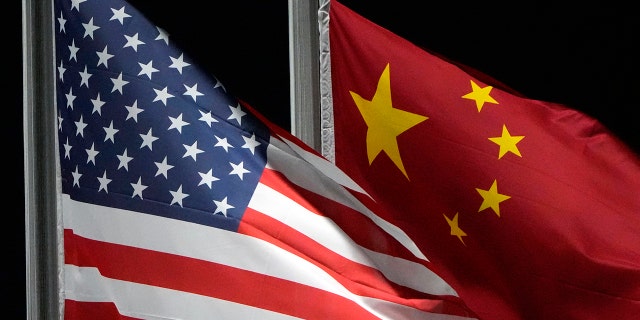 "You know, I introduced the CHIPS bill to try to move some of that out of country. But as we look at a growing threat from, you know, communist China, I was just there and we were surrounded by an armada of battleships and 90 fighter jets. And I got sanctioned on my way out," McCaul said. "The idea if they got a hold of TSMC, the crown jewel of advanced semiconductor chip manufacturing, either they own it or they break it, either scenario is not a good one."
However, one of the challenges for the U.S. in untangling itself from China in semiconductor reliance is that the People's Republic of China (PRC) holds 80% of the global rare earths market, which is critical in semiconductor creation.
CHINA'S RAILROAD TO WORLD DOMINATION: $58 BILLION RAIL LINK WITH PAKISTAN WILL REDUCE RELIANCE ON WEST
As such, McCaul said the U.S. needs to be sharing intelligence and working with the U.K. and Australia on various technologies, including advanced weapons systems, to combat a China aggressively pushing expansion in the Pacific.
He also highlighted how corporations need to be cognizant of the challenges found in doing business with the Chinese market.
"It's not an even playing field," McCaul said. "It's a 51-49 joint venture. Long term, they're going to own you. And it may not be in your long-term best interests, maybe short-term it is," he said.
BIDEN LIGHTENS HIS WHITE HOUSE SCHEDULE, LETS HARRIS TAKE LEAD IN AI MEETING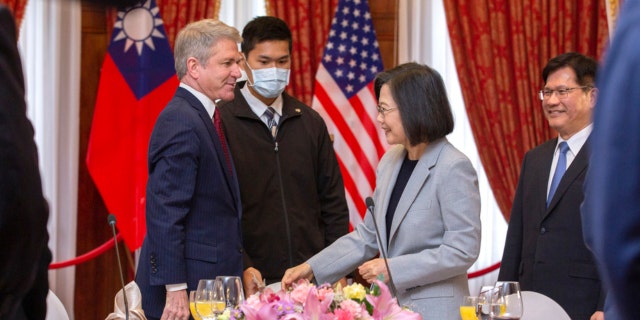 The PRC and the United States also have very different structures regarding overlap, or the lack thereof, in private corporations and military spending. In China, they have military-civil fusion, wherein businesses and government are all interrelated. In the U.S., there is the government, including the Department of Defense, but much of the work is done through contracts with the private sector.
WHITE HOUSE ANNOUNCES PLAN FOR 'RESPONSIBLE' AI USE, VP HARRIS TO MEET WITH TECH EXECUTIVES
"I've talked to the Department of Commerce about this is to look at sectors rather than companies specifically because China can change the name of the company overnight," McCaul said. "But if you prohibit the export of technologies to certain sectors like, say, AI or quantum computing, then I think you're able to, in terms of this competition we're in, not give them the ability to steal or [let us sell important data]. I don't think if we're going to win this competition again, we need to stop selling this technology to them."
But to win these technological races, McCaul said Congress must face greater exposure on topics related to AI, quantum and social media algorithms in order to cultivate appropriate legislation. While in the past Congress did not have a "very high aptitude" for cybersecurity, McCaul said the understanding is getting better.
"I think hearings like having the CEO of TikTok testifying brings that to the members' attention in Congress. But if you ask the average member what is quantum computing, I doubt many would know or what can it be used for," he added. "And so there is an educational process that has to be done because it's impacting, you know, our national security."
Read the full article here