A Louisiana couple is sharing their joy after winning a fight against the state to keep the pet rodent they rescued from the side of the road.   
Denny Lacoste knew he had to take action when he spotted a rodent family that was hit by a car while driving outside of New Orleans. He rescued the surviving nutria and took him in as a family pet named Neuty. The state of Louisiana attempted to seize the beloved rodent on health grounds, but the family stood up to the attack and was allowed to keep him as a pet.   
"He was just a little hurt animal," Denny told "Tucker Carlson Tonight" on Thursday. "We felt sorry for him."  
Myra Lacoste said the fluffy nutria was "so cute" when they brought him home and he "fit in the palm of (their) hands."  
NEW JERSEY POLICE SHARE VIDEO OF DRAMATIC RESCUE OF 4-YEAR-OLD LOST IN WOODS WITH DOG 
Neuty has become a celebrity in the Lacostes' hometown. He is a regular at the family's restaurant, Dennis' Seafood in Metairie, and he especially enjoys feasting on boiled crawfish claws.  
"He is a lucky one," Myra reflected. "He has it made."  
While the nutria melts the hearts of many who meet him, the Lacostes explained the rodent has a way of getting into trouble.  
"Besides eating pancakes and stuff like that, he loves wires, sofa wires, any kind of wires, phone chargers, you got to pick all that up. I don't know why he loves wires," Denny told Fox News.  
"They can destroy (the) inside of your house really quickly," Myra explained.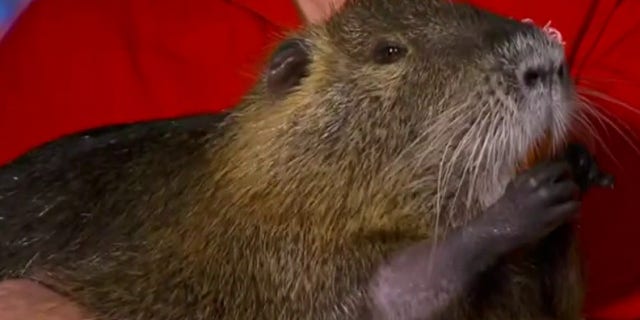 While Neuty has brought a lot of happiness to the Lacostes, the couple does not recommend other families adopt nutrias.   
"He is a lot of work," Denny cautioned. "He kind of listens like a cat, not too good." 
Read the full article here