Sarah Ferguson and her ex-husband, Prince Andrew, sat side by side for King Charles' coronation concert Sunday at Windsor Castle.
Despite not being invited to attend the official coronation Saturday at Westminster Abbey, "Fergie" appeared to be in great spirits while chatting with her ex-husband.
Ferguson confirmed last month on the television show "Loose Women" that she didn't receive an invitation to the main event but would instead be having a tea room and celebrating on her own.
SARAH FERGUSON BREAKS SILENCE ON KING CHARLES CORONATION SNUB
The former couple scanned through a program while sitting in the stands together before witnessing the historic event.
Prince Andrew and Sarah Ferguson married in 1986 and divorced in 1996, months before now-King Charles would divorce Princess Diana. Andrew and Ferguson share two children, Princess Beatrice and Princess Eugenie.
CORONATION OF KING CHARLES: TOP 5 VIRAL MOMENTS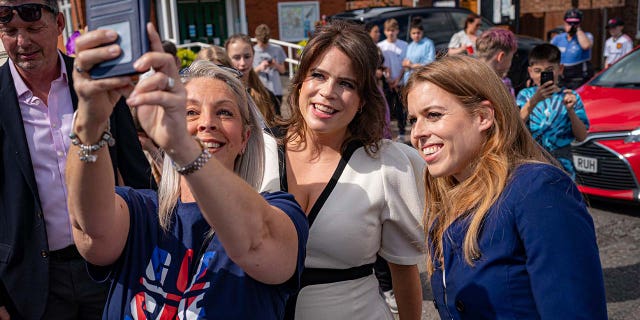 Ferguson honored the new king and queen on social media Saturday: "Sincerest congratulations to Their Majesties, the King and Queen," she wrote.
She received more support on Instagram after sharing an image of one of her seven dogs ready for the party. Ferguson also inherited two of Queen Elizabeth's corgis when the monarch died in September.
APP USERS CLICK HERE TO SEE POST
APP USERS CLICK HERE TO SEE POST
"I hope you have got the bunting out ready for the Coronation tomorrow. I certainly have," she wrote. "Today I assembled a tea fit for a King which I shared with the residents at the Manor Care Home in Windsor to help them celebrate. Enjoy the weekend!"
Ferguson previously told Fox News Digital that she keeps the queen's memory alive through Elizabeth's beloved corgis.
"I adored our walks with the dogs," she said. "On our strolls, we would talk about the gardens and what's blooming. She just had the best imagination every time I would tell her about my newest children's book. She would jump right into the story."
"She was such a guiding force in my life, more of a mother to me than my own mother was, actually. And I will always live by her remarkable example."


Read the full article here