FIRST ON FOX: Kim and Khloé Kardashian walked into a California prison Monday morning with a different goal in mind  – guiding a group of young influencers through the American criminal justice system.
"It's always an honor to be able to visit the men and women living behind our prison walls," Kardashian, a longtime criminal justice reform advocate, said Monday after spending several hours at the California State Prison of Los Angeles County in Lancaster with members of the REFORM Alliance, a group that aims to help ex-cons successfully return to society, and a number of young social media stars.
"Hearing the stories of people trapped in the prison system is what drives my commitment to advocate for reform and find ways to leverage my platform to help change lives and laws," she said of the visit, which began around 9:30 a.m.
In a proverbial generational shift, the social media and reality TV superstar said the goal of the trip was to introduce a new group of Gen-Z influencer to key issues of criminal justice and proposals for reform. 
KIM KARDASHIAN DETAILS HER NEW DOC, SAYS SHE'S NOT WORRIED ABOUT JUSTICE REFORM CRITICS
They are called the Future Shapers Advisory Council, which was established in February and includes Hannah Jackson, Rondo Bonilla, Charli D'Amelio, Dixie D'Amelio, Sophia Kianni, CJ Stroud, Zander Moricz, Jack Wright, Bryce Young, Jax Ajueny, and Aidan Kohn-Murphy.
Kardashian, for years a prominent criminal justice reform advocate, in 2018 famously lobbied then-President Trump for the release of Alice Johnson, who served 21 years in prison for a nonviolent offense.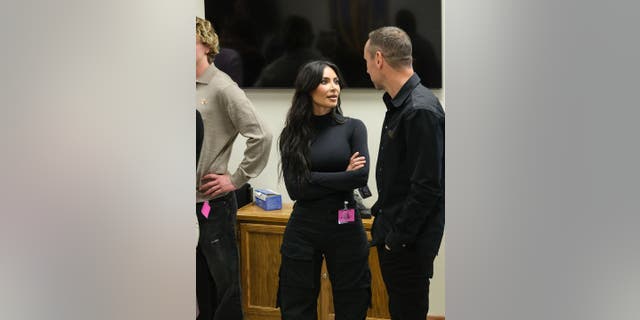 "We are building up the next generation of leaders and influencers who will join us in this fight," she said.
The prison's inmate roster in the past has included Joseph Son, the former "Austin Powers" actor who killed a cellmate while serving time for another crime, and the prolific serial murderer Samuel Little.
KIM KARDASHIAN ARRIVES AT WHITE HOUSE, THANKS TRUMP FOR COMMUTING SENTENCES OF 'THREE REALLY DESERVING WOMEN'
Kardashian's group heard the stories of a series of incarcerated men, discussed potential solutions for public safety and rehabilitation, and visited with members of the prison's PAWS For Life program, according to the REFORM Alliance.
A prison spokesman did not immediately respond to a request for comment.
KIM KARDASHIAN REFLECTS ON ALICE JOHNSON CASE, HOW SHE WAS TOLD GOING TO THE WHITE HOUSE WOULD 'RUIN' CAREER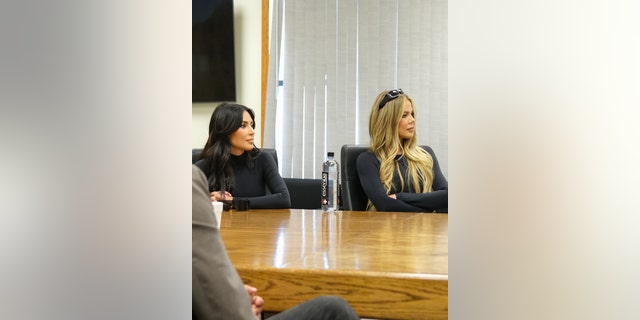 Others in attendance included California state Rep. Matt Haney, D-San Francisco, the rapper Lil Baby, REFORM officials Jessica Jackson and Law Erin Haney, and Dixie, Heidi and Marc D'Amelio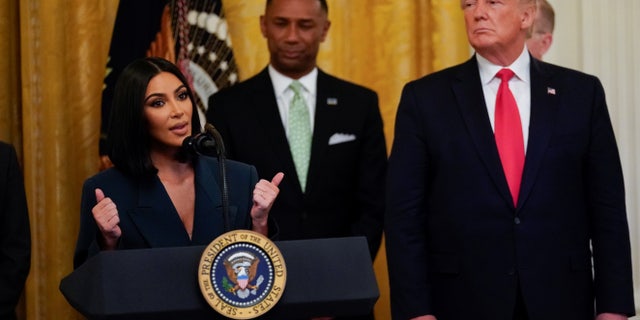 Kardashian was an outspoken supporter of the First Step Act, a bipartisan criminal justice reform bill that Trump signed in 2018.
WHAT IS THE FIRST STEP ACT? 5 THINGS TO KNOW ABOUT THE CRIMINAL JUSTICE REFORM LAW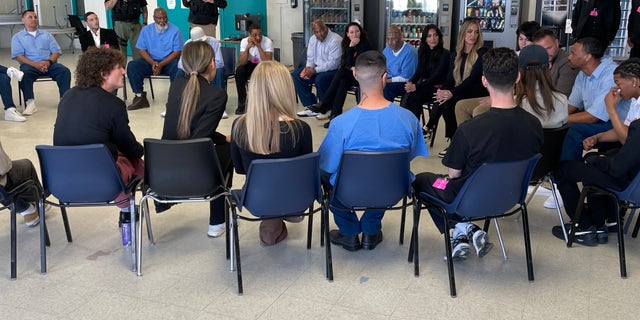 And she has hosted a podcast on the subject, "Kim Kardashian's The System," and has made visits to jails and prisons around the country.
For years, she's visited inmates around the country, including former Oklahoma death row resident Julius Jones in prison roughly a year before Gov. Kevin Stitt granted him clemency in 2021, commuting his sentence to life without parole.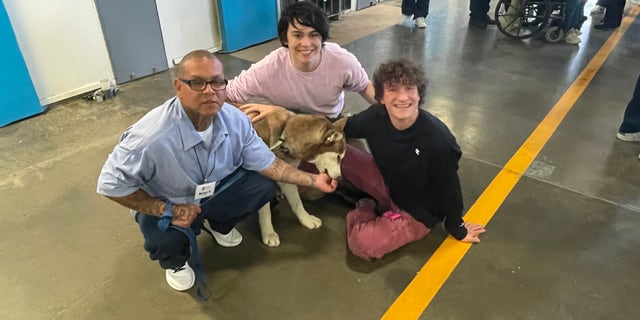 And in 2020, she partnered with Oxygen for a two-hour documentary titled "Kim Kardashian West: The Justice Project," in which she revealed she hoped to become a lawyer.
After leaving the state prison in Lancaster, the group stopped for lunch at La Papillon, a steakhouse and seafood restaurant which typically doesn't open until 4 p.m.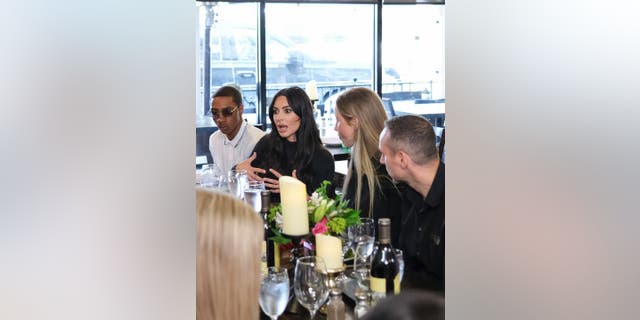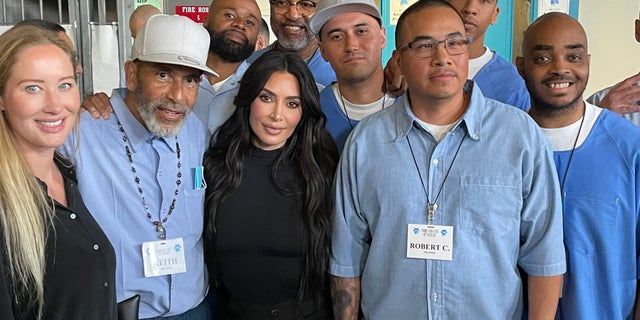 The menu, lauded by Yelp users, includes offerings of filet mignon for $45 or macadamia crusted Chilean sea bass for $20 more.


Read the full article here