An indictment for any alleged crime, the accompanying perp walk and ensuing court hearings may sound like a death knell for a politician on the ballot. But for Donald Trump — hardly a normal politician — it's a gift.
The former president has long thrived on chaos and turmoil as he's successfully portrayed himself to his supporters as a victim of the establishment, the "deep state," liberal forces and the mainstream media.
And Trump's 2024 presidential campaign quickly capitalized on the announcement Thursday that he would become the first former president in U.S. history to be charged with a crime.
MANHATTAN DA ACCUSES HOUSE GOP OF 'UNLAWFUL POLITICAL INTERFERENCE'
"The Radical Left – the enemy of the hard-working men and women of this country — have INDICTED me in a disgusting witch hunt," Trump claimed in one of a handful of fundraising emails his campaign committees sent to supporters in the hours after Thursday's breaking news. 
"Please make a contribution — of truly any amount — to defend our movement from the never-ending witch hunts and WIN the WHITE HOUSE in 2024."
The Trump campaign announced on Friday evening that they hauled in over $4 million in fundraising following the indictment announcement. The campaign touted the grassroots nature of the donations – with an average contribution of $38 – and that a quarter of the money came from first-time donors to the Trump campaign.
Word of Trump's indictment came on the eve of the final day of fundraising in the first quarter of the year, and the surge in contributions should boost the former president's campaign cash numbers when they're likely revealed in the coming days.
Trump is expected in New York City Tuesday after a Manhattan grand jury voted to indict him. He allegedly gave hush money payments to adult film actress Stormy Daniels in 2016 to keep her quiet ahead of that year's presidential election over her claims she had sexual encounters years earlier with Trump. The former president denies sleeping with Daniels and denies falsifying business records to keep the payment concealed.
TRUMP'S 2024 GOP RIVALS CHARGE INDICTMENT 'POLITICALLY MOTIVATED'
In the hours after the media frenzy, nearly all of Trump's actual and potential rivals for the GOP nomination defended Trump, most charging that the move by Manhattan District Attorney Alvin Bragg was a "political prosecution."
The indictment firmly puts the 2024 spotlight back on Trump — where he wants it — and will make it more difficult for any of his rivals to gain traction, effectively freezing Trump's position as the clear front-runner during the early legs of the primary battle.
"In the short term, there's a rallying effect, there's a fundraising effect, which Trump is going to fully employ," longtime Republican strategist David Kochel, a veteran of numerous presidential and Iowa-based campaigns, told Fox News.
South Carolina-based conservative consultant Dave Wilson noted that "it gives Trump a bump in the polls. It's a natural thing because he's getting news coverage again."
With the indictment looming, Trump had seen his lead in the polls over Florida Gov. Ron DeSantis grow in the most recent surveys. Among those polls is one from Fox News released Wednesday that indicated Trump's lead over DeSantis had doubled over the past month, from 15 to 30 points. 
While DeSantis remains on the 2024 sidelines, he's expected to launch a campaign later this spring or summer and is seen as Trump's top rival for the nomination.
TOP HOUSE, SENATE REPUBLICANS OUTRAGED ABOUT TRUMP INDICTMENT: 'A DARK DAY IN AMERICAN HISTORY'
"The rumor that Trump is going to be indicted by the district attorney in Manhattan has helped him quite a bit among Republican primary voters," Republican pollster Daron Shaw, who conducts Fox News surveys with Democrat Chris Anderson, said earlier this week ahead of the indictment news. "They view the case as politically motivated, and it reanimates feelings that Trump is still fighting forces they see as corrupt and out of control."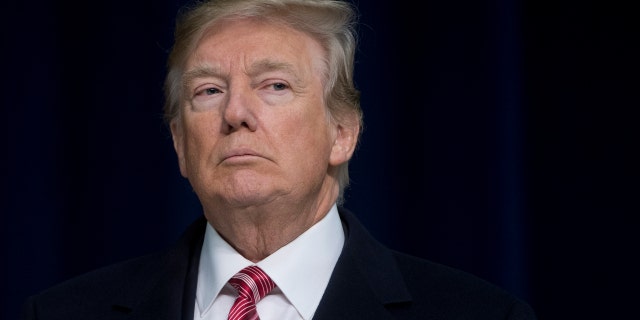 Shaw said the indictment "is rallying Republicans to Trump, making Trump's claims sound more legitimate" and making it "more difficult … for the other Republicans to get oxygen."
Andrew Smith, director of the University of New Hampshire's survey center, noted that "based on past performance, the kind of bad news that would typically bury a candidate will likely fire up Trump's base."
But the big question is whether a short-term bounce is sustainable. And as details of Trump's alleged involvement with Daniels grabs outsized attention in the days and weeks ahead, will the former president suffer repercussions with social conservative voters who play an outsized role in Republican politics in Iowa and South Carolina, the first and third states in the GOP's presidential nominating calendar?
CHECK OUT THE LATEST FOX NEWS 2024 POLL
"Longer term — we need to know more," Kochel noted. "That stuff will roll out over the next several weeks and months as you go through the process. Iowa evangelicals aren't going to like hearing about the former president paying off a porn star. There's the potential for it to be a negative in the long term."
But Kochel emphasized that "Trump is very good in going to guns when he's challenged like this."
Wilson said the question is whether Trump's initial bump will be "sustainable over time."
"There's going to be a question among certain evangelical voters as to whether or not this is something they want to wrap themselves around when it comes to Donald Trump. It's a turnoff for some people, especially in the evangelical community," Wilson said.
In New Hampshire, which votes second in the GOP primary schedule, Neil Levesque, longtime director of the New Hampshire Institute of Politics, weighed in. 
"This will mean that Trump is front and center as we go into the nominating process, whether good or bad. How much of a distraction and how much will other candidates be able to get attention is a big question," Levesque said.
"As this goes forward, how much will Republicans say, 'Is this the best candidate we can put forward against Biden?' Or will they double down and say, 'He's part of our tribe, we need to get behind him?' Those are the great unknowns."
Read the full article here