The president of a gun rights group is hoping Justice Amy Coney Barrett will grant his application for an emergency injunction, which would temporarily suspend Illinois' semi-automatic rifle and high-capacity magazine ban.
"They're going to strike this down and send Naperville and the state of Illinois packing," Dudley Brown, the president of one of the plaintiffs, the National Association for Gun Rights (NAGR), told Fox News.
The emergency petition for the case, National Association for Gun Rights v. City of Naperville, made it to Barrett's desk after lower courts denied temporary restraining orders to block an Illinois law and local ordinance banning the sale of high-capacity magazines and "assault weapons."
GUN RIGHTS GROUP HOPES BARRETT WILL TEMPORARILY LIFT SEMI-AUTOMATIC RIFLE BAN. WATCH:
WATCH MORE FOX NEWS DIGITAL ORIGINALS HERE
"We've been going through the process of trying to save the local gun business and get rid of these gun controls," Brown said. "So we appealed to the U.S. Supreme Court thinking it was kind of a Hail Mary, and, in fact, Justice Amy Coney Barrett said, 'yeah, let's look at the arguments.'"
The U.S. Court of Appeal for the 7th Circuit is reviewing the case but joined a lower court in denying a temporary restraining order and a preliminary injunction to block the bans.
Barrett, who hears applications from the 7th Circuit, asked both sides for more information on May 1. She has the options to block the ban with an emergency injunction while the case continues in the lower court or refer the application to the full Supreme Court to vote on.
Illinois and Naperville filed their responses to Barrett's request Monday, while NAGR responded Wednesday.
The Brady Center to Prevent Gun Violence, which is representing Naperville and its Chief of Police Jason Arres, declined to comment on the specifics of the case, but provided a statement from its president, Kris Brown, about semi-automatic rifles.
"Mass shootings involving assault weapons are becoming increasingly regular in the U.S., and they're horrifying reminders of why these weapons were designed for the battlefield, not our communities," she said. "Weapons of war have no place in our communities and every day we wait to renew the Assault Weapons Ban, more lives will be lost."
A spokesperson for Attorney General Kwame Raoul, Annie Thompson, told Fox News that Illinois' top prosecutor "has defended the constitutionality of the Protect Illinois Communities Act in courts around Illinois, and we are committed to continuing to defend the law's constitutionality."
Naperville, a Chicago suburb, issued an ordinance banning the sale of "assault weapons" within city limits after a Highland Park gunman fired into a crowd on July 4, 2022, wounding 48 people and killing seven. 
Illinois followed on Jan. 10, 2023, passing legislation banning the sale, purchase, manufacture, delivery and importation of "assault weapons," and large capacity magazines, with exceptions for law enforcement, military members and certain other professionals with firearm training. The Protect Illinois Communities Act specifically named the AR-15 and AK-47 rifles and requires lawful owners of semi-automatic rifles to register their ownership with state police.
The defendants argued that the injunction request should be rejected because it's not an emergency and sidesteps the conventional appellate process.
WHY GUN OWNERSHIP IS SPIKING AMONG THIS DEMOGRAPHIC
"The loss of business from being unable to sell one category of one possible product line at a gun store simply cannot carry sufficient weight against the danger of a murdered or permanently maimed Naperville resident, senselessly shot by an assault rifle," the City of Naperville wrote in their response.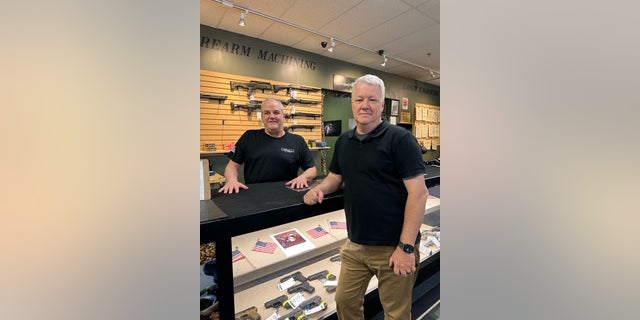 Another plaintiff, Robert Bevis, owns the gun store Law Weapons & Supply. He argued the bans severally harmed his business by prohibiting 85% of the guns he typically sells, causing him to lay off employees, go into debt, and be unable to pay his own salary. 
WASHINGTON GOV SIGNS BIG GUN CONTROL PACKAGE, INCLUDING 'ASSAULT WEAPONS' BAN: 'NO ONE NEEDS AN AR-15'
A lower court initially denied a request for a temporary restraining order on the grounds of "particularly 'dangerous' weapons" not being protected under the Constitution.
Brown, the NAGR president, rejected that argument.
"Now I know they'll claim an AR-15 didn't exist back when the Founding Fathers were there," he said. "Well, by that train of logic, the very equipment we are using right now to record this interview isn't covered by the First Amendment."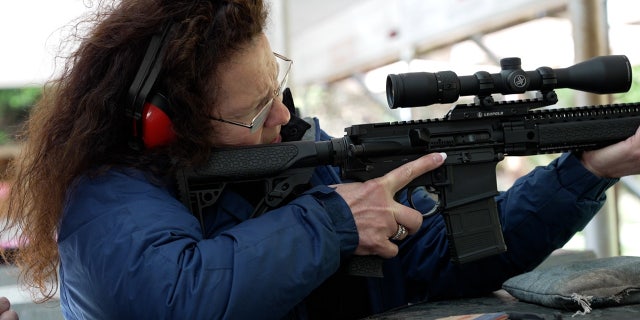 "Does anybody believe ballpoint pens aren't covered by the First Amendment because only quills were around?" he added. "So the only way we can practice our First Amendment are quills. That's the same logic and no one buys that. The Supreme Court's not going to buy that."
The state of Illinois, in its response to Barrett, argued that semi-automatic rifles are not in "common use" for self-defense, and thus not protected under the 2022 New York State Rifle & Pistol Association, Inc. v. Bruen Supreme Court ruling that implemented a two-part test for evaluating gun laws' constitutionality.
TEXAS REPUBLICANS STALL BILL RAISING PURCHASE AGE FOR AR-STYLE RIFLES
"That is so patently false and ludicrous as to beggar imagination that an attorney general could actually put their name to that," Brown told Fox News. "The AR-15 is the most widely sold rifle in America and has been for many years now. There are literally tens of millions of AR-15s in Americans' hands."
There are more AR-15 and AK-47 style rifles in circulation in the U.S. than there are F-150s on the road, according to the National Shooting Sports Foundation, with estimates as high as 24,446,000 since 1990. 
The defendants also argue that the ban does not affect the right to bear arms, only sell arms.
"The Illinois Attorney General is not only spitting on the Constitution, but apparently he is also historically illiterate," Brown said in a statement Wednesday after responding to Barrett. "The Second Amendment has always applied to a wide variety of 'arms,' including AR-15s and various types of ammunition."
The plaintiffs argue that selling these firearms is protected under the Constitution, citing a lower court decision noting "a right to own a weapon that can never be purchased would be meaningless."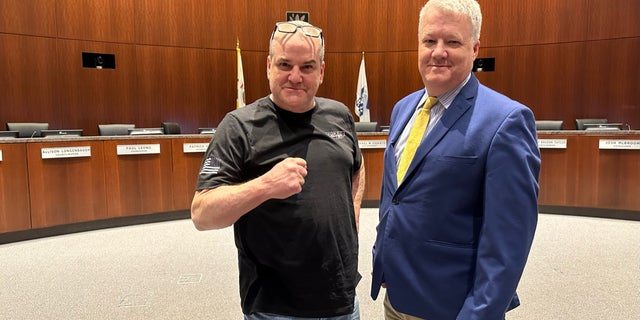 CLICK HERE FOR THE FOX NEWS APP
The defendants further argued that high-capacity magazines are not protected under the Constitution because they are not arms. 
In its response to Barrett, the NAGR said the defendant's response regarding magazines "defies common sense" since the Second Amendment extends to "all instruments that constitute bearable arms." 
Click here to hear more about the case from the National Association for Gun Rights.
Read the full article from here