How did George Santos think he was going to get away with it?
We know the freshman congressman lied and lied and lied some more. He's been a fabrication factory. He got himself elected in a Long Island district by making up that he went to college, making up that he was a volleyball star there, and making up that he had worked for two top Wall Street firms – all easily checkable but which got by the press until after Election Day.
It isn't a crime to lie to the public. But after mounting evidence of financial improprieties, Santos surrendered to authorities yesterday as the Justice Department unsealed a 13-count criminal indictment.
The Republican was charged with wire fraud, money laundering, theft of public funds and making false statements to the House. He pleaded not guilty and was freed on $500,000 bail, put up by three unidentified people.
THE DESANTIS PLAYBOOK FOR HITTING TRUMP AS A FAKE CONSERVATIVE
In a chaotic session with shouting reporters who embarrassed themselves by constantly screaming at Santos, he said it "makes no sense" that he was indicted in a few months but no charges have been brought against the Biden family. 
Calling the probe a "witch hunt," Santos said outside the Long Island courthouse: "I'm going to fight my battle… I will get to clear my name… The media is not jury or judge."
Santos is entitled to the presumption of innocence, and as an indicted lawmaker would have to relinquish his committee assignments if he hadn't already done so. Kevin McCarthy has not wanted to expel him, in part because a Democrat would probably win the seat in the subsequent special election. But several House Republicans said they hoped Santos would resign because he's become an embarrassment.
Santos has been shameless with his litany of lies, and has embraced his notoriety, at times seeming to enjoy his freakish moment of fame. But he may not be so cocky now that there are concrete criminal charges that carry a prison term of as much as 20 years.
NEW POLL REVEALING TRUMP BEATING BIDEN COULD UNDERMINE THE PRESIDENT'S CASE
He is alleged to have defrauded supporters of his campaign by soliciting donations to a Florida-based firm, which he claimed was a political committee. Santos then used thousands of dollars for his own expenses, which included luxury designer clothing, a car and credit card payments, the indictment says.
He's also accused of lying on his House disclosure forms, falsely inflating his income at times and failing to disclose income at others.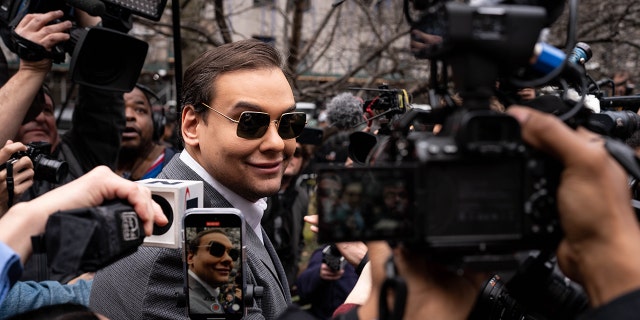 And Santos is charged with defrauding New York of $25,000 in jobless benefits while he was actually being paid $120,000 by the Florida investment firm.
GEORGE SANTOS IN CUSTODY, FEDERAL INDICTMENT UNSEALED AHEAD OF FIRST COURT APPEARANCE
The lawyer for wealthy investor Andrew Intrater, who is listed in the indictment as Contributor #2, told the New York Times: "Andy is gratified that Santos will now have to answer in court for the many lies that George told to Andy and so many other Americans."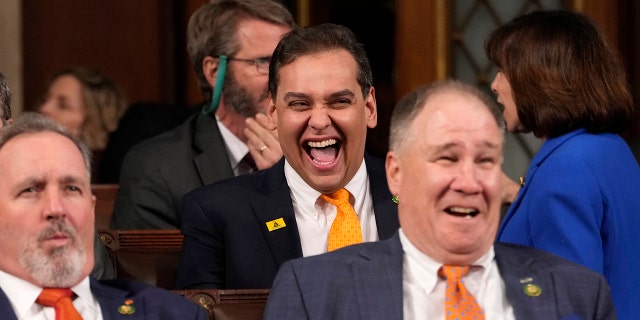 There's one gaping hole in the indictment, perhaps because prosecutors wanted to focus on clear-cut allegations that could be proven with bank records and documents. Santos claimed to have loaned his campaign $750,000, but it's never been confirmed where that money came from – especially now that we know he was in difficult financial circumstances.
WHAT THE INDICTMENT MEANS FOR REP. GEORGE SANTOS: WILL HE BE KICKED OUT OF CONGRESS?
It was a week before Christmas that the Times reported that Santos falsely claimed to have attended Baruch College in New York and to have worked for Goldman Sachs and Citigroup, all of which was false. He claimed to have founded a tax-exempt animal rescue group, but the IRS had no record of that.
It turns out that some campaign officials resigned after conducting a routine oppo-research check on their candidate and Santos refused to drop out, despite their warnings of public humiliation.
Journalists soon dug up more ludicrous lies. Santos was accused of stealing money from a veteran who planned to use the funds for an operation for his dying dog. Santos said his mother had been in the World Trade Center on 9/11 but she wasn't even in the country. Santos falsely claimed his mother was Jewish and his grandparents had escaped from the Nazis, but later claimed he'd only said he was "Jew-ish." Santos, who ran as openly gay, planned an engagement party with his boyfriend while still married to a Brazilian woman. 
SUBSCRIBE TO HOWIE'S MEDIA BUZZMETER PODCAST, A RIFF ON THE DAY'S HOTTEST STORIES
The ex-boyfriend, Pedro Vilarva, told Fox's New York station: "He never showed that he was the psychopathic liar that he's showing to be right now."
His life is like a hall of distorted mirrors, each leading to a new twisted image. 
But now prosecutors will attempt to prove who the real George Santos is – and whether he deserves to go to prison. 
Read the full article here