Democratic California Gov. Gavin Newsom is trying to dig himself out of a political predicament when it comes to slavery reparations proposed by his own task force.
Fox News Digital was first to report Tuesday evening that Newsom, after months of complete silence on the issue, declined to endorse the cash payments – which could reach as high as $1.2 million for a single recipient – recommended by his reparations task force, arguing that dealing with the legacy of slavery "is about much more than cash payments." 
"It will take absurd mental gymnastics to require California taxpayers, including new immigrants, low-income workers, and even some African Americans to pay for a wrong committed by other states more than 150 years ago, but that's the position Newsom put himself in," Assembly Republican Leader James Gallagher told Fox News Digital. 
"No matter what he does, he's going to anger part of his base," he said. "This is just one more example of the Governor's tendency to make big promises he can't or won't keep, and people are going to learn quickly that Newsom is all talk but no action."
Newsom's predicament – having to choose between endorsing budget-busting checks or angering a key Democratic constituency – is in large part a problem of his own making. 
After the George Floyd riots in 2020, Newsom signed legislation that made California the first in the nation to embark on a massive socio-economic experiment of creating a majority governor-appointed group to explore potential slavery reparations for Black Americans.
The proposal set forth by the California Reparations Task Force on Saturday, which is estimated to cost more than double California's overall budget, would risk bankrupting the state, but those who likely support it make up a significant block of the Democratic Party – a 2021 poll by the University of Massachusetts Amherst/WCVB found that 64% of Democrats and 86% of Black Americans support reparations.
LOCKDOWNS, MANDATES AND SCANDALS: HOW GAVIN NEWSOM'S COVID-19 RESPONSE BROUGHT CALIFORNIA TO ITS KNEES
While the Democratic governor applauded the task force's work in Tuesday's statement, he declined to endorse any specific recommendations, though he pledged to continue to "advance systemic changes that ensure an inclusive and equitable future for all Californians." 
"Many of the recommendations put forward by the Task Force are critical action items we've already been hard at work addressing: breaking down barriers to vote, bolstering resources to address hate, enacting sweeping law enforcement and justice reforms to build trust and safety, strengthening economic mobility — all while investing billions to root out disparities and improve equity in housing, education, healthcare, and well beyond. This work must continue," he said. 
"Following the Task Force's submission of its final report this summer, I look forward to a continued partnership with the Legislature to advance systemic changes that ensure an inclusive and equitable future for all Californians." 
In a reiteration of the statement that was billed as a clarification by Newsom's office and some media outlets, Newsom again stopped short of endorsing cash payments, saying he was waiting for the task force's final report.
The task force recommends giving just under $360,000 per person to approximately 1.8 million Black Californians who had an ancestor enslaved in the U.S. Other factors would stack additional reparations payments on top of the slavery-specific checks. In total, a Black Californian who is 71 years old and has lived in California his entire life could receive up to $1.2 million, according to an analysis from the New York Times.
The total cost of the program is estimated at about $640 billion, exceeding the nearly $300 billion state budget by more than double, at a time when the state is facing its first deficit in years.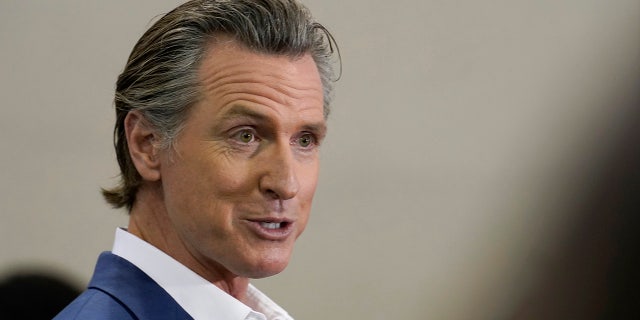 Newsom declined to weigh in for months on where he stood on reparations, even though the proposal has been in the works for more than two years. His hand may soon be forced, however. The task force's final recommendations will soon be submitted to the California Legislature, which will then decide whether to implement the measures and send them to Newsom's desk to be signed into law. 
Critics argue that Newsom will use the lofty proposal to score political points because he views it as a non-starter in the state legislature. To that point,  CalMatters recently asked all 80 assemblymembers whether they supported the task force's proposal, and only three said yes, while the rest declined to respond.
SAN FRAN'S REPARATIONS COMMITTEE PROPOSES $5 MILLION TO EACH BLACK LONGTIME RESIDENT, TOTAL DEBT FORGIVENESS
But if the legislature doesn't pass a bill, proponents have called on Newsom to use his authority as governor to unilaterally enact the proposal. He likely sees it as a no-win situation, hence the vagueness of his comments so far.
"This futile reparations exercise exposes the non-serious nature of Governor Newsom's leadership," Republican Assemblyman Bill Essayli told Fox News Digital. "Rather than dealing with the problems of California head on he prefers headlines and do-nothing commissions. It might work in a Democrat super-majority state like California, but the rest of America will see right through him."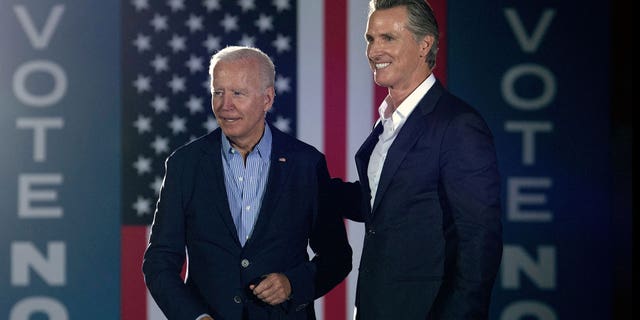 "Creating this committee was yet another half-baked ploy for votes & accolades that has landed him in dangerous waters with no path to safety," said Elizabeth Kolstad, Chairwoman of the Fresno County Republican Party. "What is clear, is if Gavin's committee's recommendations are implemented, CA is going to financially sink faster than the Titanic; only the Titanic's lights were on when it went down."
The debate comes as Newsom continues to be floated as a possible 2024 Democrat alternative to President Biden, whose job approval ratings have sunk to a career low. Newsom has publicly backed Biden for re-election, but his actions have sparked questions about how committed he is to the president. 
The governor fueled speculation in March when he launched a political nonprofit called Campaign for Democracy that took him on a tour of multiple red states like Florida, Alabama, Arkansas and Mississippi.
For the first time in years, California is facing a $22.5-billion projected budget deficit after boasting about a robust surplus less than a year ago. Newsom outraged Republicans and Democrats alike after he proposed slashing his budget commitment for foster care services by two-thirds in order to help make up for the budget shortfall.
The state is suddenly strapped for cash despite being No. 1 in the country for highest income taxes, sales taxes and having the second-highest gasoline tax in the nation, second only to Pennsylvania.
California is also No. 9 in the nation for jobless claims, tied with Michigan with a 4.3% unemployment rate, compared to Florida's 2.6%.
California's homeless crisis has also severely worsened since the pandemic, despite Newsom spending billions to combat it since taking office. The state holds more than 30% of the nation's homeless population, and that number has risen about 6% since 2020, compared to just 0.4% in the rest of the country, according to the Public Policy Institute of California.
Read the full article here