The Florida Senate approved a bill that eliminates the requirement for an individual to obtain a permit to carry a concealed firearm, sending the legislation to Gov. Ron DeSantis' desk. 
The Florida Senate voted 27 to 13 Thursday, teeing up Florida to be the 26th state with what supporters call "constitutional carry" laws, pending DeSantis' signature. 
The bill allows law-abiding citizens 21 years of age and up to carry without asking the government for a permit and without paying a fee. The legislation does not change who is eligible to obtain a carry permit, and those who still wish to get a permit may do so under the expected law. 
There are currently 25 states that have constitutional carry or permitless, carry laws on the books, meaning Florida could tip the U.S. into becoming a constitutional carry-majority nation.
FLORIDA ONE STEP CLOSER TO GIVING DESANTIS CHANCE TO MAKE US A CONSTITUTIONAL CARRY MAJORITY
"This is a momentous step in the constitutional carry movement as now the majority of American states recognize the Constitution protects the right for law-abiding Americans to defend themselves outside their homes without fees or permits," Randy Kozuch, interim executive director, NRA-ILA, told Fox News Digital. "The carry movement began decades ago and the NRA has been working to get this legislation passed throughout America. Therefore, today is indeed a day to celebrate."
Members of the Florida House first introduced their version of the constitutional carry bill in January, touting it as legislation that will keep Floridians and their families safer. The state House passed the bill on Friday in a 76 to 32 vote. 
FLORIDA BILL COULD HAND GUN OWNERS HUGE WIN, MAKE THE US A CONSTITUTIONAL CARRY-MAJORITY COUNTRY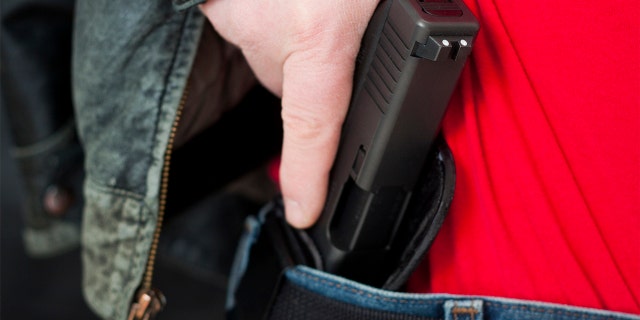 "This bill is a big step, a big step to help the average law-abiding citizen, to keep them from having to go through the hoops of getting a permit from the government to carry their weapon," Republican state Rep. Chuck Brannan said last week, according to Fox 13 Tampa reported. 
"It is also not going to change who can and who cannot carry a gun. People that are prohibited now are still going to be prohibited." 
GEORGIA SET TO BECOME 25TH STATE WITH 'CONSTITUTIONAL CARRY' LAW IN MAJOR WIN FOR GUN-RIGHTS ACTIVISTS 
Critics, however, argue that easier access to concealed carry will lead to more gun violence.
"America has seen a devastating increase in gun deaths every year and more mass shootings than days this year," Katie Hathaway of Moms Demand Action said during a public comment session earlier this month.
"This legislation will not make us safer, it's a threat to everyone's right to feel safe from gun violence and not be shot."
DeSantis' office did not immediately respond to Fox News Digital's request for comment. The governor has previously signaled his support of a constitutional carry bill if it lands on his desk.
Georgia became the 25th state with a constitutional carry law on the books last April when Republican Gov. Brian Kemp signed the state bill into law. 
Fox News Digital's Andrew Mark Miller contributed to this report.
Read the full article from here