New video has emerged of the "Teen Takeover" of downtown Chicago showing a panicked woman terrorized by a mob of young people who brutally attacked, beat and robbed her.
The video, which was widely circulated on social media as part of a larger "mix tape" of the downtown riot over the weekend, shows a woman appearing to attempt to enter the doorway of 129 Wabash Avenue in Chicago, an apartment building near the city's Millennium Park. 
However, before she gets inside, the woman is surrounded by a large group of people who block the doorway. Some then pounce on her, the video shows.
The woman, identified as 18 to 24-years old, was with a 22-year-old male victim during the attack, Chicago police said. 
The mob surrounded the victims and multiple people "struck the victims several times before taking their personal property and fleeing in an unknown direction," the police report said. No arrests have been made in the incident, while the victims were transported to the University of Illinois Hospital with what were classified as "minor injuries."
TEEN TAKEOVER' TERRORIZES CHICAGO AS HUNDREDS OF TEENAGERS DESTROY PROPERTY, ATTACK TOURISTS
In a statement Monday, the Chicago Police Department said that "the safety and wellbeing of our residents and visitors, including our city's youth" is the department's "top priority." 
Investigators are using social media posts to piece together clues on any crimes committed during the downtown chaos over the weekend, the statement added.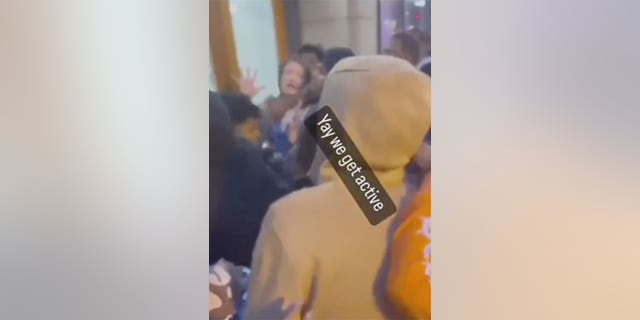 The department also outlined steps to improve safety, including the "monitoring all activity and police cameras" in an attempt to streamline the "reallocation of resources when necessary."
"Additional security measures such as bag checks at beach entry points and the curfew for minors at Millennium Park will also be in place. CPD is also working closely with youth and outreach workers for when these gatherings occur," the department said.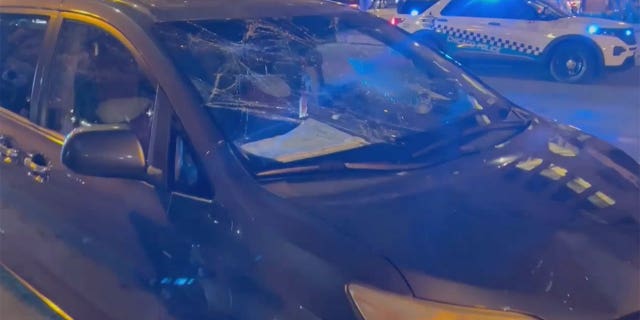 CHICAGO POLICE ENCOURAGE PEOPLE TO ENJOY WHAT CITY 'HAS TO OFFER' DAY AFTER 'TEEN TAKEOVER' CHAOS
Saturday's "Teen Takeover" saw hundreds of teens and young people descend on downtown Chicago. Video from the chaos showed many of the teens spilling into traffic and vandalizing vehicles, while there were multiple reports of assaults and shots fired in the area.
A large police presence was needed downtown in an attempt to restore order, with the police department vowing that those responsible for crimes during the chaos will be punished.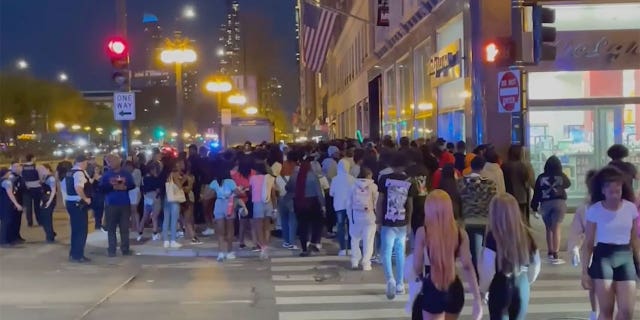 "The reckless, disruptive and violent behavior that was seen downtown this past weekend will not be tolerated," the department's statement said. "We encourage our young people to be safe and responsible as they enjoy their weekends, but anyone engaged in criminal activity will be arrested and held accountable."


Read the full article here