The coronation of King Charles officially concluded Saturday, beginning a new reign of the monarchy.
The coronation, which was just one element of the three-day celebratory weekend, was full of viral moments.
Princess Anne Blocks Prince Harry During Coronation
Despite the palpable friction among the royal family, Prince Harry did show up to support his father, King Charles. As a non-working member of the royal family, Harry was not allowed to wear his military garb, although his medals were adorned on his suit.
Harry was seated behind his aunt and uncle: Prince Edward, Duke of Kent and Anne, Princess Royal. Keen viewers noticed that Harry's view was partially obstructed, due to Anne's ensemble, which featured a bright red feather sticking out of her traditional bicorn hat.
CORONATION OF KING CHARLES III: THE HISTORIC DAY IN PHOTOS
Social media erupted in hysterics, noticing what they believed to be a strategic move to block Harry.
One person wrote on Twitter, "The Princess Anne's hat feather protecting Harry's privacy," referencing the prince's departure from the United Kingdom and separation from the royal family. 
"That had to be deliberate they're so petty," another user wrote.
Writer Kathryn Hall poked fun at the visual, writing, "Princess Anne deserves a medal for wearing that hat today."
Despite the commotion it caused online, Prince Harry and Princess Anne were seen enjoying a warm moment together inside Westminster Abbey.
Prince Louis' Antics
The shenanigans of Prince Louis, 5, continued as King Charles was crowned king.
Putting on his best behavior, the young prince had several lapses in composure, much to the delight of viewers.
Prior to their arrival at Westminster Abbey, Prince Louis and his siblings, Princess Charlotte, 8, and Prince George, 9, rode in a chariot with their parents, the Prince and Princess of Wales. 
Inside, Louis put on an adorable display of confusion, boredom and disdain.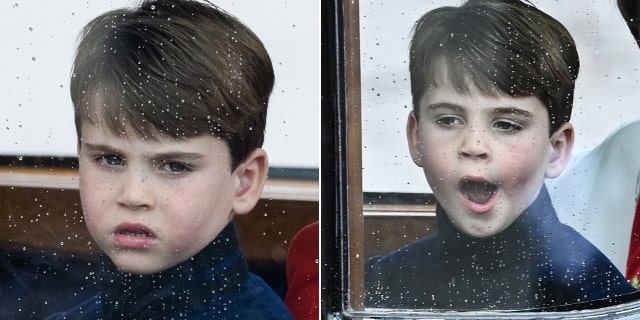 PRINCE LOUIS STEPS INTO SPOTLIGHT DURING KING CHARLES' CORONATION WITH ADORABLE FACES
The past histrionics of Prince Louis'at Queen Elizabeth's Platinum Jubilee were remembered, as the extended royal family appeared on the Buckingham Palace balcony after the king's crowning.
"I'm no Royalist, but Prince Louis is hysterical," one person posted on Twitter, adding a crying laughing emoji. "They must be dreading his 'terrible teen' years ahead!"
"Prince Louis always steals the show," another person wrote.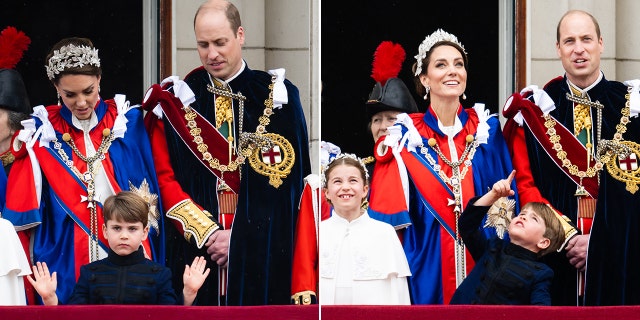 Katy Perry Can't Find Her Seat
Video of pop-star Katy Perry attending the coronation showed the "American Idol" judge pacing within Westminster Abbey, desperately trying to locate her seat. 
The footage went viral, with people taking to social media to comment on Perry's struggle.
"She can't find it because her hat is in the way. Poor Katy," one user wrote beneath a video of the star.
"SOMEBODY FIND THAT GIRL HER SEAT," another remarked.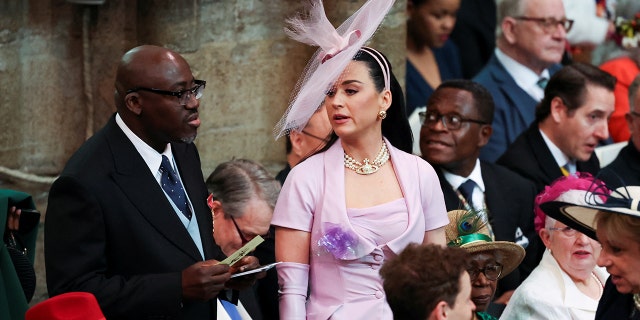 KATY PERRY ADDRESSES CONFUSION AT KING CHARLES CORONATION AFTER GOING VIRAL
Perry, who is slated to perform at the coronation concert on Sunday, was acutely aware of the mockery online. Getting in on the joke, she cheekily tweeted to her followers, "don't worry guys i found my seat."
Prince William Kisses King Charles in Rare Moment of Affection
We rarely see public displays of affection between members of the royal family, but after pledging his allegiance to his father, King Charles, Prince William gave the king a kiss on the cheek.
The moment came just after Prince William, kneeling and clutching his father's hands, recited, "I, William, Prince of Wales, pledge my loyalty to you and faith and truth I will bear unto you, as your liege man of life and limb. So help me God."
Before kissing King Charles, William stood up and touched his father's crown.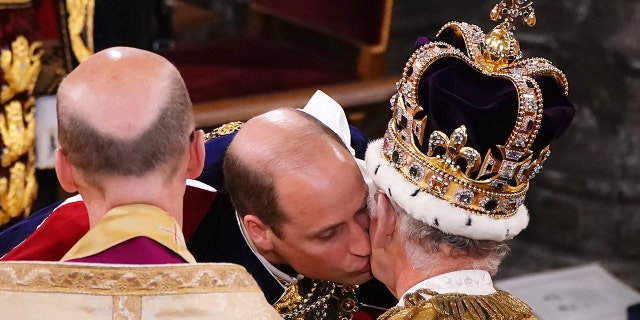 One user wrote of the exchange on Twitter, "Priceless moment. my favorite moment of the ceremony. Best wishes to His Majesty The King."
Matching Mother and Daughter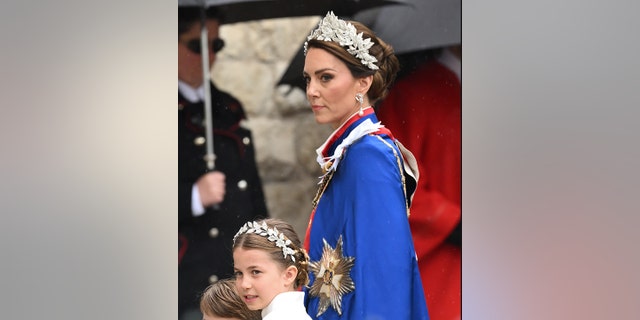 Catherine, Princess of Wales, and her young daughter Charlotte both debuted gorgeous tiaras for the coronation.
Instead of wearing archived or symbolic tiaras, both wore newly created leaf tiaras by Alexander McQueen in partnership with Jess Collet, per Harper's Bazaar.
The headpieces were made with silver bullion and crystal.
"Little Princess Charlotte looks so lovely and I love that her headpiece matches her mother's tiara," wrote one individual on Twitter.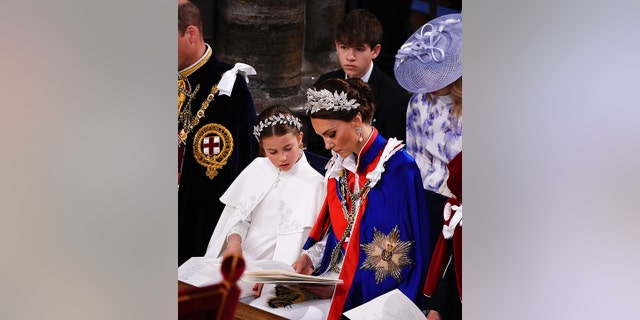 The king's coronation marks the first time Princess Charlotte has been photographed wearing a tiara.
Read the full article here