New York County District Attorney Alvin Bragg's election interference–based prosecutorial reasoning against former President Donald Trump should be considered flawed if the true timeline of the NDA payments to Stormy Daniels was examined, a former federal prosecutor said Tuesday.
Andrew McCarthy, a former assistant U.S. attorney in New York known for prosecuting an Egyptian terrorist known as the "Blind Sheikh," told "Jesse Watters Primetime" that Bragg claimed Trump's alleged wrongdoing deceived voters in the 2016 election.
TRUMP INDICTMENT: LIVE UPDATES
The problem, he said, was that the related indictment counts occurred months after Trump was elected president.
"I kind of don't understand why this hasn't been more of a thing, but what Bragg is alleging is that Trump took a series of actions to defraud the voting public in connection with the 2016 election."
BARR: TRUMP AND I HAVE OUR DIFFERENCES BUT HIS PROSECUTION IS UNJUST TREATMENT
"The indictment then goes forward with all these counts that begin on Feb. 14, 2017, and continue until Dec. 5 of 2017. That's all months after the 2016 election."
McCarthy riffed that if in Bragg's "fantasy world" the payments to Daniels, née Stephanie Clifford, were to be considered campaign related, federal disclosures wouldn't be required until several months after the election.
"So even if you take it the way that he pleads it, how could this conceivably have affected the 2016 election?"
TRUMP ATTORNEY, TOP LEGAL EXPERTS REACT TO INDICTMENT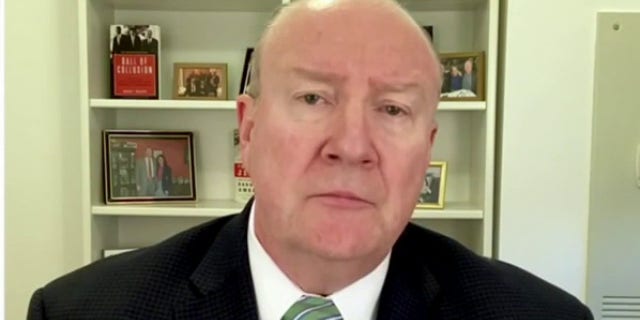 Host Jesse Watters quipped McCarthy's analysis showed the case against Trump could plausibly be tossed out of court "because Bragg can't read a calendar."
McCarthy replied that non-disclosure agreements are a "staple of civil litigation," and no matter Bragg's opinion on them, it is legal to keep information from the public.
Therefore, Bragg must continue to claim Trump attempted to influence elections with allegedly false bookkeeping entries.
"The problem is the election was over for four months before the book entries started," McCarthy said. 
He later added: "[W]hat he's essentially saying is Trump took a bunch of actions in 2017 in an attempt to defraud the voters four months earlier."
The prosecution's proverbial star witness is expected to be Michael Cohen — the disbarred attorney and Trump "fixer"-turned-foil — who recently assured CBS News his former friend is "petrified" of Bragg's case.
CLICK TO GET THE FOX NEWS APP
"This is his worst fear: being mug-shotted, fingerprinted, being referred to as a 'felon,'" Cohen claimed.
Trump spoke at his Mar-a-Lago club in Palm Beach, Fla., railing against Bragg and Justice Juan Manuel Merchan.
He also offered harsh words for New York State Attorney General Letitia James, whom he said campaigned on promising to be a "pain in [Trump's] a–."
Coverage of the speech showed several high-profile Trump supporters in attendance including son Eric Trump, former Arizona gubernatorial candidate Kari Lake, MyPillow CEO Mike Lindell and Rep. Marjorie Taylor Greene, R-Ga. 
Read the full article here