Democratic and Republican lawmakers introduced new legislation Tuesday to block stock trading by members of Congress and penalize lawmakers who do not comply.
The legislation, led by Sen. Jeff Merkley, D-Ore., in the Senate and Rep. Michael Cloud, R-Texas, in the House of Representatives, would prohibit "members of Congress, their spouses and dependent children from abusing their positions for personal financial gain by owning or trading securities, commodities, or futures."
In addition to barring lawmakers and family members from trading individual stocks, Merkley's ETHICS Act would require lawmakers to disclose when they receive any benefit from the government, and penalize them if they do not comply.
"Congressional stock trading is deeply corrupt. We are elected to serve the public, not our portfolios. And no member should vote on bills biased by the character of their holdings," Merkley said in a statement.
NANCY PELOSI CALLED OUT OVER HUSBAND PAUL'S STOCK TRADES: SHE'S THE 'ULTIMATE INSIDER'
Cloud is the only Republican who has signed on in support of the bill as of Tuesday, according to a press release from Merkley's office. Joining Cloud as co-sponsor on the House version of the bill is Rep. Alexandria Ocasio-Cortez, D-NY.
The ETHICS Act is cosponsored by Senators Kirsten Gillibrand (D-NY), Angus King (I-ME), Bernie Sanders (I-VT), Debbie Stabenow (D-MI), Jeanne Shaheen (D-NH), Tammy Duckworth (D-IL), Bob Casey (D-PA), Peter Welch (D-VT), Ben Ray Luján (D-NM), John Fetterman (D-PA), Mazie Hirono (D-HI), Catherine Cortez Masto (D-NV), Tammy Baldwin (D-WI), Chris Van Hollen (D-MD), Ben Cardin (D-MD), Jon Tester (D-MT), Martin Heinrich (D-NM), Tim Kaine (D-VA), and Richard Blumenthal (D-CT).
CNN, MSNBC, ABC, CBS, NBC IGNORE PELOSI'S HUSBAND BUYING OVER $1 MILLION OF COMPUTER CHIP STOCK AHEAD OF VOTE
Multiple members of Congress have introduced similar pieces of legislation in recent months, but none have gathered as much support as the ETHICS Act. Sen. Josh Hawley, R-Mo., introduced his own PELOSI Act in late January, which would have had much the same effect.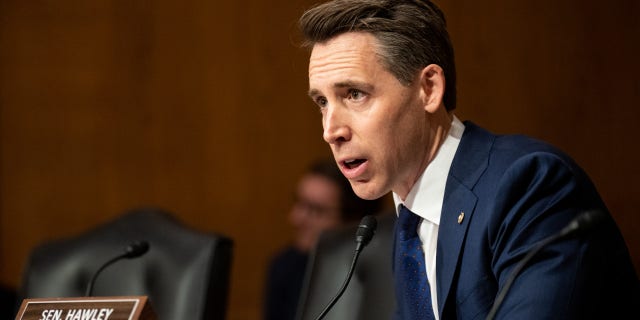 CLICK HERE TO DOWNLOAD THE FOX NEWS APP
Members of Congress and their families are frequently accused of illegal trading practices, allegedly using their knowledge of upcoming legislation to make informed decisions on the stock market. Rep. Nancy Pelosi, D-Calif., was the most recent to face these accusations after her husband, Paul Pelosi, traded between $1 million and $5 million of stocks for semiconductors just days before Congress allocated $52 million to the industry. 
The stocks were later sold at a loss to remove the appearance of impropriety.
Read the full article here