President Biden's nominee to lead a little-known Department of Transportation safety subagency privately boasted that she would use her position at the agency to push aggressive climate policies.
Ann Carlson — an environmental law expert who Biden nominated in February to be National Highway Traffic Safety Administration (NHTSA) administrator — boasted in 2021 that she was recruited by the administration to oversee climate standards for cars and trucks, according to emails obtained by the watchdog group Government Accountability & Oversight (GAO) and shared with Fox News Digital.
"With agenda-obsessed banks collapsing, a new and constant threat of winter and summer electricity blackouts and an absentee Transportation Secretary waving off disasters when he isn't ignoring them, even the most blinkered White House might discern a sign that, just maybe, government appointments are jobs with responsibilities, rather than taxpayer-financed activist platforms," Chris Horner, a lawyer who represented GAO in a case involving the emails, told Fox News Digital.
"But this is what the Biden White House's 'whole of government approach' to the ideological climate agenda means," he added.
BIDEN NOMINEE COORDINATED DARK MONEY CLIMATE NUISANCE LAWSUITS INVOLVING LEONARDO DICAPRIO
In early January 2021, the Biden-Harris transition team hired Carlson, who at the time was a professor at the University of California, Los Angeles (UCLA), to serve as NHTSA's chief counsel, the emails showed. While the position didn't require Senate confirmation, Carlson has overseen key agency initiatives like the modification of fuel economy standards and has served as acting administrator since September.
"I have been appointed by the Biden administration to serve as the chief counsel for the National Highway Traffic Safety Administration," Carlson wrote to fellow UCLA Law staff in an email on Jan. 18, 2021. "The agency is in charge of climate standards for cars and trucks, which is why they have recruited me for the position."
She echoed the language, that she was selected for the NHTSA role to oversee vehicle emissions standards, in her sabbatical and leave of absence form filed with UCLA one day later.
"NHTSA has authority over fuel economy for cars and trucks and has been at the center of the standards to reduce [greenhouse gas emissions] from the transport sector," she wrote to other colleagues on Jan. 19, 2021. "I'm being appointed along with the deputy administrator as the first NHTSA appointees ever with serious climate expertise."
LEONARDO DICAPRIO TRAVELED ON GAS-GUZZLING PRIVATE JETS, YACHTS WHILE FUNDING CLIMATE NUISANCE LAWSUITS
Days later, on Jan. 21, 2021, her colleague Norman Abrams congratulated her on being selected to be NHTSA's chief counsel, saying it proved the Biden administration would be "really serious about their climate goals and are choosing the very best people." Carlson responded saying, "no question that the Biden team is very serious about climate."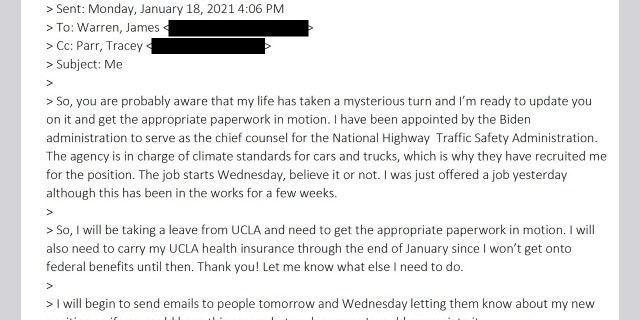 And that same day she wrote to board members of UCLA's Emmett Institute on Climate Change & the Environment where she served as faculty director at the time, similarly boasting of the climate policymaking potential at NHTSA.
"I view my appointment (and a number of others) as evidence that the Biden Administration is truly committed to a 'whole of government' approach to addressing climate change," Carlson wrote.
CONSERVATIVES REJOICE AFTER KEY BIDEN NOMINEE WITHDRAWS: 'ENORMOUS VICTORY FOR FREE SPEECH'
The NHTSA, meanwhile, states its mission as "save lives, prevent injuries and reduce economic costs due to road traffic crashes, through education, research, safety standards and enforcement activity." The agency was established by Congress in 1970 to improve the safety of passenger cars amid a surge in traffic accidents and deaths.
In August 2021, months after taking office, Biden signed an executive order directing the Environmental Protection Agency and Transportation Department to issue regulations on fuel efficiency and emissions standards as part of his climate agenda and goal to ensure 50% of car purchases in the U.S. are electric by 2030. 
Less than a year later, the NHTSA unveiled ambitious new standards that it acknowledged would cost automakers about $236.5 billion and eventually make cars $1,000 more expensive. Rep. Cathy McMorris Rodgers, R-Wash., the current chair of the Energy and Commerce Committee, said the regulations "will only add to the cost of new cars, depriving people of safe, affordable vehicles."
Although the announcement included comments from the NHTSA's deputy administrator, the White House said Carlson had overseen the formulation of the regulations when it announced her nomination on Feb. 13. The White House also noted she secured a 50% increase in resources for the agency under the 2021 infrastructure law.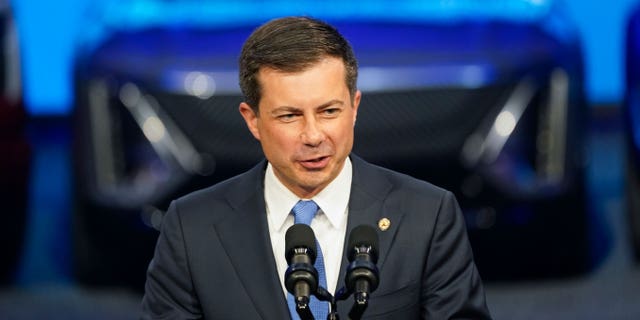 In addition, in 2017 and 2018, Carlson helped coordinate high-profile climate nuisance lawsuits filed by a dark money-fueled law firm against fossil fuel companies. The firm, California-based Sher Edling, has filed more than a dozen such lawsuits on behalf of cities, counties and several states.
In a 2020 form filed with UCLA outlining Carlson's outside activities, she reported being a consultant for Sher Edling and "providing pro bono consulting" for the firm on litigation against oil companies. Carlson notably failed to mention her role with Sher Edling in a 2021 Transportation Department ethics recusal form.
"Safety is the top priority for the U.S. Department of Transportation and NHTSA," the NHTSA told Fox News Digital in a statement. "In 2022 alone, NHTSA oversaw 932 vehicle safety recalls affecting more than 30.8 million vehicles in the United States. Since the beginning of this Administration, the agency has significantly accelerated work on its rulemaking agenda to advance vehicle safety, finalizing 19 rules since January 2021." 
"Also during this period, NHTSA issued a first-of-its-kind Standing General Order requiring crash and incident reporting for vehicles equipped with automated driving systems (ADS) or certain advanced driver-assistance systems, which led directly to the first ever recalls of ADS vehicles," the statement continued. "NHTSA projects that fatalities declined in the fourth quarter of 2022. This is the third straight quarterly decline in fatalities after seven consecutive quarters of increases, which started in 2020 during the COVID pandemic." 
"Finally, the new [fuel economy] standards NHTSA put forth aren't only good for reducing emissions but will also save people money with more efficient vehicles that save 230 billion gallons of gas by 2050."
The White House announced on March 27 that Carlson's nomination for NHTSA administrator was sent to the Senate for confirmation.
Read the full article here