The United States will support a joint effort to train Ukrainian pilots on fourth-generation fighter planes and support an international effort to procure warplanes for Ukraine as part of underscoring a commitment to the country's defense.
A senior administration official told reporters that "the training takes place over the coming months, our coalition of countries participating in this effort will decide when to actually provide jets, how many we will provide, and who will provide them." The program will include training on F-16s among other fighter planes, with the program set to take place over the coming months at sites in Europe. 
"We hope we can begin this training in the coming weeks," the official said, adding that this program, which aims to improve Ukraine's Air Force capabilities, reflects "our long-term commitment to Ukraine's self-defense." 
"To date, the United States and our allies and partners have focused on providing Ukraine with the vast majority of the systems, weapons, and training it requires to conduct offensive operations this spring and summer," the official explained. 
UKRAINE SHOOTS DOWN 29 OF 30 MISSILES AFTER RUSSIA LAUNCHES YET ANOTHER BARRAGE ON KYIV
"Together with the short-term and medium-term security assistance packages we are providing Ukraine, President Biden is sending a powerful signal of how the United States and our allies and partners are fully united in ensuring Ukraine remains sovereign, independent, and secure with the ability to defend against and deter future attacks."
Ukrainian President Volodymyr Zelenskyy praised the news on Twitter, calling it an "historic decision" that will "greatly enhance our army in the sky."
The delivery of fourth-generation fighters to Ukraine has remained a contentious issue since the early days of Russia's invasion as Russian drones and fighters rained down missiles and attacks across the country. 
The Biden administration has resisted calls to provide F-16s and other similarly advanced warplanes to Ukraine Western leaders grappled with how to help the Ukrainian forces bolster their strength without giving Russia the appearance of directly involving themselves in the conflict. 
WILL RUSSIAN WARLORD CHALLENGE PUTIN IN 2024 PRESIDENTIAL ELECTION?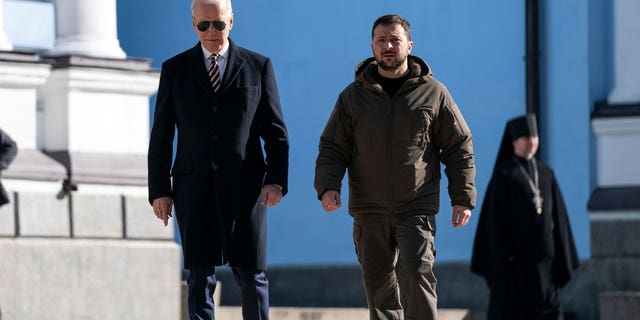 Instead, the U.S. may simply allow allies that have F-16s to send their own jets to Ukraine instead, Politico reported. European governments and a bi-partisan push from U.S. lawmakers may have finally pushed Biden to consider alternatives. 
Documents leaked from the Pentagon last month suggested that a huge influx of arms was needed to maintain Ukraine's position as Russia's Air Force aimed to change the course of the war, the New York Times reported. 
The same report assessed Ukraine's air defense capabilities would be "completely reduced" by May 23, which would strain defense systems deeper in the country. 
Ukrainian pilots have urged the U.S. Congress to provide fourth-generation warplanes, with two pilots making an in-person appeal for the delivery of advanced warplanes. 
SOUTH KOREA SIGNS $130M FINANCIAL PACKAGE FOR UKRAINE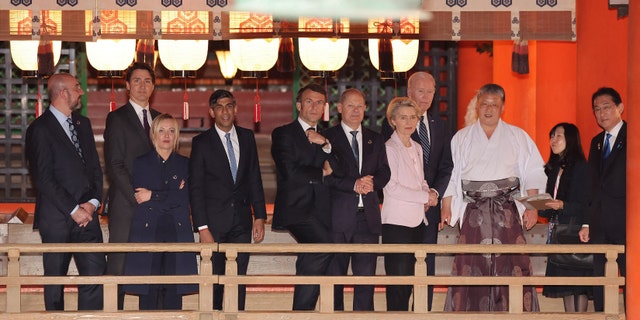 "They're sending their attack jets and helicopters at low altitudes through the front lines to attack our war-fighters in the trenches," a pilot identified only by his call sign "Juice" explained during his June 2022 appeal. "We need to react, we need to intercept them. We need to save the lives of our citizens and ground troops."
Around the same time, Col. Rob Swertfager of the California Air National Guard said that Ukrainian pilots were "100 percent" capable of flying fourth-generation planes.
"The Ukraine air force has the pilot corps to fly these types of advanced aircraft," Col. Rob Swertfager said. "The Ukrainian pilots are fantastic. I've flown with every air force in Europe – especially their regional partners." 
"The Ukrainians are so undervalued and under-appreciated. Which is exactly why I think they're winning the war because everybody underestimated that they were way better than anybody gave them credit for," he added.
Fox News Digital's Caitlin McFall and Fox News' Kaitlin Sprague contributed to this report. 


Read the full article here