There are many ways that the wrong person can go snooping on your computer.  Maybe you forgot to lock your screen before leaving your device unattended so anyone walking by can see. Or maybe you don't have enough protection on your device so that a malicious hacker can easily get access. 
It takes a matter of seconds for a nosey nearby bad actor to plant malware or simply snoop on an unprotected phone or laptop.  
Let's go over some important steps to protect your computer from snoopers of any kind.
CLICK TO GET KURT'S FREE CYBERGUY NEWSLETTER WITH QUICK TIPS, TECH REVIEWS, SECURITY ALERTS AND EASY HOW-TO'S TO MAKE YOU SMARTER
Lock your screen
The last thing you want is an outside person glancing at your device screen, even if it's someone you trust. We don't just hand our phones over to anyone and tell them they can look through our photos and messages, so why wouldn't you want the same privacy for your computer? Having your screen locked at all times when you're not using your computer is one of the best ways to keep those wandering eyes from looking at your device.
How to lock your Mac computer
Click the Apple icon in the top left corner
Click Lock Screen
How to set your Mac to log out when it's not in use
Click the Apple icon in the top left corner
Click System Settings 
On the left-hand sidebar, click Privacy & Security 
Scroll all the way down and click Advanced…
Toggle on Log out automatically after inactivity 
Click Done
DON'T LET SNOOPERS NEARBY LISTEN TO YOUR VOICEMAIL WITH THIS QUICK TIP
How to lock your Windows computer
There are multiple ways for you to lock your Windows computer. Here are a few options you can do.
Hit Windows + L
Press Ctrl + Alt + Delete and select Lock
Click the Start button, then select your user icon and click Lock
How to lock your Windows computer automatically after inactivity
Open Settings
Go to Personalization
Select Lock Screen
Click Screen saver settings
Select any option from the dropdown menu 
Set a time for Windows to wait before locking
Check the box for On resume, display logon screen
Click OK
Use a webcam cover
Hackers can break into people's webcams and spy on them without them realizing it. The best way for you to prevent this from happening is to get a cover for your webcam. Have the cover on at all times when your webcam is not in use so that no one can ever snoop on you. 
Find my top recommendation at CyberGuy.com/WebCamCover
Have good antivirus software on all your devices 
Keeping hackers out of your devices can be prevented if you have good antivirus software installed. Having antivirus software on your devices will make sure you are stopped from clicking on any potential malicious links which may install malware on your devices allowing hackers to gain access to your personal information.
See my expert review of the best antivirus protection for your Windows, Mac, Android & iOS devices by heading to CyberGuy.com/LockUpYourTech
FREE ANTIVIRUS SOFTWARE: SHOULD YOU USE IT?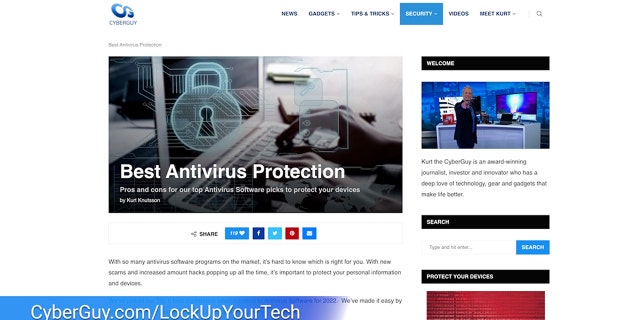 FOR MORE OF MY TIPS, SUBSCRIBE TO MY FREE CYBERGUY REPORT NEWSLETTER BY HEADING TO CYBERGUY.COM/NEWSLETTER.
Use a VPN 
Consider using a VPN to protect against hackers snooping on your device as well. VPNs will protect you from those who want to track and identify your potential location and the websites that you visit.  Many sites can read your IP address and, depending on their privacy settings, may display the city from which you are corresponding. A VPN will disguise your IP address to show an alternate location.
For the best VPN software, see my expert review of the best VPNs for browsing the web privately on your Windows, Mac, Android & iOS devices by visiting CyberGuy.com/VPN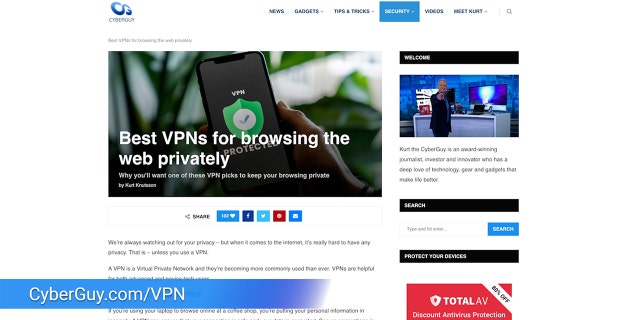 HOW HACKERS FIND OUT IF YOU'RE A HIGH-VALUE TARGET BEFORE STEALING
Have you ever discovered someone was snooping on your computer? What happened?  Share your story with us by writing us at CyberGuy.com/Contact
For more of my tips, subscribe to my free CyberGuy Report Newsletter by heading to CyberGuy.com/Newsletter
Copyright 2023 CyberGuy.com. All rights reserved.
Read the full article here