Ben Affleck revealed that his voice was once dubbed over for the 1992 movie "Buffy the Vampire Slayer" when he was just starting out as an actor. 
"The most humiliating thing was one of my earlier parts, I got one line, I had just moved out to L.A., I got a line in a movie, and I was playing a basketball player," the "Air" actor told James Corden Thursday after he was asked by the host if he had ever been "cut" from anything. 
"I was a basketball player that just happened to be playing high school basketball and like a werewolf or a vampire ran through and I got scared, 'cause he was scary, and I said, 'Here you go,' 'Take it' or 'Take the ball' or something like that," Affleck said of his role in the supernatural comedy that inspired the Sarah Michelle Gellar TV series. "And I thought my work was good. I was feeling it. I felt authentically afraid."
He added, "And we did it a bunch of times, and I was like, 'Boy, this director is really rigorous.'"
BEN AFFLECK REVEALS MATT DAMON WAS A DISGUSTING ROOMMATE: 'THERE'S MAGGOTS' 
But he said when he went to see the movie with some friends, "I sounded very different. And I realized right then they rerecorded me."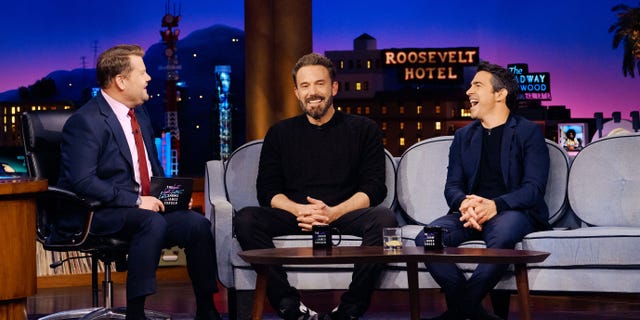 "I was so bad, they needed me to be in the scene, but the director was obviously like, 'I can't hear the voice again!'" he laughed. "They had to pay someone to come in and say, 'Hey man, take it' because apparently, I couldn't say that convincingly enough."
APP USERS CAN WATCH HERE 
Corden then revealed they had found the clip to show to the audience in which a young Affleck awkwardly hands over the basketball during a game after a vampire playing for the other team shows him his fangs. "Take it, man," he shrugs. 
"Sounds like Chris Tucker!" Affleck quipped to laughter from the audience. 
The Oscar-winner went uncredited in the part. 
Read the full article here