An author of a book with extremely graphic passages about sex slavery responded one year later to a Virginia parent criticizing the book in The New York Times Sunday. 
Patricia McCormack, the author of "Sold," argued her book was not "pornography." It contains explicit sexual activities including rape of a minor; prostitution; and explicit violence. It was available in some Virginia Beach School District high schools and middle schools
The "Sold" author criticized a Virginia parent who protested against the book, and said there was "no graphic language." 
"The scene [the mother] chose to read, informed in part by my own experiences of sexual abuse, describes the sexual assault of a 13-year-old girl by an older man. There is no graphic language or obscenity in the passage; the story is told from the point of view of a child — in the words of a child — and conveys her confusion, terror and physical pain," the author wrote. 
SCHOOL BOARD SETTLES RELIGIOUS DISCRIMINATION SUIT AGAINST CHRISTIAN UNIVERSITY AFTER BLASTING 'JESUS' VALUES
One of the passages in the book, said, "A man with lips like a fish comes into my room… He is squeezing my breast with his hand… I try to push him away, but my arm, stone-heavy from the lassi, doesn't move."
The passages went on in more disturbing graphic detail of the moment the girl was raped by an older man and her crying afterward.
McCormack argued that removing the book from public school libraries at the request of parents would be a dishonor to the experiences of victims of sex slavery. 
She further argued that "To ban this book is also disrespectful to the teenagers who want, and in some cases need, to read it"
"That's what is consistently missing in the national conversation about book banning: the voices of those children and teenagers who see their experiences in print and finally realize they aren't alone," she wrote.
SCHOOL LIBRARIAN PRIVATELY DEFENDS PORNOGRAPHIC BOOK ON 'SEX PARTIES' BY INVOKING HOLY BIBLE: 'SLIPPERY SLOPE'
McCormack went on to discuss how students will share experiences of sexual assault after discussing the book in classrooms.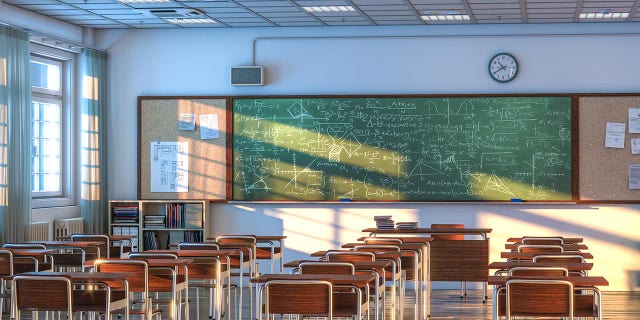 "I've visited classrooms and juvenile detention centers all over the country since the book came out in 2006. At nearly every visit, a student comes forward to say that they have been sexually abused or are being sexually abused — and that seeing their experience rendered in a book finally emboldened them to say so," McCormack wrote. "Some linger around after book signings and whisper to me privately; I encourage them to tell a trusted adult. One girl and I walked to the guidance counselor's office together."
The author did not immediately respond to a request for comment. 
Read the full article here