The Allen, Texas, police officer who put an end to an outlet mall shooting on Saturday is being hailed a hero after he "sprinted towards high power rifle fire" while others fled, according to reports.
Mauricio Martinez Garcia, 33, opened fire with an AR-15 style rifle at the Allen Premium Outlets on Saturday, killing eight people and injuring several others, including children.
Garcia was ultimately taken down by an Allen Police Department officer who rushed into action amid the gunfire.
Local station WFAA in Dallas reported that the attorney representing the officer, Zach Horn, released a statement to the news station, saying his client was doing well and was processing the life altering tragedy.
ALLEN, TEXAS, MALL SHOOTING SUSPECT MAURICIO GARCIA HAD BRIEF 3-MONTH STINT IN THE US ARMY
"The officer sprinted towards high power rifle fire as everyone else ran away," Horn told the station. "He's a brave servant with a gentle heart that embodies the best the law enforcement profession has to offer."
The shooting began around 3:30 p.m. Saturday, with security video showing the man getting out of what appeared to be a gray Dodge Charger before entering the building.
DALLAS MALL SHOOTING SUSPECT MAURICIO GARCIA LEFT ODD VOICEMAIL ABOUT MONEY 
The officer rushed into the H&M store at the outlets where the shooting took place, and gunshots could be heard on recordings as the officer approached Garcia.
According to the New York Post, the officer could be heard on Allen Police Department recordings telling the communications point of contact that there were people running and shooting was still happening. He also requested more officers.
Two minutes later, the officer returned to the radio channel to say he shot the shooter.
TEXAS AUTHORITIES CONFIRM 8 DEAD IN ALLEN PREMIUM OUTLETS SHOOTING NEAR DALLAS, SEVERAL MORE INJURED
"I got him down," the officer said in the recording.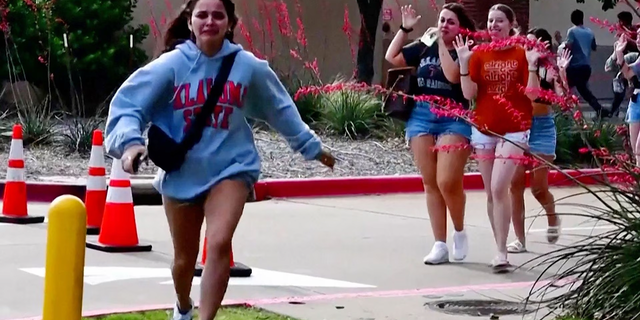 The Allen Police Department has not identified the officer.
On Sunday, Allen Police Chief Brian Harvey said the officer was at the mall on an unrelated call when the shooting happened.
"He heard gunshots, went to the gunshots, engaged the suspect and neutralized the suspect," Harvey said.
Read the full article here