The Atlanta Journal-Constitution didn't hold back after Democrats snubbed it in favor of Chicago for their 2024 national convention, declaring "Say it ain't so, Joe" in a front-page headline on Wednesday.
The AJC noted President Biden and Democrats had selected a city in "one of the most solidly Democratic states," ran a front-page column saying it was "your loss" and called it a "blow to Democrats in Georgia and across the South."
The move has raised eyebrows given Illinois is safely blue while Georgia's emergence as a swing state has been one of the most significant regional political developments in recent years. But the DNC and Biden, in part due to his close ties to billionaire Illinois Gov. J.B. Pritzker, D., opted for Chicago as a nod to cementing party control of the upper Midwest. Democratic governors in Illinois, Michigan, Minnesota and Wisconsin were all re-elected in 2022, the AJC noted.
"By forgoing Atlanta for blue-state Illinois, national Democrats are also jettisoning a chance to gain a bigger foothold in a pivotal battleground state that both parties see as key to winning in 2024," the AJC reported. Southern Democrats also said it would have been another chance to show the party wasn't neglecting Black supporters, as they were instrumental to Biden's narrow victory in Georgia in 2020. 
DNC TO HOLD 2024 CONVENTION IN CHICAGO
Political insider columnist Patricia Murphy called it a "breakup we never saw coming."
"After months of assurances and happy talk from Democratic boosters, BAM! The DNC picked Chicago over Atlanta for the 202 Democratic National Convention," she wrote. "Sure, maybe Chicago has more family money. And at high noon on a day in late August, maybe Chicago is a better-looking date than Atlanta's hazy, sauntering sauna… Trust me, DNC, this is your loss."
After wryly noting the "wildly well-connected" Pritzker family and its wealth came into play – Pritzker impressed Democrats by promising to help cover costs of an event that could cost more than $80 million –Murphy said Democrats had missed a major opportunity due to Georgia's importance to the civil rights movement.
"From the King Center to Ebenezer Baptist Church to the mural of John Lewis and the Carter Center, Atlanta is built around living reminders that the fight for justice and equality was fought here," she wrote, adding, "If big-money promises and easy politics are more your thing, that's fine, too… Just remember Democrats, with Atlanta, you had your chance."
The AJC's Greg Bluestein called it a "devastating development for Atlanta boosters" in a report, noting their confidence Biden would push for the Georgia capital. "It would have amounted to a short-term economic boon for Atlanta, drawing 5,000 delegates and 45,000 other visitors."
LT. GOVERNOR BLASTS MEDIA COVERAGE OF GEORGIA'S ELECTION LAW AFTER POLL SAYS 99% OF MIDTERM VOTERS HAD NO ISSUES
Chicago won out in part due to impressing organizers with its attractions, "swanky restaurants" and "deep stock of nearby hotel suites," as well as its status as a more union-friendly state; as a right-to-work state, Georgia was panned by national union leaders as a possible site for the DNC in a letter to chairman Jamie Harrison. New York City was another finalist for the convention.
Once reliably red, Georgia has become arguably the nation's most significant swing state with 16 electoral votes.
In 2020, Biden's victory over Donald Trump there came by less than 11,000 votes (0.23 percent), guaranteeing it will be again be a fiercely contested battleground state in 2024. It marked the first time a Democrat won the state in a presidential election since 1992. In addition, Sens. Jon Ossoff and Raphael Warnock, D-Ga., became the first Democrats to win Senate races there since 2000 after winning that year's runoff races.
Warnock was re-elected in a runoff again last year over Republican Herschel Walker, but Republican Gov. Brian Kemp was also returned to office after again defeating Democrat Stacey Abrams.
Atlanta Mayor Andre Dickens, D., who pushed hard for his city to host the convention, sounded a note of bitterness about the snub in an interview with the AJC.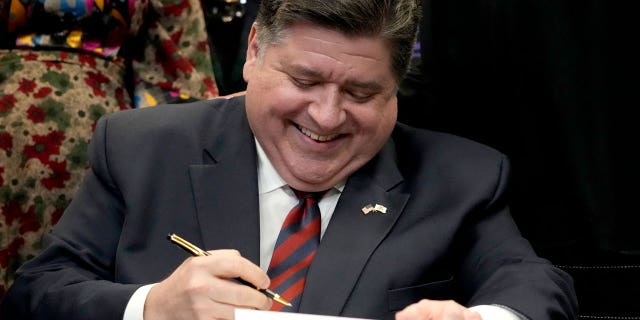 GEORGIA'S RECORD PRIMARY TURNOUT PROMPTS ANOTHER MEDIA RECKONING AFTER VOTING LAW WAS COMPARED TO 'JIM CROW' 
"From the start, we said that we are a group project and we will raise this money," Dickens said. "And the governor of Illinois said I'm just going to make this go away. Make any conversations about money go away. I got it. And so that makes it a little easier decision." 
A separate AJC report noted the economic boon Atlanta would have gotten from the DNC would have been minimal, with experts saying the impact reports of such events often overstates their benefits.
It's not the first time in recent years Atlanta didn't get to host a marquee national event.
Atlanta lost out on the Major League Baseball All-Star game in 2021 after left-wing political pressure over Georgia's new voting laws, although the claims that they were essentially "Jim Crow 2.0" fell apart as voter turnout continued to surge in subsequent elections. In that case, Atlanta already was slated to host and MLB moved the game to Denver in a move that infuriated conservatives.
Read the full article here