Democratic members of "The Squad" have warned President Biden he will lose progressive votes come election time if he negotiates with Republicans on the debt ceiling, according to an Axios report.
House Speaker Kevin McCarthy, R-Calif., said on Monday that negotiations with the White House to raise the debt ceiling and avoid a default have stalled. The GOP leader blamed President Biden for the lack of progress, adding they were "nowhere near" passing a debt ceiling bill in Congress. 
However, far-left Democrats want the president to stay firm on their priorities as well. Rep. Pramila Jayapal, D-Wash., predicted there would be "huge backlash" at "the polling booth" if Biden gave up what progressives want on clean energy permitting reform and welfare work requirements.
"It's really important we don't give ground," the chair of the Congressional Progressive Caucus told Axios. "We have made it clear … that if they give on these core Democratic values, there will be a huge backlash."
MCCARTHY NOT OPTIMISTIC ABOUT DEBT CEILING NEGOTIATIONS, SAYS 'THERE IS NO MOVEMENT'
Fellow squad member Rep. Alexandria Ocasio-Cortez, D-N.Y., also warned the president to expect "pushback" on "nearly any significant concession." She and Rep. Jamaal Bowman, D-N.Y. feared concessions to the GOP would make Biden and Democrats look "weak."
"It's profoundly destructive and it also threatens to weaken the president," Ocasio-Cortez said. Bowman added, "It makes us look weak and like we don't know what we're doing."
Several progressives expressed hope that Biden could use the 14th Amendment to force a clean debt ceiling increase without spending cuts, the report stated.
President Biden told reporters last week that he was considering invoking the constitutional provision about the validity of U.S. debts in order to skirt House Republicans amid a tense standoff on the country's borrowing limit. 
DEM WHO VOTED AGAINST GOP'S DEBT CEILING INCREASE WANTS TO BLOCK CONGRESS' PAY UNTIL IT RAISES DEBT LIMIT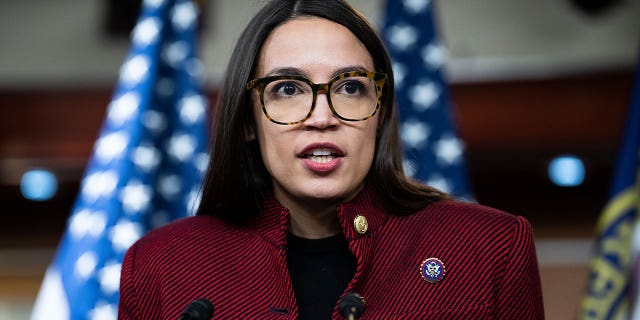 "I have been considering the 14th Amendment," the president said after a meeting on the debt limit with congressional leaders failed to make any meaningful progress. "I'll be very blunt with you, when we get by this, I'm thinking about taking a look at — months down the road — to see what the court would say about whether or not it does work."
Section 4 of the 14th Amendment reads in part, "The validity of the public debt of the United States, authorized by law, including debts incurred for payment of pensions and bounties for services in suppressing insurrection or rebellion, shall not be questioned."
Some constitutional law experts however have expressed skepticism about the president using the amendment to raise the debt ceiling.
Fox News' Elizabeth Elkind contributed to this report.
Read the full article here