LSU Tigers star women's basketball player Angel Reese may be catching even more social media backlash after her latest comment regarding first lady Jill Biden's invitation to the White House. 
Biden said Monday that she wishes to invite both LSU and the Iowa Hawkeyes, who were defeated by the Tigers in Sunday's NCAA Tournament final, 102-85. 
"I know we'll have the champions come to the White House, we always do," Biden, who was at American Airlines Center in Dallas to witness LSU's win, said in Denver on Monday, via ESPN. "So we hope LSU will come. But, you know, I'm going to tell Joe I think Iowa should come, too, because they played such a good game."
Reese quote tweeted the ESPN article with Biden's comments, and she clearly has her opinion on both the winner and loser going to the White House. 
"A JOKE," she wrote with three laughing emojis prefacing the words. 
It isn't normal for the losing team of a championship to get invited to the White House, but Biden believes that the evolution of women's sports since Title IX was put in place in 1972 makes this occasion different. 
"It was so exciting, wasn't it?" she said, via ESPN. "It was such a great game. I'm old enough that I remember when we got Title IX. We fought so hard, right? We fought so hard. And look at where women's sports have come today."
STEPHEN A SMITH SAYS THERE'S 'WHITE-BLACK ISSUE' IN ANGEL REESE'S TAUNT CRITICISM
Reese has been a talking point since the Tigers beat the Hawkeyes, as her taunt toward the national player of the year, Caitlin Clark, while LSU was on the verge of winning it all saw fellow athletes, media personalities and fans of the game choosing sides. 
Reese did John Cena's famous "You can't see me" move by waving her hand across her face while staring at Clark. That was Reese's response to Clark doing the same move during the Elite Eight game against Louisville.
Reese followed Clark around the court doing the move, while also pointing to her ring finger, referencing the diamonds she will receive, along with her Tigers teammates, for winning the title.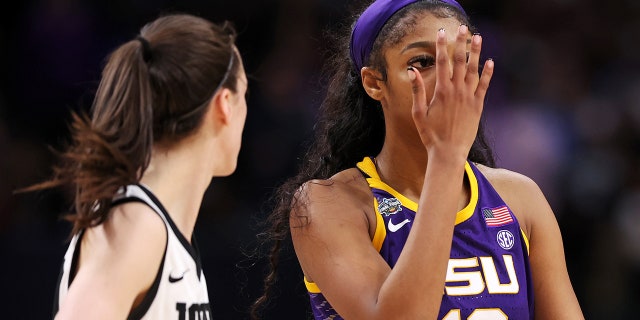 Barstool Sports' Dave Portnoy was among those that disliked Reese's actions, calling her a "classless piece of s—" on Twitter. Others, including ESPN's Stephen A. Smith, believed that Reese was only doing the same thing Clark did, but it was only an issue because she was a Black woman. 
"Here's the reality of the situation: [Clark] instigated this kind of stuff," Smith said on "First Take" Monday. "Let's call it what it is. She was waving, she was doing the [John] Cena. How about what she did to Raven Johnson? She didn't just go into the lane and not guard her against South Carolina in the national semifinal. She waved her off, she didn't mind being disrespectful. So, why is it that we're hesitant to bring that up?
"We all know that there's a white-black issue here because the fact of the matter is when Caitlin did it, people were celebrating it, and they were talking about nothing but her greatness. But then the second a sister steps up and threw it back in her face, now you got half the basketball world saying, 'You know what? That's not the classiest thing to do. That's not the way to act.' It was the exact same thing."
LSU'S ANGEL REESE SUGGESTS DOUBLE STANDARD OVER CRITICISM AIMED AT HER: 'TWITTER IS GONNA GO IN A RAGE'
After the game, Reese was asked about her celebration to which she didn't care about the criticism she knew was coming her way. 
"I'm happy. All year, I was critiqued about who I was," she explained. "The narrative – I don't fit the narrative. I don't fit the box you all want me to be in. I'm too hood. I'm too ghetto. You told me that all year," she said.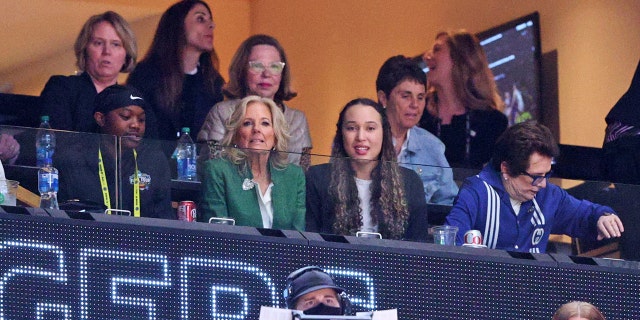 "But when other people do it – you all don't say nothing. So, this is for the girls that look like me. That's going to speak up for what they believe in. It's unapologetically you, and that's what I did it for tonight. It was bigger than me tonight. It was bigger than me. Twitter is going to go in a rage every time. And, I mean, I'm happy. I feel like I helped grow women's basketball this year. I'm super happy and excited. I'm looking forward to celebrating and then next season."
Reese also said Clark is "a hell of a player for sure, but I don't take disrespect lightly." She's referring to Clark waving her hand at the South Carolina player during the semifinal, which Smith pointed out, while she was unguarded at the three-point line. Clark was basically saying she wasn't a threat to do anything offensively. 
Reese was named the NCAA Tournament's Most Outstanding Player following her 15-point, 10-rebound national championship, which was the first in LSU history.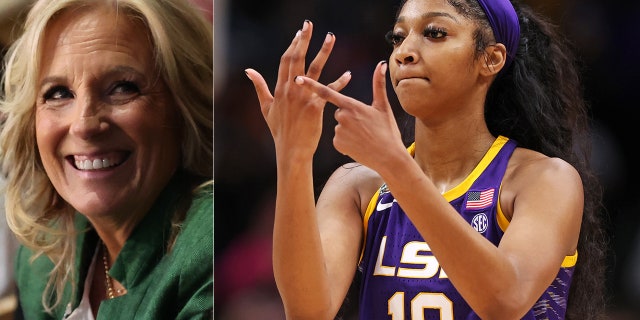 It is unknown whether president Biden will be extending the invite to Iowa, and if that invite is accepted, whether it will be a joint visit or separate ones. 
Read the full article here