A car crash involving multiple vehicles in western Oregon left seven people dead and several other victims injured, police said.
Oregon State Police said officers and fire officials responded to the crash along Interstate 5 at approximately 2:05 p.m. when they found two semi-trucks and a passenger vehicle had collided in the northbound lanes.
The deceased included seven adults, but police did not specify the number of injured.
The crash happened about 7 miles north of Albany, near the Santiam rest area, police said. Albany is about 70 miles south of Portland and about 30 miles south of Salem, the state's capital.
OREGON DEMOCRATS PROPOSE 'RIGHT TO REST ACT' DECRIMINALIZING PUBLIC CAMPING AS HOMELESS CRISIS SURGES
According to the Albany Democrat-Herald, bodies were seen covered in plastic in a nearby field as the Marion County medical examiner worked at the scene. A Life Flight helicopter was also at the scene assisting in the recovery effort.
Police also placed a blue tarp across the wrecked van and erected a barrier to block the view of the scene, the Democrat-Herald reported.
OREGON PAPER LAMENTS HOMELESS CRISIS, HIGH TAXES, VIOLENCE DRIVING RESIDENTS TO OTHER STATES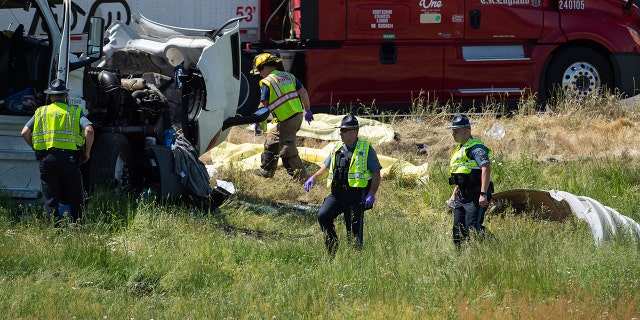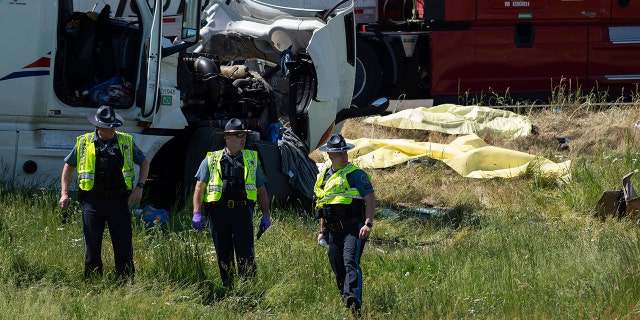 Adrian Gonzalez, a witness of the crash scene, told the Statesman Journal that the passenger van appeared to have been crushed between the trucks: "Judging by the damage, it looked like the van was sandwiched."
"It got hit very hard," said Gonzalez, who also said two Life Flight helicopters transported victims away from the crash site.
Paramedics treated other victims at the scene, Gonzalez told the paper.
OREGON GOP WALKOUT OVER DEMOCRATS' 'EXTREME' BILLS STALLS TWO-YEAR BUDGET PLAN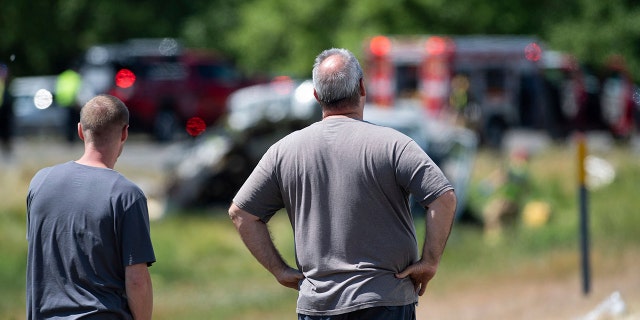 The northbound lanes of I-5 were closed and traffic was detoured.
Police are continuing to investigate the cause of the crash.
The Associated Press contributed to this report.
Read the full article here