Alabama policesaid on Sunday evening that the number of people who died during a mass shooting in Dadeville overnight remains to be four, though 28 others have been injured in the incident. 
Additionally, police have not confirmed whether suspects are in custody.
A mass shooting occurred at a teenager's 16th birthday party on Saturday night.
ALABAMA MASS SHOOTING: 4 CONFIRMED DEAD, REPORTS OF AT LEAST 20 INJURED AT TEENAGER'S BIRTHDAY PARTY
Initial reports after the incident confirmed that four individuals were killed during the event, but the number of people injured was not nailed down until a press conference on Sunday night.
Sergeant Jeremy Burkett of the Alabama Law Enforcement Agency, or ALEA, confirmed during the press conference that 28 individuals were injured during the incident, and some of those injuries left individuals in critical condition.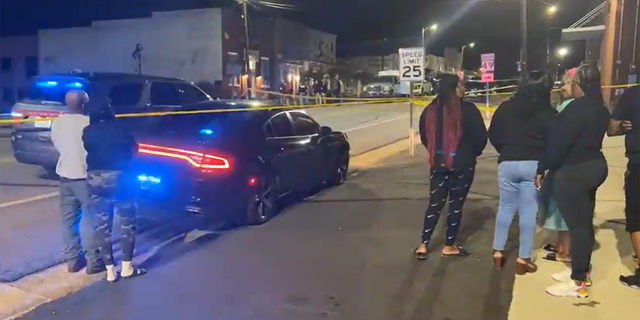 He explained that the injuries could be anywhere from someone needed medical treatment to someone being in extremely critical or serious condition.
ALABAMA MASS SHOOTING: VICTIMS INCLUDE JACKSONVILLE STATE FOOTBALL RECRUIT
Burkett said the situation is "very fluid," and the department is getting continuous updates throughout the day, while also trying to confirm everyone who was at the party and why.
At the end of the press conference, Burkett and his team declined to field questions regarding whether a suspect has been identified or was in custody yet.
Anyone who has information or knows someone with information about the shooting is encouraged to contact ALEA at 1-800-392-8011.
Burkett said no matter how small of an effect you think the information would have on the investigation, he and his team "absolutely" need it to be shared with them.
Crime Stoppers is also offering a reward for information by calling 1-833-AL1-STOP.
SHOOTING IN LOUISVILLE LEAVES AT LEAST TWO DEAD, POLICE SAY
At approximately 11:45 p.m. on Saturday, special agents with ALEA opened a death investigation into the shooting, which occurred at about 10:30 p.m., at the request of the Dadeville police chief.
One of the victims who was killed was reportedly Phil Dowdell, a high school athlete who was headed to Jacksonville State on a football scholarship this fall.
Dowdell's grandmother, Annette Allen, told The Montgomery Advisor he was celebrating his sister Alexis' sweet 16 birthday party when he was shot and killed.
"He was a very, very humble child," she told the publication. "Never messed with anybody. Always had a smile on his face."
Allen said several teens were shot at the party, as was Dowdell's mother, who sustained two gunshot wounds.
Danielle Wallace, Landon Mion and Bryan Llenas of Fox News Digitial contributed to this report.
Read the full article here