Three teenagers were killed and two were injured following a crash that shut down International Speedway Boulevard in tourist popular Daytona Beach, Florida, officials said.
The crash happened around 5:30 a.m. Saturday in the 800 block of International Speedway Boulevard, police said on Twitter. Investigators told FOX 35 Orlando that five people were riding in the vehicle involved in the single-car crash. 
The vehicle was identified as a Nissan Murano by another local media outlet. It struck a tree, according to the Daytona Beach Fire Department. Responding crews reported an entrapment, ejection, two trauma alerts and three fatalities, according to a Facebook post.
The victims killed were pronounced dead on the scene and have only been identified as being a 19-year-old man, a 17-year-old boy and a 14-year-old boy.
DESANTIS RIPS MANHATTAN DA BRAGG'S 'FLIMSY' TRUMP INDICTMENT IN NEW YORK SPEECH: AGENDA 'NOT THE RULE OF LAW'
Those injured were a 19-year-old man and a 16-year-old girl. The man was last reported by police as awake and stable, while the girl was listed in critical condition. 
The families of all involved in the crash have been notified.
All lanes of the roadway in both directions were shut down while police were on the scene investigating. It reopened just before 10 a.m.
FLORIDA FATHER ACCUSED OF MURDERING MOTHER OF HIS CHILD, 2-YEAR-OLD SON APPEARS IN COURT
"Daytona Beach police need to start doing radar on ISB," someone commented on the Daytona Beach Fire Department's Facebook post. "This is the second accident this week (that I'm aware of) on ISB. The first accident was a 3 car accident caused by 2 of the cars racing at high speeds (70-80+ mph)."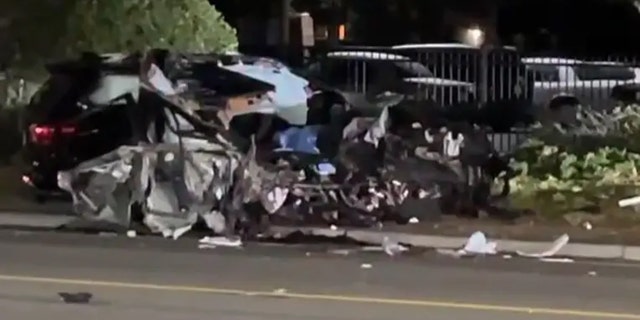 CLICK TO GET THE FOX NEWS APP
The crash happened about two miles east of the world-famous Daytona International Speedway and near Bethune-Cookman University, according to Google Maps. 
"While the cause of this accident remains under investigation, we are exhausting all investigate means and will remain in contact with the families throughout the process," a police press release reads. 
Read the full article here