Treasury Secretary Janet Yellen said the U.S. economy and America's financial system are doing well despite headwinds caused by the recent banking crisis and the Fed's efforts to tame inflation.
Yellen spoke at a press conference Tuesday to mark the beginning of the World Bank and International Monetary Fund's spring meetings and said that while there is still a chance of a credit contraction and economic downturn, she's optimistic about the trajectory of the U.S. economy. 
"I've not really seen evidence at this stage suggesting a contraction in credit, although that is a possibility," Yellen said. "I believe our banking system remains strong and resilient. It has solid capital and liquidity, and the U.S. economy is obviously performing exceptionally well with continued solid job creation, inflation gradually moving down, robust consumer spending. So I'm not anticipating a downturn in the economy, although, of course, that remains a risk."
YELLEN SAYS GLOBAL ECONOMY IS IN A 'BETTER PLACE' THAN EXPECTED DESPITE BANKING UPHEAVAL
The cautious optimism expressed by Yellen comes in contrast to concerns raised by some economists, including Nouriel "Dr. Doom" Roubini, that the U.S. economy is headed for a hard landing and downturn because of the Fed's interest rate hikes to tamp down inflation.
The ongoing interest rate hikes and recent banking crisis have prompted fears about a "credit crunch" in which banks tighten the requirements borrowers must meet to obtain a loan, such as requiring higher interest rates or additional collateral. That, in turn, suppresses economic activity as businesses and consumers rein in big-ticket spending. Yellen's statement about not seeing signs of an impending credit crunch is similar to statements made by New York Fed President John Williams Monday.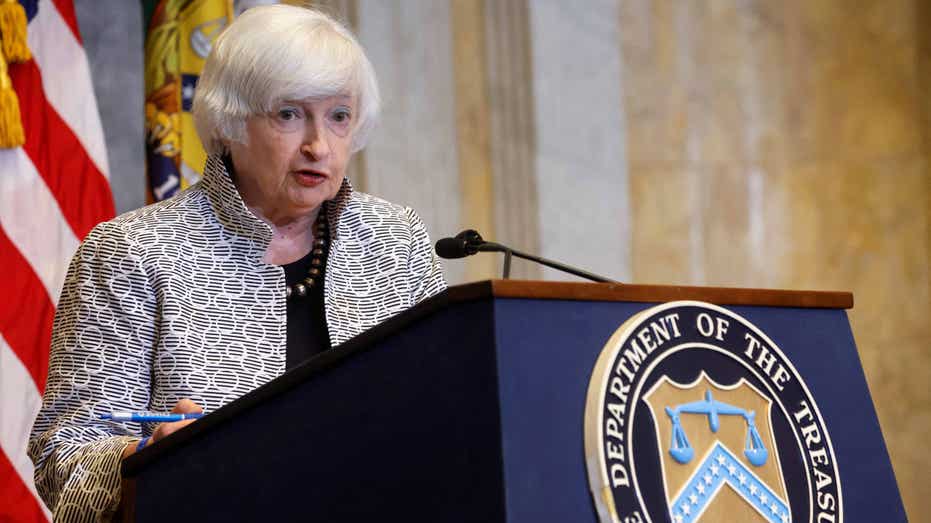 Yellen's remarks come on the heels of an economic forecast released by the IMF that sees U.S. growth slowing this year and next.
According to a report released by the IMF Tuesday, the U.S. economy is projected to grow just 1.6% this year and 1.1% next year, a slight improvement from the IMF's projections in January. However, those estimates represent a decline from the 2.1% growth the U.S. experienced last year, according to the IMF.
FOX Business' Megan Henney contributed to this report.
Read the full article here