For the first time in 30 years, three of Princess Diana's dresses will be on display before they hit the auction block.
Julien's Auctions and Turner Classic Movies (TCM) are teaming up for "Hollywood Legends," a two-day auction taking place live in Beverly Hills, California, and online Aug. 26-27 that will feature more than 1,000 items connected to some of the most famous figures of all time. It will also highlight rare garments owned and worn by the late Princess of Wales.
An exhibition titled "Princess Diana – Fashion from the Wardrobe of The People's Princess," which will include the three gowns up for auction, opened May 5 at The Museum of Style Icons at Newbridge Silverware in Newbridge, Ireland. The dresses will be on display throughout the summer.
"When it comes to royal style and elegance, there is no bigger legend than Princess Diana, who was revered equally for her motherhood and philanthropic work, as well as for her groundbreaking fashion," Martin Nolan, founder and executive director of Julien's Auctions, told FOX Business in a statement.
PRINCESS DIANA'S SECRET LETTERS DURING 'UGLY' PRINCE CHARLES DIVORCE COULD FETCH $110,000 ON AUCTION BLOCK
"Her incredible life and glamour still captivate the world and Hollywood as seen in the many photographs and videos of her wearing these three stunning gowns in her royal duties and appearances with the stars and statesmen during her time," he wrote. "We have received great interest in these rare and important garments and expect $500,000 – $1,000,000 for all three when they are sold at Julien's and TCM's 'Hollywood Legends' auction."
The announcement came days before King Charles III's coronation. The late royal's ex-husband and his wife, Queen Camilla, are to be crowned on May 6 at London's Westminster Abbey.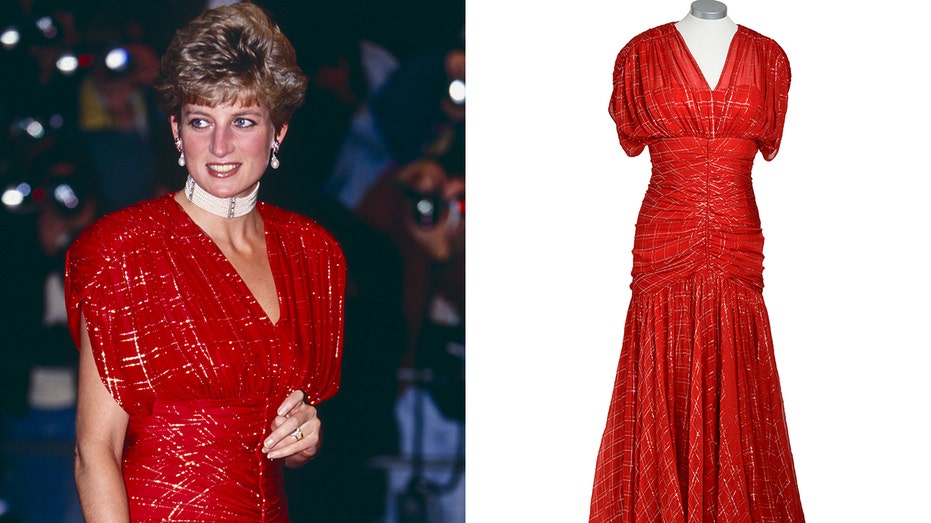 "With recent events of the British royal family making history once again from the passing of Her Majesty Queen Elizabeth II to the upcoming coronation of King Charles III, Hollywood's fascination and interest in the monarchy has grown more than ever in this momentous time," said Nolan.
The auction's headliner is a scarlet red silk Bruce Oldfield gown worn by Diana when she attended the film premiere of "Hot Shots!" at the Odeon Leicester Square theater in 1991. The dress features a draped short-sleeve bodice with a fitted ruching to the waist and hips, as well as an all-over tartan motif. It has an estimated sale of $200,000-$400,000.
Also appearing in the auction are two dresses by Catherine Walker, one of Diana's favorite designers. The British couturier also designed the black cocktail dress she was buried In. Her creations are still worn by several British royals today, including Kate Middleton, the current Princess of Wales.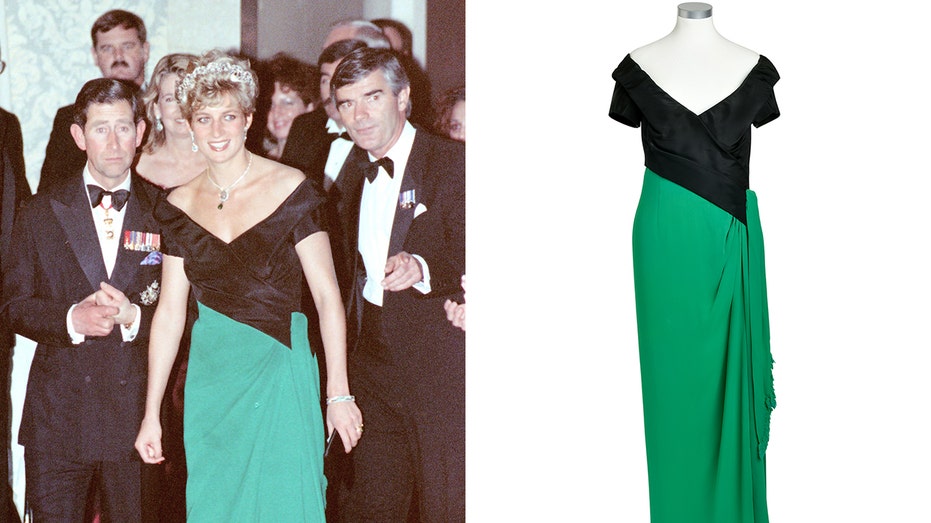 A black and jade evening gown was modeled by Diana for a gala dinner in 1986 at the Royal York Hotel in Toronto, Canada. It has a fitted black faille bodice with a décolleté neckline and off-the-shoulder short sleeves, along with a draped silk skirt, a fringed sash and a side slit. The dress has an estimated sale of $100,0000-$200,000.
Also on display is a slender-fitting black and white dress was worn by Diana to a private function. It features silk crepe with bold bands of black silk velvet along with a graduated hemline and silk lining. The outfit has an estimated sale of $60,000-$80,000.
Diana, the glamorous mother of Prince William and Prince Harry, was one of the most photographed people in the world. She passed away in 1997 from injuries she sustained in a Paris car crash. The beloved royal was 36.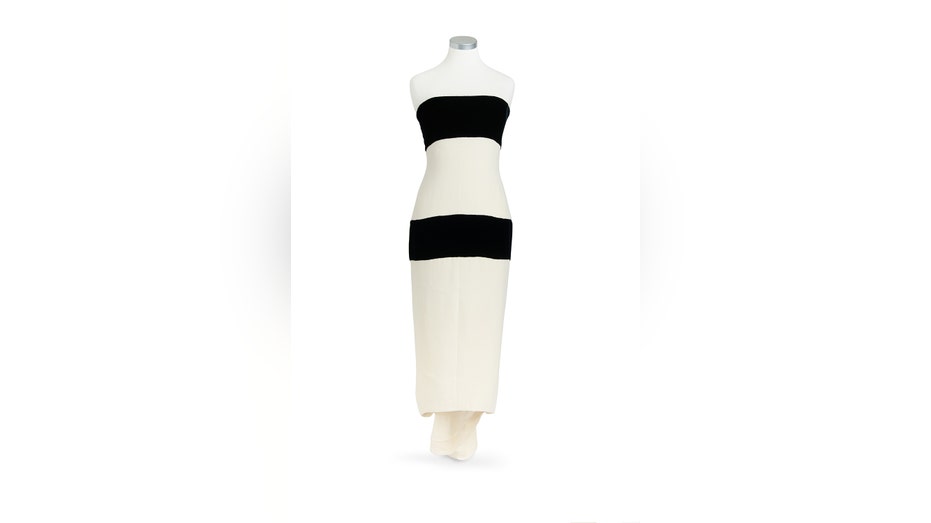 The Associated Press contributed to this report.
Read the full article here