The U.S Postal Service (USPS) and its law enforcement arm announced many new preventative measures are rolling out, a move meant to hit back at various mail-related crimes it has been dealing with. 
The crimes that the USPS said it is aiming to curb incidents of with the new preventative measures include theft, as well as postage counterfeiting and change of address fraud. The agency and the Postal Inspection Service unveiled their upped efforts on Friday.
They come as part of a program called Project Safe Delivery, according to the press release the USPS put out.
Two new measures highlighted by the USPS – deployment of high-security collection boxes and replacement of arrow and modified arrow locks – are meant to combat mail theft and letter carrier robberies. Both actions have kicked off.
US POSTAL SERVICE BUYS 9,250 ELECTRIC VANS, 14,000 CHARGE STATIONS
The installation of the 12,000 new high-security boxes has been taking place in "high security risk areas through the next fiscal year," the USPS said. Meanwhile, the agency reported certain cities have already seen arrow locks swapped out for electronic ones, with future installations expected to ultimately bring to total old locks replaced up to 49,000.
On the counterfeiting front, the agency has said that packages it finds bearing fake postage will get thrown away and that shipments on Postal Service docks and during warehouse visits will face scrutiny. Its anti-counterfeit efforts also involve working with e-commerce companies and Customs and Border Protection. 
As part of the USPS's crackdown on change of address fraud, people will face enhanced verification for in-person requests at the end of the month, the USPS said. That comes after online requests also started using dual authentication identify verification. 
US POSTAL SERVICE ANNOUNCES $9.6B INVESTMENT IN NEW ELECTRIC VEHICLE FLEET WHILE OPERATING AT A LOSS
Additionally, the change of address process for Postal Service customers will start involving two letters, one for validation at the old address and one for activation at the address where they moved, according to the release.
"We're doubling down on our efforts to protect our Postal employees and the security of the mail," Postal Inspection Service Chief Gary Barksdale said. "We are hardening targets – both physical and digital – to make them less desirable to thieves and working with our law enforcement partners to bring perpetrators to justice."
In the press release, the USPS and Postal Inspection Service reported they've seen more of certain postal crimes from last year.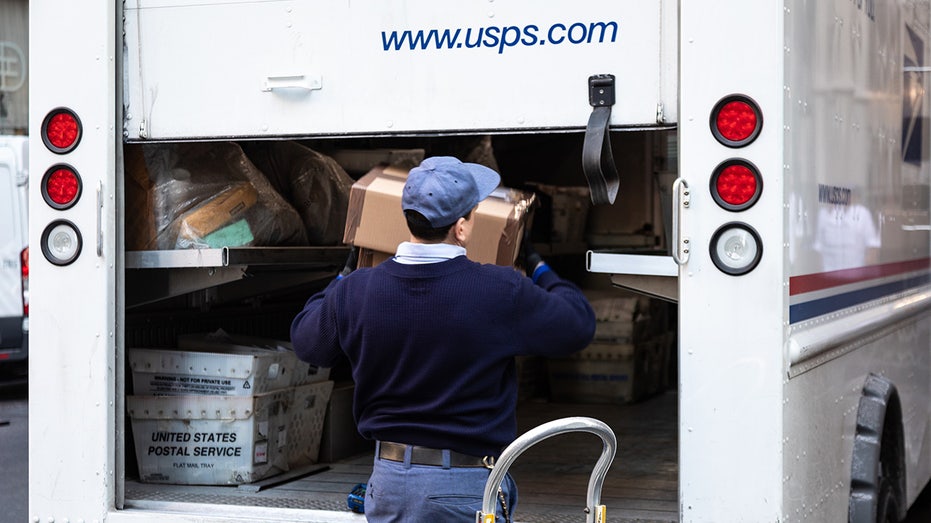 In particular, an uptick has been observed in mail receptacle thefts, with some 25,000 occurring so far this fiscal year, according to the USPS. There have also been 305 mail carrier robberies.
The USPS's workforce totalled over 516,000 in 2022, according to its website. That year, some 127 billion pieces of mail were handled across over 26,000 post offices. 
First-class mail stamps currently cost 63 cents – a price that the USPS in April proposed hiking by 3 cents.
POSTAL SERVICE UPPING FIRST-CLASS STAMP PRICES TO 66 CENTS, BLAMES INFLATION
Read the full article here