Nearly $170,000 worth of THC-laced candy and snacks have been removed from stores in North Carolina in the weeks leading up to Halloween.
The North Carolina Secretary of State announced in a press release that they led an initiative in eastern North Carolina that seized edibles from vape shops that were packaged using counterfeit snack brands like Skittles, Airheads and Oreos.
THC is the compound that gives marijuana its narcotic effect.
The officials said that while the packaging on the edibles included markups that indicated the snacks were pot-infused, they could be deceptive and overlooked by children and teens.
TSA CATCHES MAN WITH GUN FOR 2ND TIME AT AIRPORT CHECKPOINT
"These THC-infused edibles are packaged using counterfeit snack brands that are particularly popular with children and teenagers," North Carolina Secretary of State Elaine F. Marshall said. "This growing trend is dangerous for our communities, and it's important to raise the overall awareness of this issue with parents and all residents around North Carolina." 
Secretary Mashall noted the packaging featured a cartoon character or other images attractive to children.
"Halloween is a time when our children are consuming more candy and sweets, so it's particularly important if parents have THC-infused products in their homes to lock them away like other medications or cleaning products," added Marshall.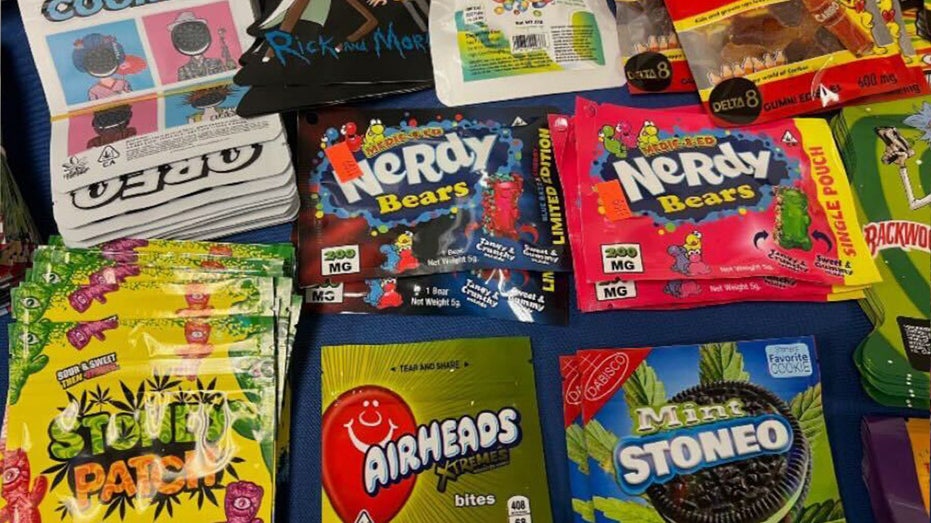 Officials said that many of THC-laced candy and snacks were found at vape and tobacco shops located near high schools or colleges. 
ALASKA AIRLINES OFF-DUTY PILOT PLEADS NOT GUILTY, TALKED MAGIC MUSHROOMS AFTER ALLEGEDLY TRYING TO CUT ENGINES
"Counterfeiting is not a victimless crime," added Marshall. "As was the case here, there is oftentimes other dangerous activity associated with counterfeiting, whether it's guns and illegal drugs here, or in other cases around the country it has been associated with organized crime, human trafficking, or terrorism."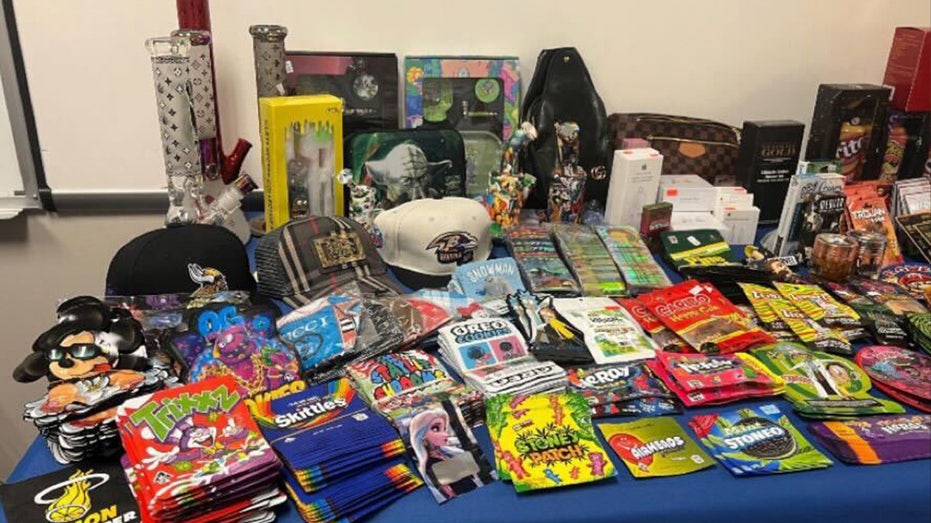 Following the investigation, a number of weapons and other illegal drugs were seized. One individual was arrested on felony drug charges, the Secretary of State said.
According to America's Poison Centers, reports of cannabis edible poisonings in children 12 and under have increased nearly 700% since 2018. In 2022, there were 6,379 reports to poison control centers compared to 816 in 2018. 
Read the full article here