Multiple people were arrested Monday morning during a planned protest on Wall Street in New York City, where activists descended to demonstrate against the financing of the fossil fuel industry.
Police were seen detaining people in front of the New York Federal Reserve on Liberty Street in Lower Manhattan, where activist groups continued their days-long protest in the Big Apple.
The New York City Police Department confirmed to FOX Business that as of 11:30 a.m. ET arrests had been made in connection to the protest, but a spokesperson was not able to confirm the exact number or the nature of any charges.
Environmental activist group New York Communities for Change said in a press release ahead of Monday's Wall Street protest that hundreds of demonstrators would be present and "risk arrest" in what the organization called "a major escalation against fossil fuel financiers."
CALIFORNIA GOES TO WAR WITH OIL AND GAS GIANTS OVER CLIMATE CHANGE 'DECEPTION'
This is the latest in a series of protests by climate activists in New York City targeting major financial institutions in recent days to protest the financial backing of oil, gas and coal industries.
On Thursday, two dozen activists were arrested after demonstrators blocked the entrance to Citigroup's headquarters. The protests also targeted BlackRock, KKR, the New York Stock Exchange, and environmental groups held a March to End Fossil Fuels over the weekend that organizers said attracted more than 75,000 participants.
AOC JOINS THOUSANDS IN NEW YORK CLIMATE CHANGE MARCH WITH FURIOUS MESSAGE FOR BIDEN
"Despite scientific consensus that burning fossil fuels is the primary driver of global warming, the world's 60 biggest banks poured over $5.5 trillion into the fossil fuel industry since the signing of the Paris Agreement, driving climate chaos and causing deadly local community impacts," New York Communities for Change wrote in a press release.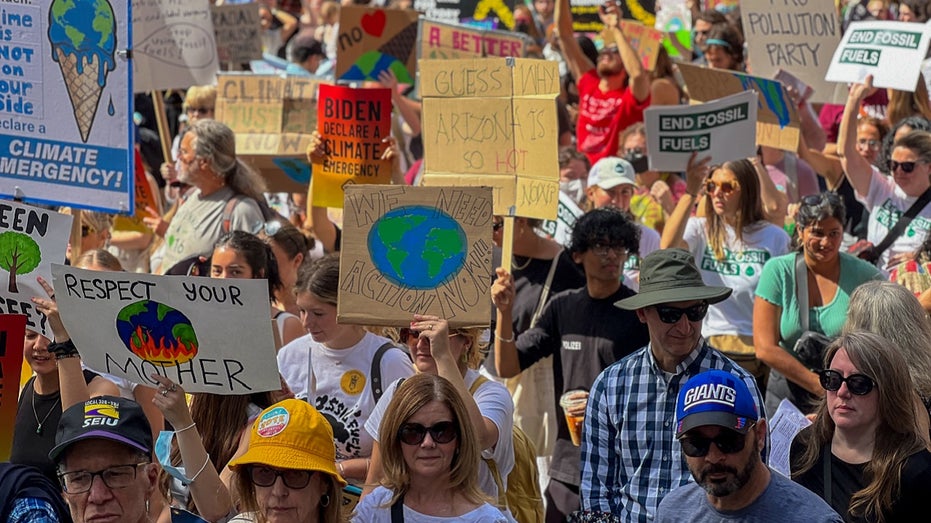 The group added, "The wave of actions are part of a mass global escalation to call attention to end fossil fuels, with mobilizations occurring around the world, all taking place just days before the historic UN Climate Ambition Summit."
Read the full article here