A Mexico-based organic strawberry supply has been linked to a multi-state Hepatitis A virus outbreak, which is identical to a strain that sparked an outbreak in 2022, according to the U.S. Food and Drug Administration.
The FDA confirmed the discovery on Tuesday after investigators with the FDA and CDC, along with state and local partners, investigated the outbreak.
Investigators found that the Hepatitis A virus infection outbreak that has been linked to frozen organic strawberries imported from Baja California, Mexico, according to the FDA's website.
FROZEN FRUIT RECALLED OVER RISK OF HEPATITIS A CONTAMINATION
The CDC collected epidemiological data and found that 7 out of 7 people who reported getting ill ate frozen organic strawberries.
The FDA traced the strawberries back to a common supplier of frozen organic strawberries that imported the fruit from certain farms in Baja California in 2022.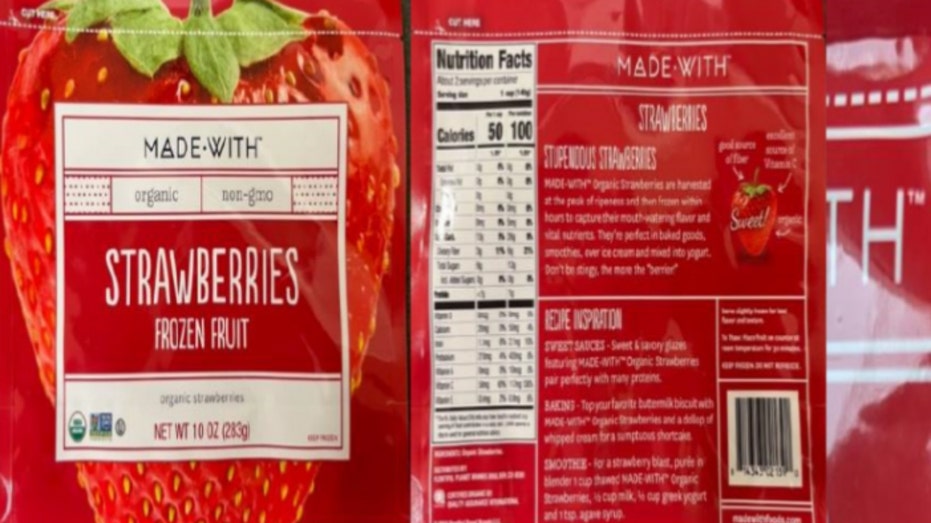 Investigators also discovered that the strain of Hepatitis A virus that is causing people to get sick this year is genetically identical to the strain that caused an outbreak in 2022. That outbreak was also linked to organic strawberries imported from Baja California, Mexico.
MEIJER RECALLS SALAD PRODUCTS AMID LISTERIA CONCERNS
Last month, Scenic Fruit Company recalled frozen organic strawberries and frozen organic tropical fruit blend because of a possible risk of Hepatitis A contamination.
The FDA shared the Oregon company's recall notice, which said it was recalling the frozen berries that were sold to Costco, Aldi, KeHE, Vital Choice Seafood and PCC Community Markets, as well as the frozen organic tropical blend sold to Trader Joe's, "due to an outbreak of Hepatitis A illnesses."
The advisory told consumers that even though Hepatitis A had not been detected in the product at the time, it should not be consumed out of an abundance of caution. Instead, it should be destroyed or returned to their local store for a refund.
MICHIGAN LETTUCE COMPANY RECALLS PRODUCTS FOR LISTERIA
On March 17, the retailer, Meijer, also issued a voluntary recall of its frozen organic strawberries from certain store locations.
Specifically, Meijer recalled Made-With Foods 10-ounce frozen strawberries with a Use By date of Nov. 20, 2024, because of potential Hepatitis A contamination.
The FDA said on its website that restaurants, consumers and retailers should not sell, serve, or eat recalled frozen strawberries, reiterating that they should be tossed in the trash or returned.
"If consumers purchased the recalled frozen organic strawberries and ate those berries in the last two weeks, and have not been vaccinated against Hepatitis A, they should immediately consult with their healthcare professional to determine whether post exposure prophylaxis (PEP) is needed," the FDA said. "PEP is recommended for unvaccinated people who have been exposed to Hepatitis A virus in the last two weeks because vaccination can prevent a Hepatitis A virus infection if given within 14 days of exposure."
Hepatitis A is a contagious liver disease that results from exposure to the Hepatitis A virus, including from food. People can be sickened for a period of a few weeks to several months. In rare cases, infection can progress to liver failure – especially in people who are immunocompromised or have a pre-existing severe illness. Illness occurs within 15 to 50 days of exposure. 
Symptoms include fatigue, abdominal pain, jaundice, abnormal liver tests, dark urine and pale stool. However, a Hepatitis A vaccination can prevent illness if given within two weeks of exposure to a contaminated food.
Read the full article here