McDonald's Corp.'s restructuring this week is reaching company wide, resulting in hundreds of layoffs and for some employees reductions in their compensation packages, according to people familiar with the matter.
Job cuts and changes at the burger chain have affected employees in the U.S. and abroad, at McDonald's Chicago headquarters and in its field offices, and across departments including marketing and operations, the people said.
The corporate restructuring has unfolded in a multipart process this week, some of the people said and internal company communications showed. McDonald's temporarily closed its U.S. offices and started informing some corporate employees about layoffs on Monday, The Wall Street Journal has reported. 
The fast-food chain also offered some employees a chance to remain at the company with reductions in their compensation packages, including changes to titles and benefits such as bonuses and equity grants, according to people familiar with the matter. 
MCDONALD'S TEMPORARILY SHUTS US OFFICES, PREPARES LAYOFF NOTICES: REPORT
This week's restructuring moves included role changes or promotions for other employees, including nearly 10 U.S. officers working across operations, finance and marketing, according to an internal company email sent Thursday.
Companies across the U.S. economy are shedding jobs, often white-collar positions, amid concerns about a potential recession. Layoffs that began in the tech sector last year have spread to other industries, with companies from Goldman Sachs Group Inc. to Amazon.com Inc. recently trimming their ranks.
McDonald's told U.S. restaurant owners and operators in the Thursday email that it would close its field offices in coming months, saying that they are underutilized, with most field staff spending their time in restaurants. The company said instead it would adopt a single, national structure overseeing its 10 field offices. 
"While the McDonald's Brand is in the strongest position it has been in years, we also recognize that our business has grown increasingly complex in recent years," Joe Erlinger, president of McDonald's USA, said in the email viewed by the Journal.
In an internal email last week, McDonald's told U.S. employees and some international staff that they should work from home from Monday through Wednesday so the company could deliver staffing decisions virtually. McDonald's asked employees to cancel all in-person meetings with vendors and other outside parties at its headquarters.
MCDONALD'S SHARES HIT ALL-TIME HIGH
U.S. employees who were laid off have exited the company but will remain on McDonald's payroll until June 15, and after that can receive severance, according to a person familiar with the matter. Affected employees with company cars have the option to return the vehicles in June or purchase the cars, the person said.
Ticker
Security
Last
Change
Change %
MCD
MCDONALD'S CORP.
282.89
+0.87
+0.31%
Among those laid off were senior employees who had worked at McDonald's for decades as well as those who held positions at the company for just a few years. Some wrote emotional goodbye messages to colleagues and restaurant operators, including a director who worked at McDonald's for over 20 years and bid farewell via a haiku posted on LinkedIn. 
"This is not good-bye – But a 'see you later' note – I'm cheering for you," the poem's closing words read.
Consulting firm McKinsey & Co. served as an adviser to McDonald's on the chain's restructuring effort, according to people familiar with the matter. 
McDonald's has conducted several rounds of layoffs in recent years. In 2018, the chain said it was cutting its management to be "more dynamic, nimble and competitive." McDonald's said at the time the layoffs would occur as part of a half-billion-dollar plan to shrink administrative expenses by the end of 2019.
Chief Executive Chris Kempczinski said in an interview in January that he expected to save money as part of this year's workforce assessment but that he didn't have a set dollar amount or number of jobs he was looking to cut.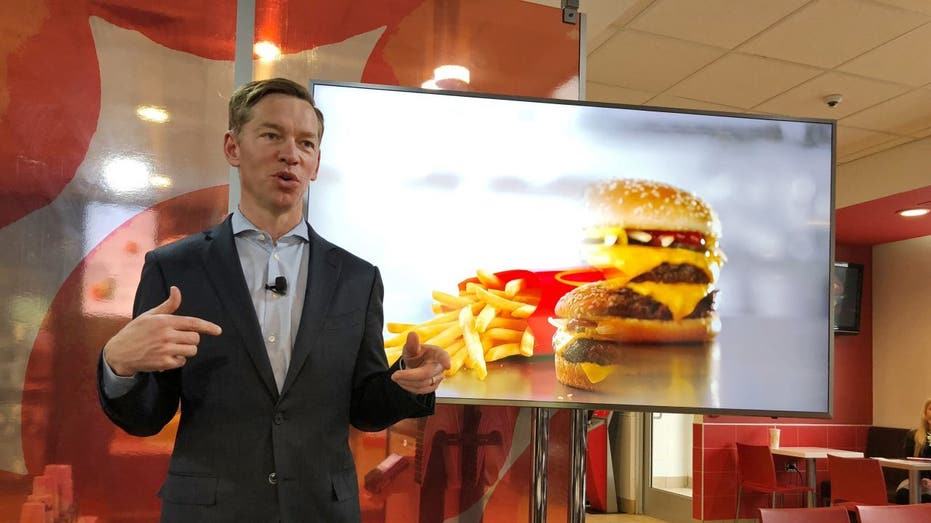 In a company message from January, McDonald's said the company operated in too many silos, leading to redundancies and slowing its innovation. The chain said it aimed to consolidate its work on some projects and stop or move away from others.
CLICK HERE TO GET THE FOX BUSINESS APP
Before the layoffs, McDonald's employed more than 150,000 people globally in corporate roles and in its company-owned restaurants, with 70% of them located outside the U.S., the chain said in February. 
—Heather Haddon contributed to this article.
Read the full article here