The Ameriprise Financial survey revealed that many millennial investors have trust in their financial situation even though they are facing economic issues, debt and other matters. 
The survey showed that of investors in the 27-42 age range, 61% indicated they had a positive outlook on their financial situation. The company published the findings Wednesday. 
Ameriprise Senior Vice President of Financial Advice Strategy Marcy Keckler said millennials have "developed resilience because of things that they've experienced in their formative years," like the Great Recession.
At the same time, many of them have worries about the economy, debt and retirement.
Ameriprise said nine in 10 millennial investors described inflation as an issue they were "very" or "somewhat" concerned about. They expressed worry about tax hikes, a recession and high interest rates. 
At 95%, a vast majority of millennials told Ameriprise they have done something to "weather the present economic circumstances," like saving more and curbing spending.
"I think those experiences that they learned, the lessons that they learned and the resilience that they've generated have all contributed to that more general favorability about their financial circumstances," Keckler told FOX Business.
About 81% of millennials reported holding debt, Ameriprise found. For 57% of that group, reaching goals was affected by debt.
Keckler said it's important to make payments on debt on time, encouraging people to set up auto pay to help with that and to avoid penalties or credit score impacts that could come from late payments. She also suggested consolidating debt that was at different interest rates and trying not to take on further debt.
On the retirement front, not having sufficient funds to retire was cited as a top fear by 12% of millennials. The survey found the share of millennials with access to a pension was lower than those for Generation X and Baby Boomers, coming in at 29% for millennials, 48% for Generation X and 64% for Baby Boomers. 
Ameriprise pointed out millennials are, in general, setting aside money to retire sooner.
The survey found variances in financial priorities between younger and older generations. Top goals for millennials were "increasing my income" and "paying down debt," while Gen X reported "saving for retirement" as a focus and Baby Boomers said "protecting accumulated wealth."
CREDIT CARD DEBT SOARS TO NEW RECORD AS HIGH INFLATION SQUEEZES AMERICANS
"The millennial generation is really in the heart of their financial adulthood, and they are in a life stage, many of them, where they're trying to balance competing priorities," Keckler told FOX Business.
Many millennials may be juggling immediate goals with "intermediate or near-term goals like taking a great trip or saving up for a down payment for a house," Keckler said. Other goals include saving for their children's education or for their own retirement.
Having to juggle multiple financial priorities caused 56% of millennials to experience pressure, a figure notably higher than for Gen X and Baby Boomers, according to the survey.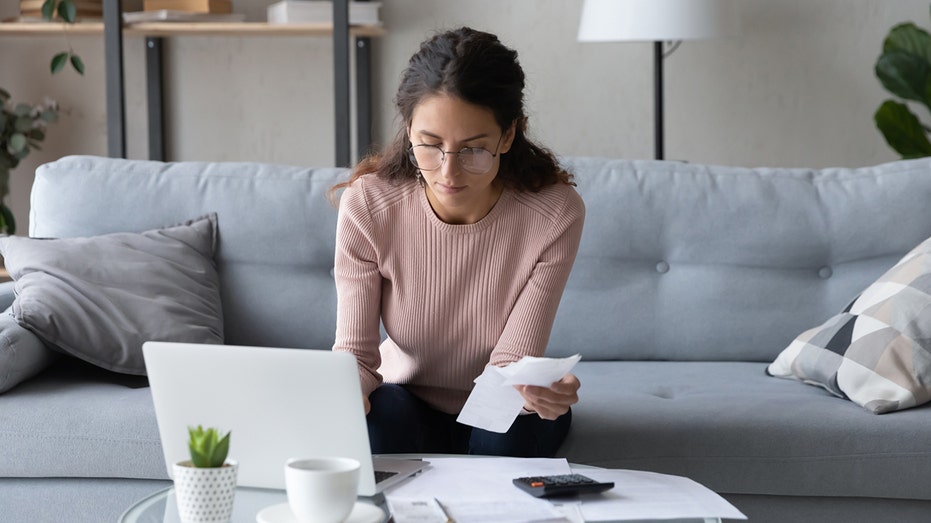 For people feeling such pressure, Keckler said they should take financial windfalls like income tax refunds and bonuses and make sure they "put them to work in the best way possible" financially, like paying down debt or saving. She also encouraged them to "think about getting a second opinion and a fresh perspective on their financial situation and consider doing a really comprehensive financial plan."
About 22% of millennials reported going to family or friends for financial advice, with over a third who used a bad tip saying it came from a friend, the Ameriprise survey found. 
That, Keckler said, doesn't mean never taking advice from friends but does "speak to the opportunity to have a financial professional" weigh in. Slightly over one-third of millennials already work with a financial adviser, she noted.
Confidence in their financial situations was significantly higher, at 76%, for millennials who said they have a financial professional, according to Keckler and the survey.
Millennials are "open to" and "interested in" advice, Keckler said, with investment strategies and retirement planning found to be "at the top of the list."
The survey additionally found over three-quarters of millennials have been financially assisted in some form by their relatives, with over four in 10 saying they expect it in the future, the survey found.
Keckler recommended millennials "have a plan in place that isn't depending on that support from someone else" continuing. Financial help from others, she said, can "be a fallback position."
The survey, conducted for Ameriprise by Artemis Strategy Group, involved over 3,500 Americans in the 26-77 age range and took place Jan. 19 to Feb. 14. In it, the millennials surveyed held investable assets worth at least $25,000, while the Gen Xers and Baby Boomers held at least $100,000 worth.
Read the full article here