JPMorgan Chase CEO Jamie Dimon warned on Thursday of disastrous implications for the economy if Congress fails to raise the debt ceiling and the U.S. defaults on its financial obligations. 
A default is "potentially catastrophic," Dimon told Bloomberg TV in a wide-ranging interview. 
The clock is ticking for lawmakers to lift the debt limit: Treasury Secretary Janet Yellen warned last week the country could run out of money as early as June 1 if the ceiling is not raised.
Dimon expects legislators will have no choice but to respond to growing concern and strike a deal. 
BANKING CRISIS THREATENS TO IGNITE CREDIT CRUNCH OF US HOUSEHOLDS: WHAT TO KNOW
"The closer you get to it, you will have panic," he said. "Markets will get volatile, maybe the stock market will go down, the Treasury markets will have their own problems."
Still, Dimon said that JPMorgan – the largest U.S. bank, with $3.7 trillion in assets – is preparing for the risk of a default, convening weekly "war room" meetings. Beginning May 21, the gatherings will be held daily, and eventually take place three times a day as the deadline gets closer.
He urged politicians from both sides of the political aisle to come together and strike an agreement.
"Please negotiate a deal," Dimon said.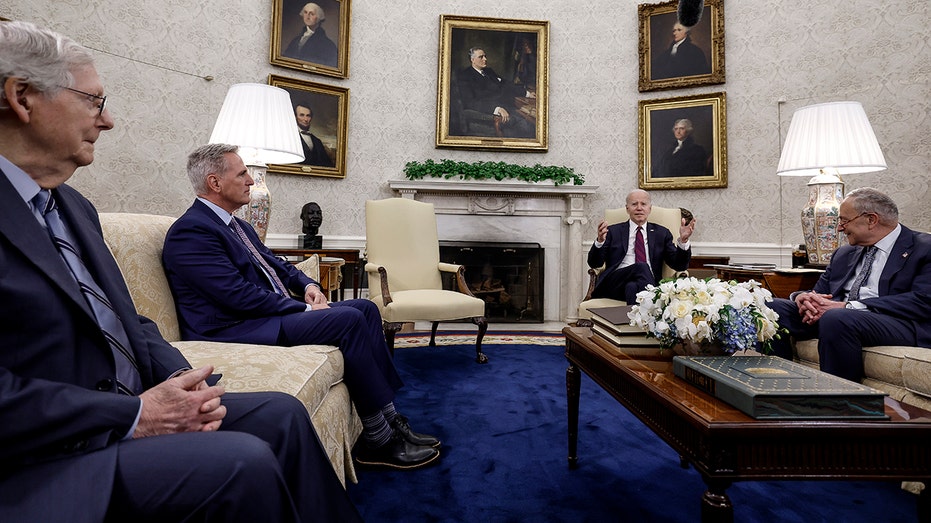 Dimon's warning comes amid a prolonged standoff over the debt limit. Republicans, who control the House, have promised to raise the borrowing limit only in exchange for deep spending cuts. In turn, President Biden and his fellow Democrats, who control the Senate, have refused to negotiate and insisted on a "clean" debt ceiling bill that does not include any cuts.
AMERICANS BRACING FOR HIGHER INFLATION IN THE LONG TERM, NY FED SURVEY SHOWS
Biden hosted House Speaker Kevin McCarthy, R-Calif., and other congressional leaders at the White House on Wednesday to discuss the nation's spending and debt, but the meeting concluded with no consensus reached.  
"I made clear during our meeting that default is not an option," Biden said after the meeting. "I repeated that time and again. America is not a deadbeat nation. We pay our bills, and avoiding default is a basic duty of the United States Congress."
McCarthy likewise said the two sides were at an impasse. 
"I didn't see any new movement," he said.
Biden, McCarthy and the other congressional leaders will meet again Friday, while staff from both sides of the aisle were also preparing for discussions this week.
If the U.S. failed to raise or suspend the debt limit, it would eventually have to temporarily default on some of its obligations, which could have serious negative economic implications. Interest rates would likely spike, and demand for Treasuries would drop; even the threat of default can cause borrowing costs to increase, according to the Committee for a Responsible Federal Budget.
While the U.S. has never defaulted on its debt before, it came close in 2011, when House Republicans refused to pass a debt-ceiling increase, prompting rating agency Standard and Poor's to downgrade the U.S. debt rating one notch.
Read the full article here