Tesla CEO Elon Musk traveled to Texas on Monday to celebrate the groundbreaking of the company's new lithium refinery that the electric vehicle maker hopes will give the company more control over its supply chain.
Musk said the facility, which will be one of the largest of its kind in the world, will produce lithium for "about a million vehicles" and have more lithium refining capacity than "the rest of North American refining capacity combined." 
He explained that the refinery's capacity could be expanded above the one million vehicle mark and noted that while Tesla will still use other suppliers for its battery-grade lithium, it wanted to address a choke point in the supply chain.
"We thought it's important to address what we think, as we look ahead a few years, of fundamental choke points in the advancement of electric vehicles is the availability of battery-grade lithium," Musk said. "And lithium ore itself for mining is actually quite common… So it's not that there's a shortage of lithium ore to mine, but there is a shortage of really heavy industry refinement of lithium to battery-grade."
TESLA REJECTS MUSK DEFAMATION CASE AS A 'SETTLEMENT,' SAYS REPORT IS 'MISLEADING'
Musk – who previously said that the lithium refining business is effectively a "license to print money" — arrived at the groundbreaking ceremony in a Tesla Cybertruck flying the U.S. and Texas flags as earth-moving equipment was operating in the background.
"As you can see, we've got the earth-moving equipment already here. So we're going to begin construction immediately. We're aiming to finish construction next year and then hopefully full production in about a year later," Musk added. "This is extremely fast by, you know, normal standards, but that's how we do things."
ELON MUSK RAMPS UP AI EFFORTS AS HE WARNS OF PITFALLS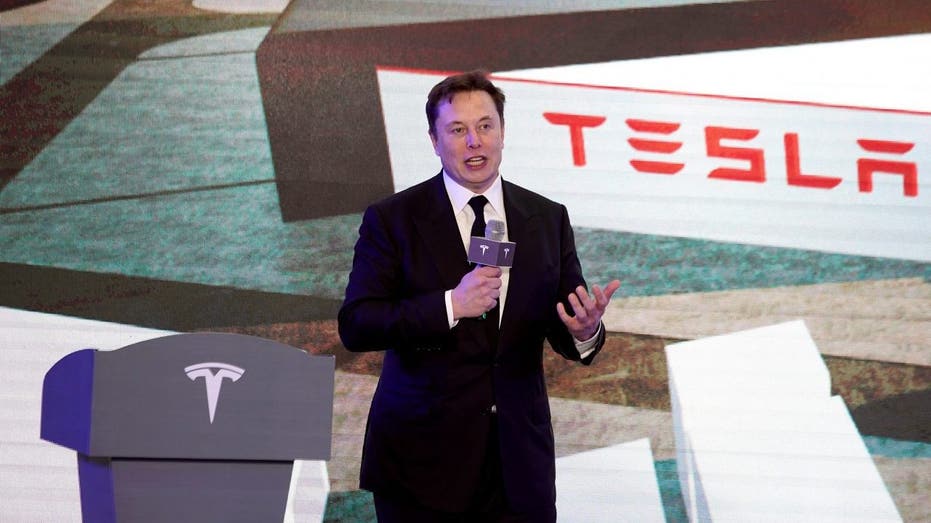 Texas Governor Greg Abbott, a Republican, was in attendance as well and said that the lithium refinery "fits within exactly what we are trying to achieve in Texas with regard to economic development."
"This is not just good for jobs, but it's good for the entire future of the state," Abbott said. "Texas wants to be able to be self-reliant, not dependent on any foreign hostile nation for what we need. We need lithium for the phone you have in your hands, for the batteries that be in Tesla trucks, and for other purposes."
MUSK SAYS THERE SHOULD BE 'SOME SORT OF REGULATORY OVERSIGHT' OF AI
The lithium refinery will be located outside Robstown, Texas, near Corpus Christi, and tax revenue from the facility will fund the local school district. Musk said that he wanted to emphasize that it's "a very clean refinery" with "no toxic emissions" and added that "you could live right in the middle of the refinery and not suffer any ill effects."
"It really is an ideal location for us to have this lithium refinery, both because of the strong community support, but also the talent base that's in Corpus Christi and in oil and gas refining actually is really applicable to what we're doing here," said Tesla SVP of Powertrain and Energy Engineering Drew Baglino. 
Ticker
Security
Last
Change
Change %
TSLA
TESLA INC.
171.79
+1.73
+1.02%
"It's close to Austin. There's a really good deepwater port. So we can bring in the spot train, which is the rock input to this refinery, from all over North America through an easy path," Baglino added. "And it's also directly on rail. So we can bring in the rock and send the outgoing product via rail."
Read the full article here