The economist known as "Dr. Doom" is warning that the recent banking crisis could undermine the Fed's efforts to engineer a soft landing without a recession as it tries to tamp down inflation.
Nouriel Roubini, the CEO of Roubini Macro Associates and an economics professor at New York University, appeared Monday on FOX Business' "The Claman Countdown" and told host Liz Claman that the U.S. banking system — particularly regional banks — will struggle in the near term. Claman asked if First Republic Bank's recent announcement that it would suspend its quarterly dividend on preferred stock indicates U.S. banks and global financials have a long, dark road ahead.
"It tells me that not just for First Republic, but also for many other regional banks, their business model is severely challenged right now," Roubini responded. "They have a narrow deposit base, they have a large amount of uninsured deposits, and now people are realizing that they can earn, say 4 or 5% on money market T-bills that are insured by the government when they get close to zero on their deposits. So that's the source of their fundamental problem, and therefore the banking problems are going to continue for the regional banks."
SILICON VALLEY BANK: WHAT WE LEARNED, WHAT'S NEXT AFTER THE COLLAPSE
The failure of Silicon Valley Bank, which was the 17th largest bank in the U.S. at the time of its collapse, occurred because it had a significant amount of uninsured deposits — over 93% of total deposits per S&P Global — and was overexposed to long-term Treasury securities that lost value as the Fed increased interest rates to reduce inflation. It also had a deposit base that was concentrated in venture capital-backed companies and tech startups that tend to have large cash balances and less recurring revenue.
Signature Bank failed shortly after Silicon Valley Bank and had about 89% of its total deposits uninsured. The New York-based regional bank catered to cryptocurrency firms. 
First Republic Bank, which has so far avoided a collapse but has seen its stock price decline by over 80% since the crisis began, had about 67% of its total deposit base uninsured as of the end of last year per S&P Global.
IS MY BANK SAFE FROM FAILING? WARNING SIGNS OF FINANCIAL TROUBLE
"I think the problems are with the regionals, but the regional banks are significant lenders to households for mortgages, for small businesses, for SMEs, for commercial real estate. And therefore we're going to have a credit crunch," Roubini explained. 
He added, "That credit crunch is going to make the likelihood of a recession, a hard landing, much greater than before. So we're facing a serious credit crunch for a good chunk of the U.S. banking system."
FED PRESIDENT BULLARD: CREDIT TIGHTENING WON'T TRIP RECESSION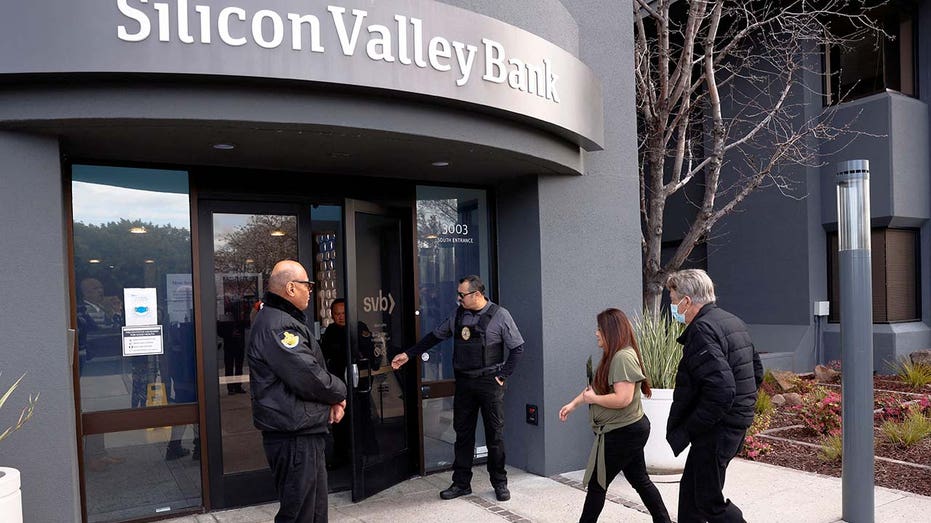 Claman asked Roubini what signs he's looking for that would indicate "the market has bottomed and you will then go from Dr. Doom to Dr. Boom" to which Roubini responded: 
"Well, the worst is ahead of us because the Fed and other central banks are facing a dilemma. They have to reach price stability. They have to maintain economic growth and avoid a recession. And they have to maintain financial stability. Interest rates have to rise further because inflation is still well above target. That's going to cause a hard landing of the economy."
He went on to say that "we're waiting until we get this crash, until we get something more severe. We're not going to be at the bottom for a while."
Ticker
Security
Last
Change
Change %
FRC
FIRST REPUBLIC BANK (SAN FRANCISCO CALIFORNIA)
14.16
+0.13
+0.93%
The Federal Reserve is expected to hike the benchmark federal funds rate by another 25 basis points next month, but uncertainty around whether inflation will ease further is clouding expectations about whether there will be further rate hikes or potential rate cuts later this year. Claman asked Roubini whether the expected 25 basis point rate hike could cause a market accident.
"Well, with 25 basis points, no. But the problem is the markets are now expecting that the Fed is going to aggressively cut rates in that second half of the year," Roubini replied. "And I think that the Fed cannot even do only 25 basis points. Inflation is high enough that it may be all the way for fed funds rates of 6% still on hold for a year before cutting interest rates. So the markets are a bit delusional and that's where an accident can occur."
Read the full article here