One of Chicago's most powerful business leaders is urging lawmakers to "work together" and alleviate the city's crime crisis.  
During an appearance on "Cavuto: Coast to Coast," Chicago Blackhawks owner Rocky Wirtz discussed the impact America's crime wave has had on the sports entertainment business, urging lawmakers to be "careful" about mishandling the crisis. 
"Crime is something we have to be careful [about] because we want people to come into the United Center. That's where the Bulls and Blackhawks play. And our partner, [Chairperson of the Chicago Bulls] Jerry Reinsdorf, we both own a piece of the building. And the important thing is that we want fans to feel comfortable coming to our building and how we can do that," Wirtz explained to host Neil Cavuto, Thursday.
During his campaign, Chicago Mayor-elect Brandon Johnson placed a heavy emphasis on resolving the city's crime crisis, a bold declaration that resonated with voters. Wirtz weighed in, arguing that Johnson is appropriately "concerned" about public safety.
"Well, I think that the mayor-elect, he's concerned about public safety also. I think the goals are the same, it's just how you get there might be different. So, it's no secret that the business community was very much in favor of Paul Vallas, but this is a time now for unity," he said Thursday.
Vallas, a "moderate" who had the backing of the Chicago police union and major business groups, lost the mayoral runoff race to Johnson this week.
LIGHTFOOT'S MAYORAL LOSS FOLLOWS CORPORATE EXODUS FROM CHICAGO LED BY BOEING, CITADEL, TYSON FOODS
"Chicago has 50 different wards. This is the time for the 50 wards to work together with City Hall. And I believe that the mayor-elect is going to do that if he comes out of the gate strong — which I believe he will. This is a time to reinforce the help that the business community can have," Wirtz continued.
The Chicago business leader continued, arguing that every major American city is being burdened by the crime crisis. 
"This is the time to get your arms around it and have some leadership. And I believe the mayor-elect is going to do that, and I certainly hope so," he said, Thursday. "I know I'm willing to work any way I can to help him."
STUART VARNEY: CALIFORNIA'S NEW 'MANSION TAX' IS JUST ANOTHER WAY TO BASH THE RICH
Host Neil Cavuto argued that the mayor-elect has a "funny way" of indicating his commitment to the crisis, spotlighting the "major attacks" Johnson is planning against big corporations through supporting Chicago's "Mansion Tax" – an 1.85% hike from the current rate.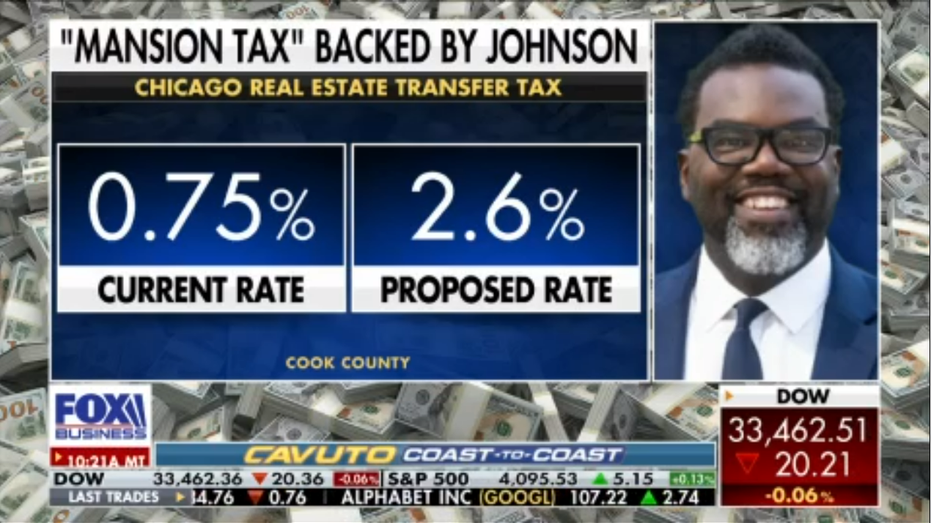 "We have to work together. And how you put those taxes, what you do, and what and who you're taxing is all different. I mean, you have to make sure that everyone works together. Taxes have to be equal for everyone, not just for a few. And I think if we can find a way to do that, I think would be a good step in the right direction," Wirtz detailed. 
Read the full article here