President Biden said the meeting with House Speaker Kevin McCarthy and other Congressional leaders was "productive" in a speech on Tuesday to discuss the debt ceiling.
Biden's remarks come after a meeting with McCarthy, Senate Majority Leader Chuck Schumer, Minority Leader Mitch McConnell and House Democratic leader Hakeem Jeffries.
"I just finished, I thought a productive meeting with the congressional leadership about the path forward to make sure America does not default," Biden said. "I made clear during our meeting that default is not an option. Repeated that time and again. America is not a deadbeat nation. We pay our bills and avoiding default is a basic duty of the United States Congress."
Biden's remarks contrast those of McCarthy, who said that he didn't see "any new movement" during the meeting, adding in comments to reporters that nothing has changed since they met to discuss the debt ceiling on Feb. 1.
MCCARTHY SAYS NO PROGRESS IN DEBT CEILING TALKS WITH BIDEN: 'I DIDN'T SEE ANY NEW MOVEMENT'
When asked by reporters if he saw any progress during the meeting, McCarthy said, "Well, the progress we made is, we were actually able to meet, so that's a difference."
Biden said that he wouldn't rule out a short term debt limit increase, and added that he is "ruling out" a default.
BIDEN MUST DROP 'ABSOLUTIST' POSITION IN DEBT CEILING TALKS WITH MCCARTHY, THINK TANKS WARN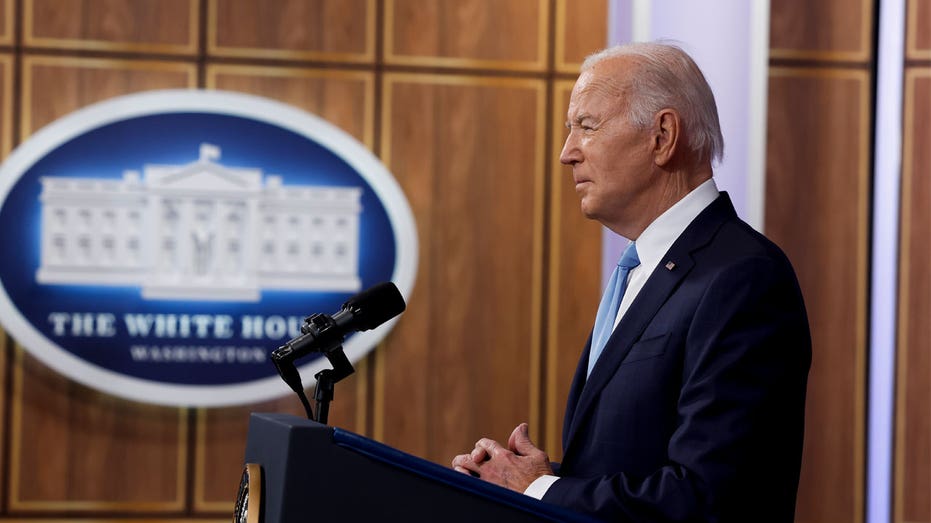 He said that the Congressional leaders will return to the White House on Friday to continue discussions on the debt limit.
"Our economy would fall into a significant recession. It would devastate retirement accounts, increased borrowing cost. According to Moody's, nearly 8 million Americans would lose their jobs and our international reputation would be damaged in the extreme," Biden remarked of a possible default.
BIDEN CLIMATE REGULATION COULD JEOPARDIZE NEARLY A MILLION JOBS, TANK ECONOMIC ACTIVITY BY BILLIONS: STUDY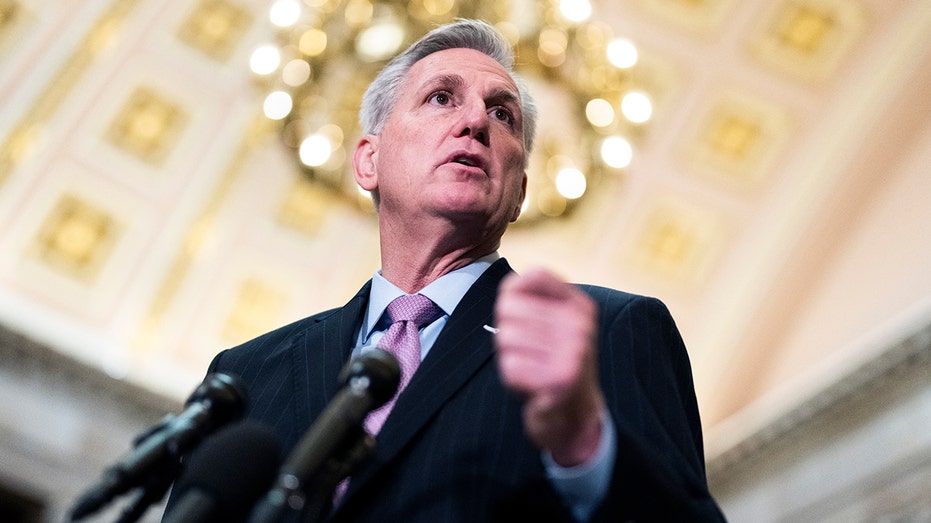 "This nation has never default on its debt. It never will," Biden said.
During a press conference that took place simultaneously with Biden's speech, McCarthy said the meeting wasn't productive.
"I didn't find progress in this meeting. Staff will continue to meet, and we'll get back together on Friday, and hopefully the president then can change the path for the last 97 days," McCarthy said.
When asked by a reporter, McCarthy said he wouldn't be willing to agree to a short term debt limit increase – something Biden didn't rule out.
"Unfortunately, in this meeting I heard nothing new. I literally asked the president personally, 'Do you believe there's any place in government we could find savings?'" McCarthy said of the meeting. "I know they said things that were not true about how we would move forward. And I had to explain to the president, the only thing we're asking is that next year we spend the same amount of money that we spent five months ago, and we let appropriators decide how we dole up that money just like every other household."
Sen. Joe Manchin, D-W.Va., said in remarks to Fox News that it's "ridiculous" that little progress was made during the meeting.
"So have five leaders of our country walk out of a meeting and not one of them say we made progress and now thinking that we're going to be expecting something Friday to happen with staffs?" Manchin said. "So it's just ridiculous."
Read the full article here